On Friday I posted our family's new favorite alternative to our typical ground turkey tacos: fish tacos with chipotle mayo.
Yes, for us this was a big move because I have picky, non-seafood eaters in the house (unless you count fish sticks). But the recipe was such a hit, I had to post it. I also wanted to post our yummy side dishes: refried black beans and sweet cilantro rice. Unfortunately, my recipe plugin doesn't allow multiple printable recipes (yet), so here's part 2. Tomorrow I'll feature part 3…just in time for tomorrow night's Taco Tuesday. Yum!
…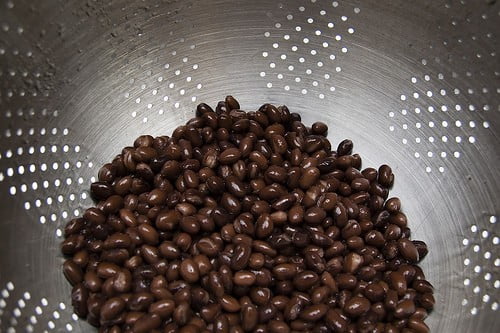 Photo by paul goyette, shared via Flickr.
…
Below you'll find the printable recipe for refried black beans. I love black beans, so I prefer these to the typical refried beans. Livi, who adores "smashed beans," turned up her nose due to them being the wrong color. Go figure.

We love this alternative to your typical refried beans. It makes quite a bit, so half the recipe if you aren't looking for leftovers.
Author:
Emily ~ isthisREALLYmylife.com
Ingredients
2 (32-oz) cans black beans, drained and rinsed
2 cups water
3 T vegetable oil
1 onion, diced
1½ tsp salt
1 T cumin
½ to 1 small can diced green chilies
Cotija cheese, optional
Instructions
Add black beans and water to a food processor or blender and puree.
Heat the oil in a large saucepan over medium heat. Saute the onions with salt and cumin until golden (about 10 minutes).
Add beans and chilies and continue cooking over medium heat, stirring frequently, until the liquid evaporates and the beans are creamy and pull away from the bottom and sides of the pan (about 15 minutes). Serve immediately topped with cotija cheese.