Yes, Part 1. I had to break our Taco Tuesday dinner recipes into multiple posts because my current WordPress recipe plugin only allows one printable recipe per post. I know, I know. I should totally switch to a different one but I didn't have the time or energy to do that tonight. You'll just have to check back on Monday and Tuesday for my refried black beans and sweet cilantro rice recipes. Sorry.
For those who tweet with me (I'm talking about you, @sahans), you'll know Tuesday is always taco night in our home. Usually it consists of ground turkey seasoned with homemade taco seasoning, but this week I wanted to try something new—and get my kids to eat some seafood in the process. I chose tilapia because being a non-seafood person myself, it's one of the few fish I'll eat because of its lighter flavor.
Not knowing the first thing about the best way to cook tilapia, I asked my friend Steph for her recipe. Being a true friend, she even put down actual measurements for each ingredient. Bless her sweet, little "I never measure anything" heart!
Because I was serving these fish tacos with a homemade chipotle mayo, I substituted cumin for the paprika in her recipe...and it was fabulous! My kids polished them off and almost all had seconds. When I broke the news to George that he was actually eating fish and not chicken, he still wanted a third taco.
I didn't make the fish tacos the printable recipe figuring you might already have a favorite way you cook your tilapia (grilled; flour and egg wash with traditional bread crumbs; blackened). The chipotle mayo? Now that's print worthy!
...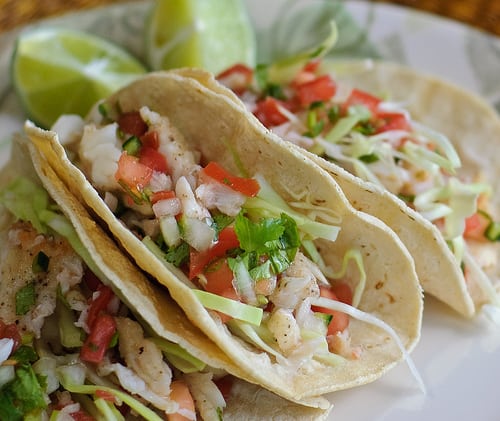 Photo by Neilwill, shared via Flickr.
...
Panko-Encrusted Tilapia
6 tilapia fillets (I defrosted individually packaged frozen fillets)
2 cups panko bread crumbs
3 tsp salt
1 tsp pepper
2 tsp cumin
Olive oil
Preheat oven to 375. Combine bread crumbs, salt, pepper and cumin in a bowl or pan into which you can easily dip the fillets. Cut the tilapia into strips or bite-size chunks. Lightly toss with olive oil. Roll the pieces in the bread crumbs until thoroughly coated, oOr you can place the bread crumb mixture in a large Ziploc bag and shake gently to coat. Place on a lightly greased baking sheet and bake for 25 to 30 minutes until light golden brown.
...
While the tilapia is baking, make your chipotle mayo.
...
Now, this was originally intended for sliders so it's a little thick, but you could easily thin it out for better drizzling by adding a little milk or Mexican crema.
This spicy mayo was divine even though I messed up the recipe when preparing it the first time. When I opened the can of chipotle chilies in adobo sauce, I didn't realize there really were whole chipotle chilies underneath what looked like diced chilies. (I think they were really onions of some sort.)
Because I thought I'd bought the wrong thing, I improvised and used 2 tablespoons of the diced mystery stuff  in place of the 2 chipotle chilies. I later discovered there were whole chipotle chilies in there when I dumped the rest of the can into a container to save in the fridge. Lo and behold, there they were—whole chipotle chilies! Gotta love it when you learn something new!
As a side note, the mayo was spicy enough without 2 full chilies, so if you have sensitive palettes, I'd go with the alternate recipe I accidentally created.
Printable version of spicy chipotle mayo below.
...

Originally intended for sliders, this chipotle mayo paired perfectly with our fish tacos. You could thin it out with a little milk, buttermilk or Mexican crema to make it even easier to drizzle.
Author:
Emily ~ isthisREALLYmylife.com
Recipe type:
Sauce/Dressing
Ingredients
1 cup light mayo
2 chipotles in adobo sauce (or 2 T of whatever that other stuff is in the can)
1 T adobo sauce
Juice from ½ a lime
¼ tsp salt, or to taste
¼ tsp pepper, or to taste
Instructions
Add all ingredients to a food processor or blender and puree. Season to taste with more salt and pepper if desired.
Notes
Original recipe courtesy of Bobby Flay and the Food Network, 2007.
...
To assemble the tacos you can go with single or double corn tortillas. Layer a few of the tilapia chunks or strips followed by the chipotle mayo and topped with shredded cabbage. (I cheated and used a bag of coleslaw mix.) You can even top the tacos with some pico de gallo. I threw on a little shredded cheese for my pickier eaters, though I kept to traditional fare for the rest of us.
P.S. I also whipped up a batch of my favorite recipe for Cafe Rio's creamy cilantro dressing for Madison. Being the picky eater she is, I knew that would help her enjoy the fish tacos even more. And it did.
...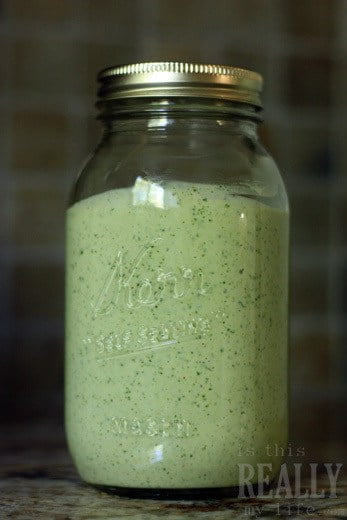 ...
P.P.S. I'd have included my own photos of the fish tacos but they were taken late at night in bad dinnertime fluorescent-mixed-with-incandescent lighting. That combined with refried black beans and no delicious food props made for one unappetizing photo.