And I mean SUPER easy. I whipped these up last night to give to a neighbor who rescued us from a very snowy driveway and very slick drive to middle school. (Thank you, Kelli!) After gifting her a plate and then dropping off one to the brother of Madison's friend who always gives her a ride home from school, just enough remained in the pan to give the rest of us a nice minty, chocolaty fix. Delish!
These would make quick, easy, tasty additions to your holiday neighbor plates. If you'd rather not do any baking when it comes to brownies, try these bite-size brownies with peppermint frosting we made last year. If you want some more yummy ideas, check out the treat round-up I threw together a couple years ago.
Of course we have other favorites like Mexican wedding cookies, Golden Grahams S'mores Bars and chocolate caramel pretzel bites. (Take mini pretzel twists, lay flat on a cookie sheet, put one Rolo on top of each one and place in 350 oven for 3 to 5 minutes until chocolate is slightly melted. Remove from oven and gently press a second mini pretzel twist on top, flattening the Rolo between the twists.)
Back to the easy mint chocolate brownies. Good thing I snapped a photo because they were gone in less than five minutes!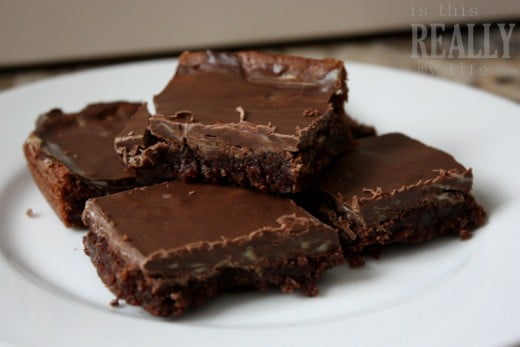 …
Easy Mint Chocolate Brownies
1 box of your favorite chocolate brownie mix plus eggs, oil and water called for in the recipe
1 package Andes Crème de Menthe baking chips
Mix and bake brownies according to package directions. Remove from oven. Immediately pour chips onto hot brownies and let sit for a minute or two. Use a spatula to spread the melted chips until the ooey gooey mess covers the entire pan of brownies. Let cool and serve. Or put on a fancy holiday plate and take to the neighbors who came over with their snow blower so you could get your car into the garage.
What's your favorite treat to give/get during the holidays?