Vegetarian stuffed jalapenos with sun-dried tomatoes and bacon are simple, super tasty and a real crowd pleaser. Not vegetarian? Use real bacon instead!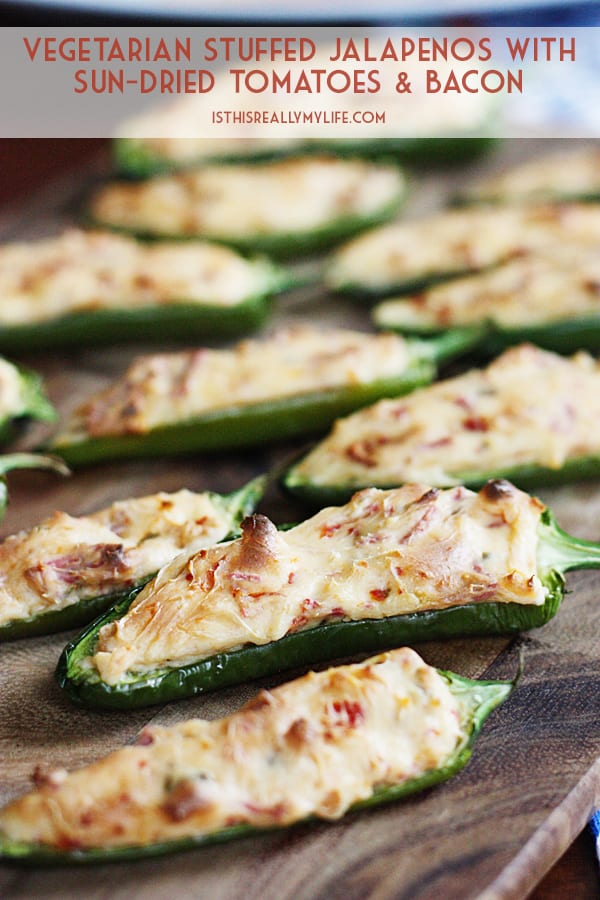 Remember when I used to do the SassyScoops thing? I've stayed close to those super sassy gals and one of the things we love doing is getting together for fun-filled—and food-filled—girls' night in. Our most recent get-together had a vegetarian theme complete with MorningStar Farms vegetarian burgers and stuffed jalapenos.
Don't worry. We had plenty of dessert and caffeinated beverages too.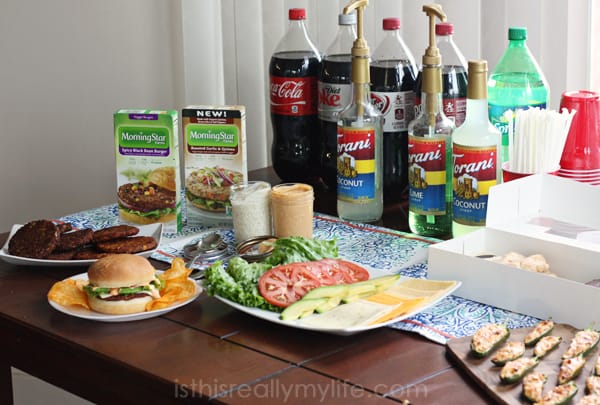 I made a garlic aioli and my favorite chipotle mayo to compliment the Spicy Black Bean Veggie Burger and Roasted Garlic and Quinoa Burger. My favorite creation from the MorningStar Farms burger bar was this baby: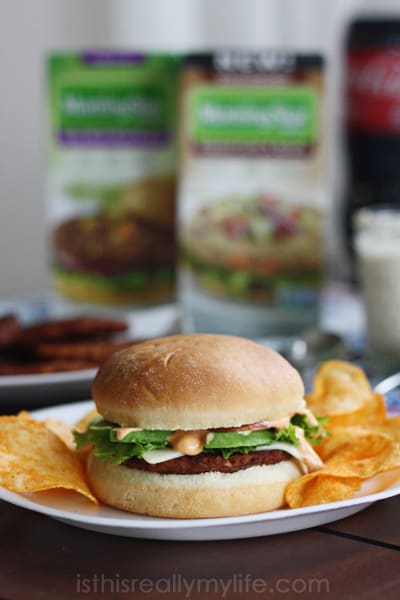 I took that black bean burger and topped it with pepper jack cheese, lettuce, tomato, avocado and a healthy smear of chipotle mayo. It was seriously one of the best burgers I've had in a long time. In fact, both vegetarian burgers received rave reviews from those sassy gals.
I promise they made some time for eating in between all the chatting.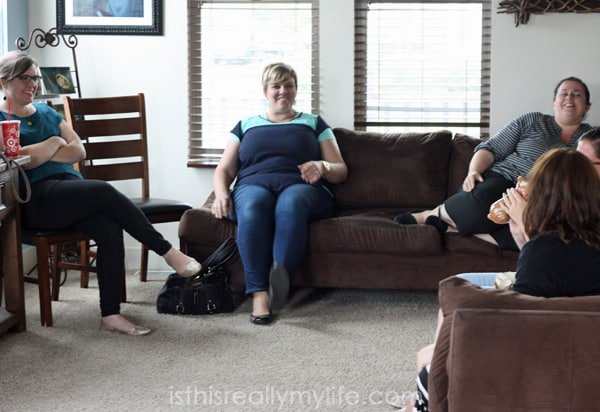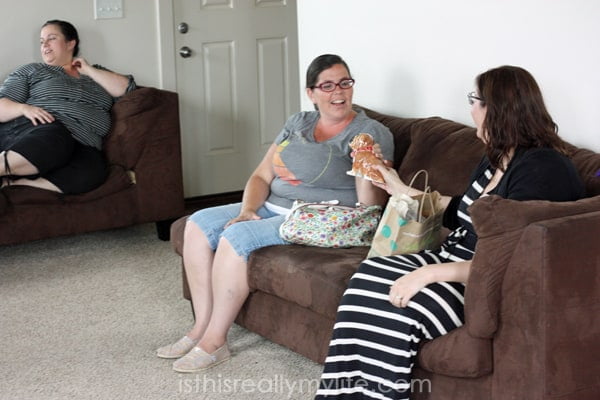 Here is what the gals had to say:
"While there is truly no substitute for a chunk of cow...I would totally eat MorningStar Farms again. The texture and flavor are great." ~ Stephanie
"MorningStar Farms was literally the best veggie burger I have ever had." ~ Kim
"I am surprised at how much I enjoyed the smell, flavor and texture of these burgers. I'll serve these regularly to my family for a healthy no-meat dinner." ~ Vanessa
"I was pleasantly surprised by the flavor of the black beans and corn in the veggie burger." ~ Leisha
"As a vegetarian, this was one of the best meatless burgers I've had. The chipotle really kicked it up a notch. Now I can judge meat eaters while also enjoying a flavorful burger. Win/win." ~ Kristina
They were also fans of the vegetarian stuffed jalapenos—a new recipe I created for the vegetarian occasion. Normally I'd make them with "real" bacon but I thought I'd give MorningStar Farms Veggie Bacon Strips a try.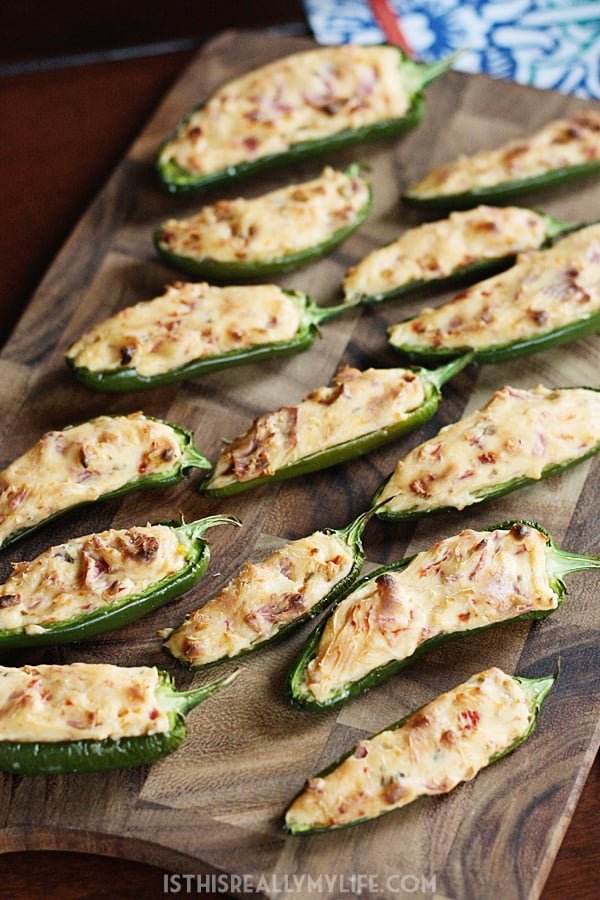 There's nothing like the combination of spicy with creamy and salty when it comes to an appetizer and these vegetarian stuffed jalapenos have all that going on.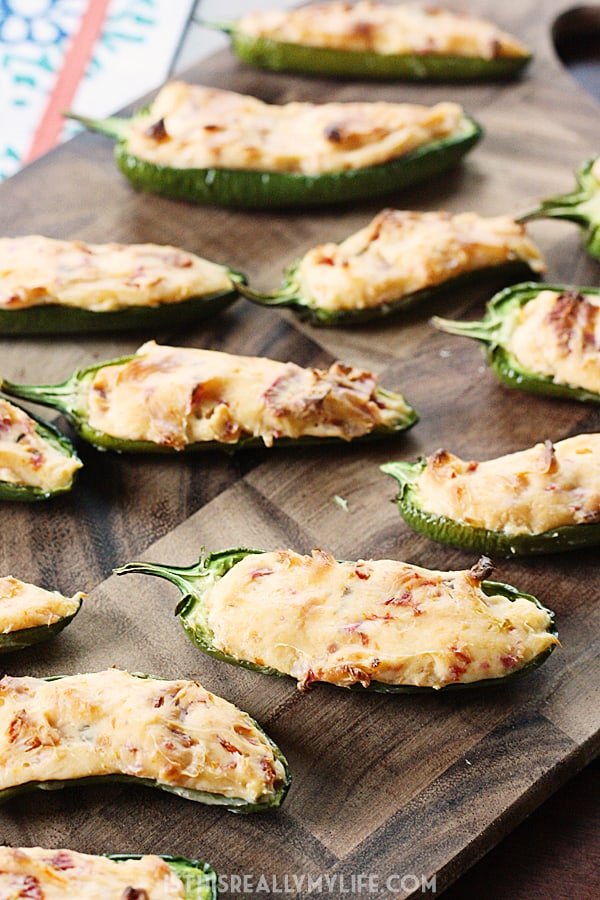 Although the texture of the vegetarian bacon left something to be desired before adding it to the mixture, it did add a hint of bacon flavor to the stuffed jalapenos. I think next time I'll increase the amount of bacon as it was slightly overpowered by the sun-dried tomatoes. Either way these stuffed jalapenos are going in my appetizer rotation for sure.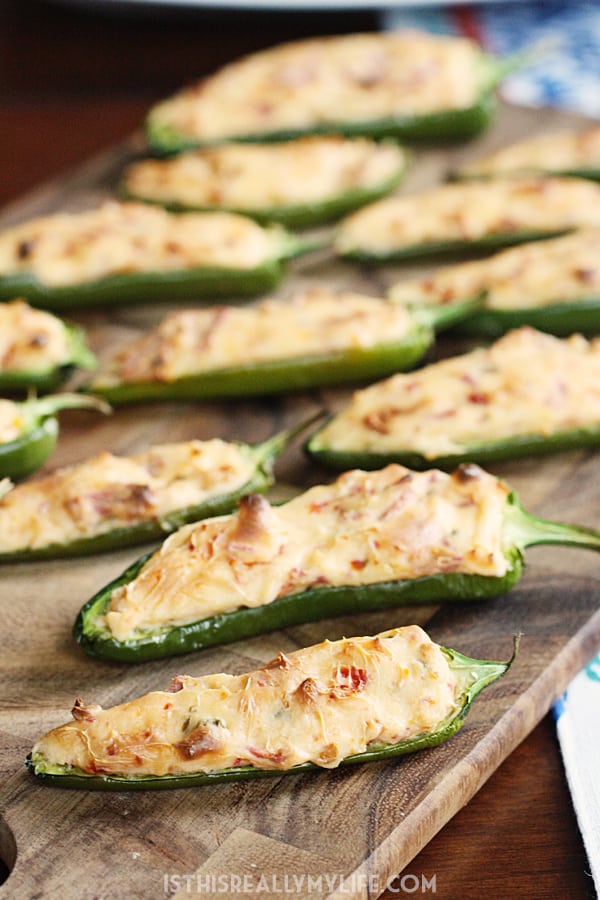 Printable recipe for vegetarian stuffed jalapenos with cream cheese, bacon and sun-dried tomatoes below.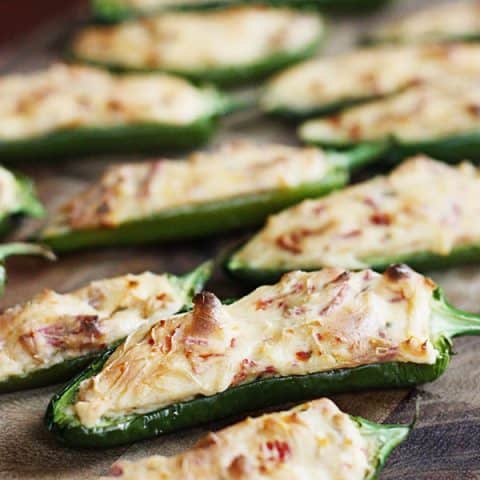 Stuffed Jalapenos with Cream Cheese, Bacon & Sun-Dried Tomatoes
One of the best recipes for stuffed jalapenos. If you're not a fan of sun-dried tomatoes, feel free to leave them out. I used MorningStar Farms Veggie Bacon Strips in the recipe but you can use your favorite "real" bacon.
Ingredients
12 to 15 whole jalapenos (depending on size)
1 ½ (8-oz) packages cream cheese, softened
6 to 10 slices MorningStar Farms Veggie Bacon Strips, cooked & crumbled
¼ cup finely chopped sun-dried tomatoes
2 cloves garlic, minced
1 T chopped fresh basil
Pinch of salt
Instructions
Preheat oven to 375 degrees. Place a wire rack on a baking sheet and set aside.
Wash and pat dry jalapenos. Slice jalapenos in half, lengthwise. Scrape out the seeds and membranes.
Combine cream cheese, bacon, sun-dried tomatoes, garlic, basil and salt in a medium bowl. Mix well.
Stuff each jalapeno half with cream cheese mixture. Bake for 20 to 25 minutes or until heated through. To brown tops, broil for 2 to 3 minutes. Be careful not to let the mixture burn!
Serve immediately or at room temperature.
Whether it's hosting a party like our girls' night in or cooking dinner for the family, MorningStar Farms offers a fresh and versatile take on eating well. They're products (over 30!) are a great way to test the vegetarian waters and their site offers more than 600 recipes. Visit MorningStarFarms.com to discover new ways to enjoy MorningStar Farms and spice up your next girls' night in.
I was selected for this opportunity as a member of Clever Girls Collective and the content and opinions expressed here are all my own.