Last week I helped Carrian from Sweet Basil plan a girls' night out at Studio Enizio in Lehi.
And by plan I mean I begged her to let me help so I could hang out with her.
…
…
…
The evening focused on hair and makeup tips and tricks for taking the perfect head shot (or putting your best "face" forward at that upcoming conference). Between Morgan Smith, a talented stylist and makeup artist, and Heidi Ann, a super skilled photographer, we were taking notes like mad.
…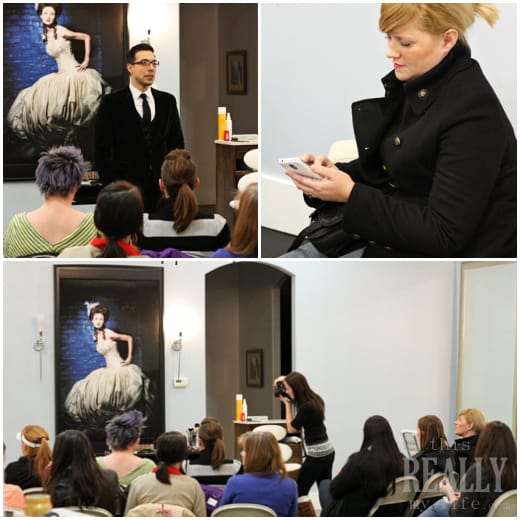 …
…
…
Well, everyone else was taking notes. I was busy taking photos via my cell phone, Carrian's cell phone and my DSLR.
I may have also been busy eating brownies and sugar cookies from The Chocolate, our evening's dessert sponsor.
…
…
Fortunately Morgan was kind enough to send us a list of her favorite makeup and hair products mentioned that evening. I can't wait to add these to my shopping list next time I visit Sephora. (Any excuse to visit Sephora is fine by me.)
…
Makeup
Embroylise: Moisturizer and Primer; a must for every day and especially photo days.
Mac Paint Pots: Soft Ochre or Painterly; primer for eyes so makeup lasts.
Eve Pearl Trio Eye Concealer; tip: go darker and then gradually blend to lighter in order to lighten under the eye.
Makeup Forever HD Foundations
Makeup Forever HD Setting Powder; helps your makeup last all day, especially through a photo session.
…
Hair
Onesta Setting mist to give hair memory to hold curl.
Dust It by Osis textured hair powder.
…
And somehow I was able to remember some of Heidi Ann's tips for taking better photos. It's a post-Christmas miracle!
Never face the camera full front. Always angle away from the camera with your weight on your back leg.
Avoid white and black; choose colors that make you look good and feel good.
Don't stick your chin/neck out no matter what the photographer says.
Use darker pigments (makeup), not MORE makeup.
Tell the photographer what you want. If you hate the urban look but your photographer loves it and you don't say anything, you won't like a single photo.
…
I was truly impressed by both the salon and the staff at Studio Enizio. It's not surprising they've become the first choice for hair and makeup artists for work on film, television and other commercial projects and ad campaigns.
You should probably make them your first choice too. Just sayin'.
…
A little bit about Studio Enizio
Enizio is Utah County's exclusive provider of Kerastase and home of Enizio On-site Hair & Makeup Artistry. The studio's team specializes in special event styling, print work, film, runway, and anything that requires an on-location hair or makeup artist.
…


Feel free to "like" is this REALLY my life? on Facebook. It won't always earn you an extra entry in a giveaway but it will give you warm fuzzies.
Don't forget to sign up for free is this REALLY my life? updates via RSS or email so you don't miss a single awesome post.
…