My friend Becky Rosenthal from The Vintage Mixer asked me if I would guest post a favorite spring or summer recipe and I was more than happy to do so. I love Becky—she is the most adorable creature ever and knows her way around Salt Lake City's restaurant scene. What's not to love?

...
I recently made the yummiest strawberry spinach salad complete with sugar-glazed walnuts, feta and homemade poppy seed dressing for a baby shower and it was a huge hit. I could eat this salad every day for a week (or two or three) and not get tired of it. I love that you can double the recipe for the sugar-glazed walnuts and make them—along with the poppy seed dressing—a few days in advance. It cuts down on the prep work the day of the event. I knew this would be the perfect recipe to feature. Head over to The Vintage Mixer and check it out. I guarantee you'll want to make it this weekend. Or sooner.
Strawberry & Walnut Spinach Salad with Poppy Seed Dressing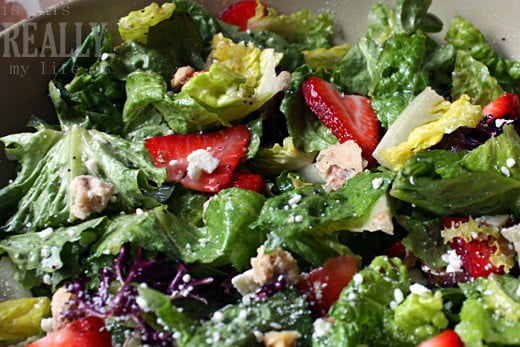 A big thank-you to Becky for asking me to guest post on her site...and reminding me how truly delicious this salad is!