Make spring cleaning fun for everyone—grownups included—with the perfect playlist and an impromptu dance party!
.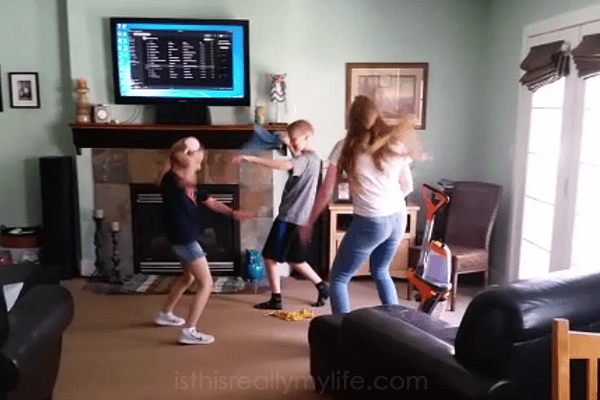 .
I love spring cleaning as much as I love yard work, which is not at all. Yes, I feel a sense of accomplishment when it's done but I also feel a sense of accomplishment when I bake a batch of cookies. You tell me which one sounds like more fun.
Yeah, I thought so.
But spring cleaning is a necessity, especially in a home occupied by a family of six plus one dog and a revolving door of neighborhood kids. None of the aforementioned bodies enjoys seasonal sprucing and straightening, so to make it a lot more fun, we created a spring cleaning playlist. And it rocks.
.
.
Our playlist features only a few mainstream songs because we're all about new—or newly discovered—artists. Each song was chosen for its tempo, beat and catchy lyrics, but most importantly, they were chosen for their ability to cause an impromptu dance party!
That's right, a dance party. If you really want to kick your spring cleaning up a notch, randomly select a song from our playlist (or your own playlist) and dub it the "dance party" song. When you hear that song come across the speakers, everyone has to stop what they're doing and DANCE! If you're playlist is longer like ours, choose a handful of songs or add your favorite dance party song multiple times. It is seriously so much fun, promise.
.
.
Obviously "When a Fire Starts to Burn" by Disclosure is one of our favorites…
Though our new BISSELL ProHeat 2X Revolution Pet makes it heard to hear Billy Idol's "Can't Break Me Down," the inconvenience is totally worth it because of this girl.
.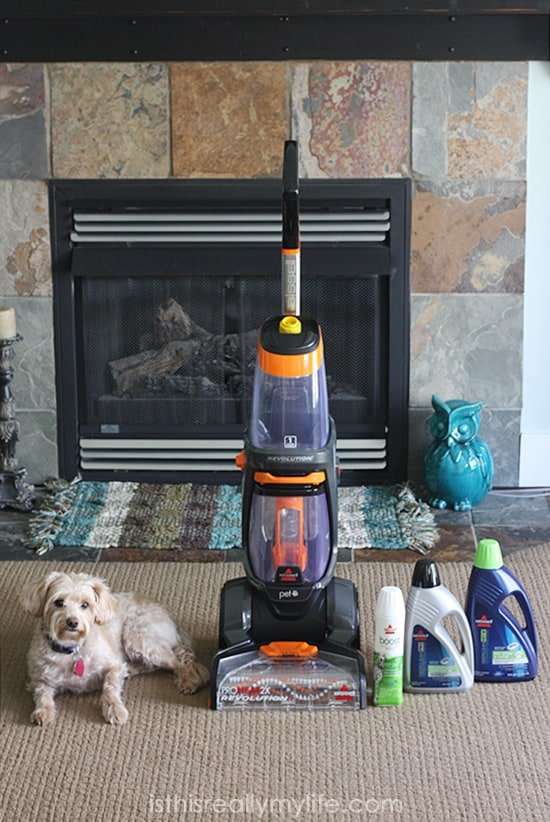 .
Cute and as well trained as she is, when someone doesn't hear her batting the bell on the backdoor, she heads one of two places: just outside the upstairs bathroom…
.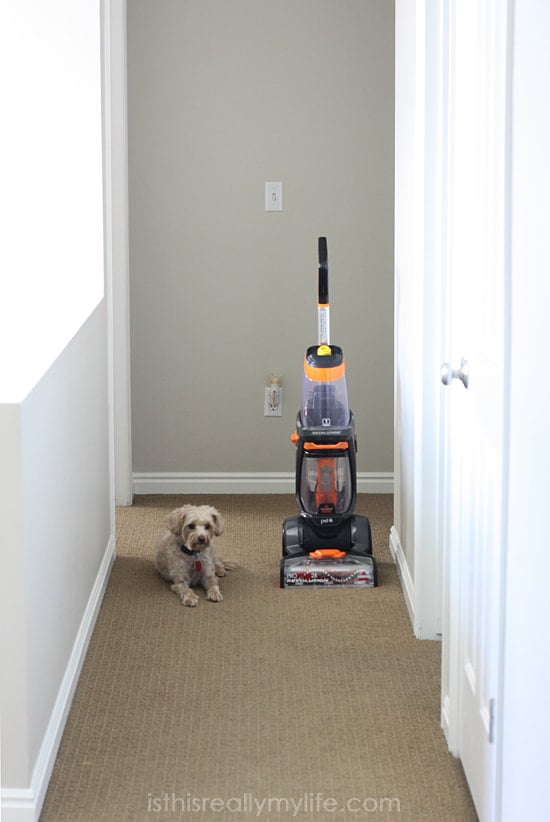 .
…or our bedroom.
.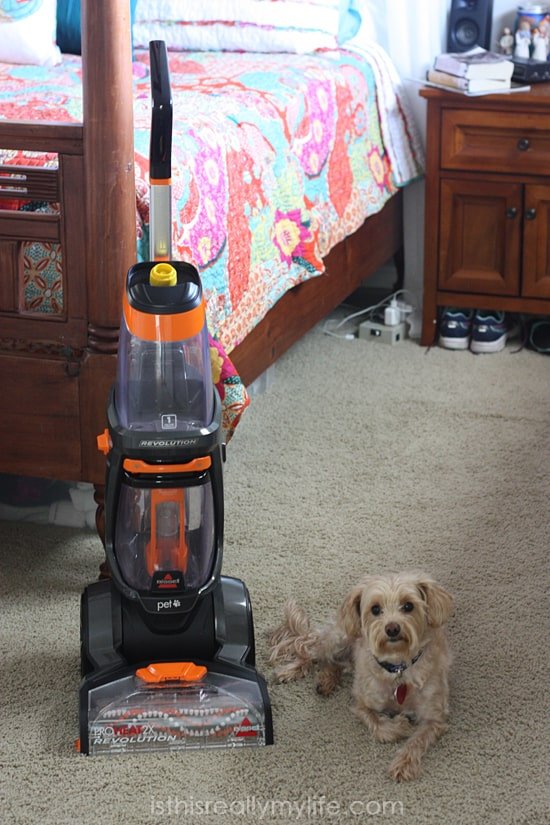 .
The new BISSELL ProHeat 2X Revolution Pet takes on even the toughest of tough stains. It has two cleaning settings: deep clean mode for tougher stains; express clean mode that leaves carpets dazzling and dry in one hour. The ProHeat 2X Revolution Pet is more lightweight than you'd think and easy to maneuver. Plus it has super amazing cleaning bristles that find treasures in the carpet even after the carpet's been vacuumed. Trust me on this one.
.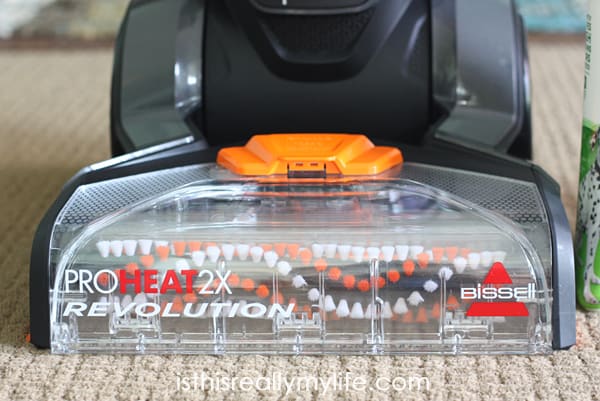 .
We combined the 2X Pet Stain & Odor Remover and the Pet Oxy Boost Carpet Cleaning Formula Enhancer for a super powerful cleaning solution that permanently removes pet stains and odors thanks to oxygen in the enhancer. Pair that with Scotchgard™ and I think I'm finally going to beat Coco at her own game…or at least keep up with her and the kids.
.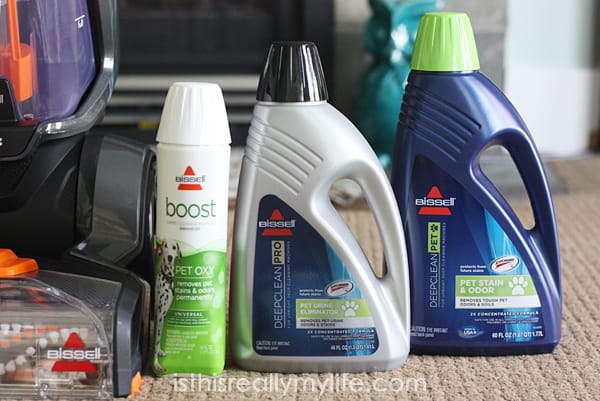 .
BISSELL Carpet Cleaning Formulas with Scotchgard™ keep carpets—especially those in high-traffic areas—looking newer longer by cleaning, restoring and protecting carpet. Scotchgard™ works by placing a barrier on the surface of carpet fibers to protect against future stains. It repels spills, resists soils and blocks stains to protect carpet.
Look at what the BISSELL found in the section of carpet near the backdoor.
.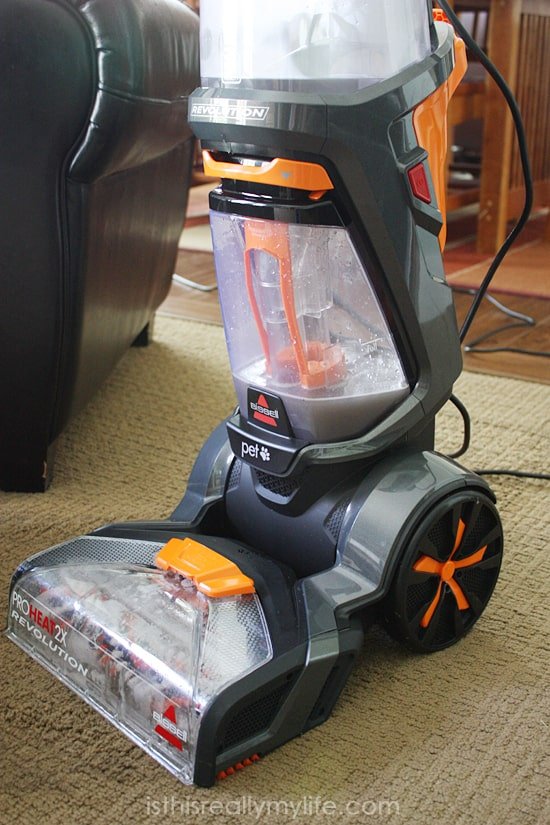 .
Yeah, that's totally not from the dog. I mean, just look at her face.
.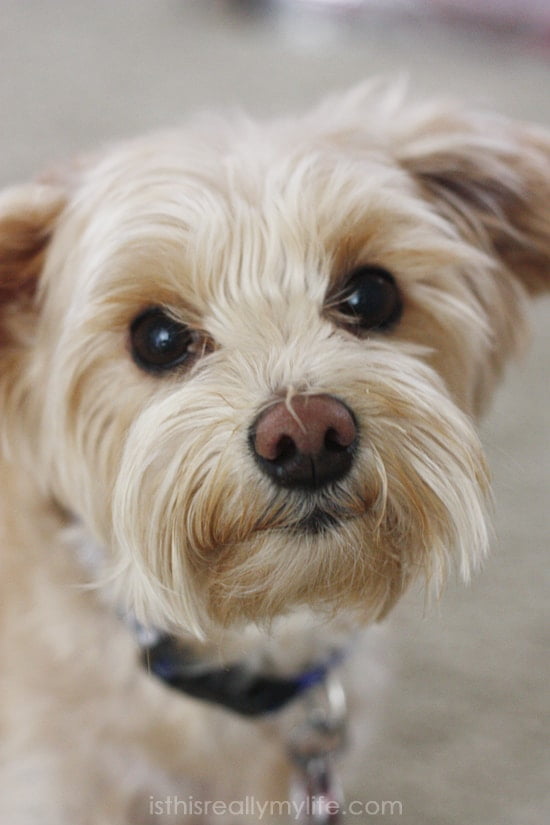 .
Basically my home needs Scotchgard™ from top to bottom…
If you're looking for the perfect BISSELL cleaning products to make your spring cleaning that much cleaner, visit BISSELL.com or retailers nationwide. You can also find BISSELL products at Walmart, which is awesome because you can grab a boomin' Bluetooth speaker to blast our spring cleaning playlist throughout your home!
I was selected for this opportunity as a member of Clever Girls. The content and opinions expressed here are my own.
.
If you're looking for more honest reviews, check out my ITRML reviews Pinterest board.
.
.

Feel free to "like" is this REALLY my life? on Facebook. It won't always earn you an extra entry in a giveaway but it will give you warm fuzzies.
Don't forget to sign up for free is this REALLY my life? updates via RSS or email so you don't miss a single awesome post.
.