I originally titled this feature Slow Cooker Sunday because that is when I planned on doing most of my slow cooker meals, but then I remembered the week has six other days perfect for slow cooker meals. I mean five—one of those weekdays (usually Friday) is always pizza night. "Anyday" may not be a real word, but I love it, so there.
Being LDS (aka Mormon) means a lot of things, and one of those things is attending church for three hours every Sunday (unless it's our semi-annual General Conference). For many of us, that three-hour time slot rotates each year. Last year we had 11am to noon; this year we drew the short stick and got 1pm to 4pm. As fabulous as it is to sleep in on a Sunday morning, arriving home at 4:18pm with a starving family in tow is not. (They are super starving mainly because I often forget to feed them lunch in the rush of getting ready. My bad.)
To prevent my family from inhaling whatever they can grab out of the pantry (i.e., cereal, graham crackers, goldfish crackers, fruit snacks), I have set a goal to have a slow cooker meal ready to serve—or ready to serve in less than 20 minutes—as soon as we walk through the door. And because my repertoire of slow cooker recipes is as limited as my ability to craft an adorable cupcake stand or burlap wreath, I'm calling on my readers to share their favorite slow cooker recipes on is this REALLY my life?. If you would like to write a guest post for Slow Cooker Anyday (featured on Friday so I can shop for groceries before Sunday), check the bottom of this post for details.
This weekend's recipe is one I adapted from 101 Things to Do with a Slow Cooker
. It was a new one for me and though it really was tasty, my pickier kids didn't eat very much. I'll leave it up to you to decide whether you try this one out or not!
First you need this: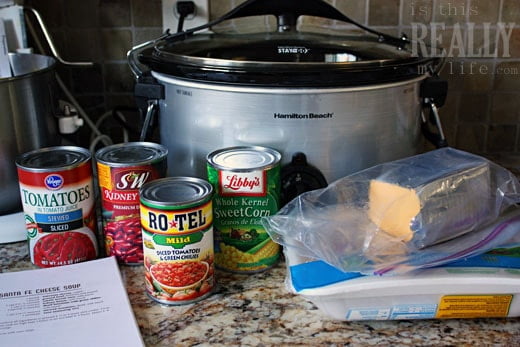 And this, which I remembered after the picture but before I finished throwing together the recipe. Whew!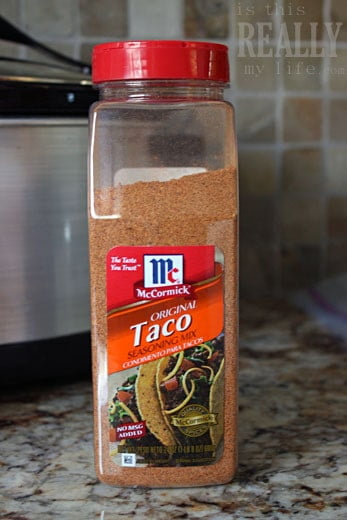 Cheesy Taco Soup
1 lb processed cheese, cubed
1 lb lean ground turkey (or ground beef)
1/2 cup diced onion
1 15.25-oz can whole kernel corn, with liquid
1 15-oz can kidney beans, with liquid
1 14.5-oz can diced tomatoes with green chilies, with liquid
1 14.5-oz can stewed tomatoes, diced, with liquid
1 envelope taco seasoning (or
Brown turkey with onion in a large saute pan over medium heat. Drain. Combine all ingredients in slow cooker. It should look something like this: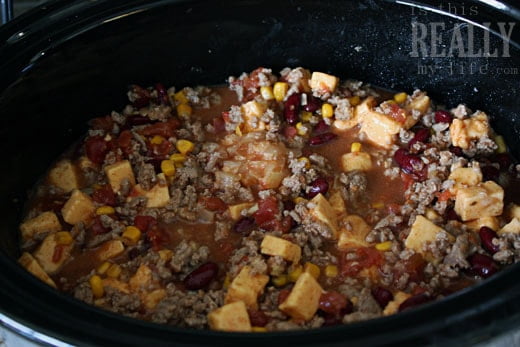 Cover and cook on high for 3 hours or low for 4 to 5 hours. Serve with tortilla chips, sour cream, shredded cheese and diced avocado.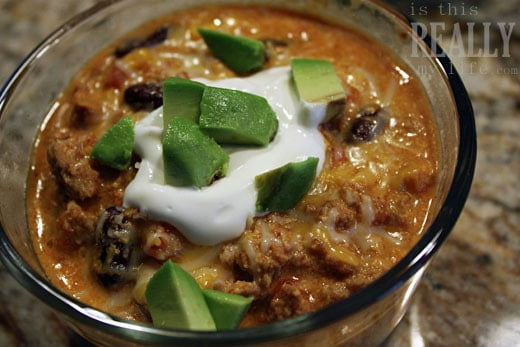 Next week my good friend Steph will be posting one of her delicious slow cooker meals. She is the queen of the slow cooker (and lover of all things unicorn and rainbow) and I can't wait to see what she'll have us making next week!
How to be a guest on Slow Cooker Anyday
If you would like you and your recipe featured on Slow Cooker Anyday, send me an email at emily{at}isthisreallymylife{dot}com. Please include:
Your name
Your blog(s) and/or website(s)
A brief intro about you (include any deep thoughts on slow cooker meals or food/cooking in general)
Recipe (title, ingredients, directions)
Photo(s) of the recipe (optional but highly recommended)
A photo of you! (also optional but I hope you do it!)