You're probably just coming out of your turkey coma from Thanksgiving dinner the day before, but it's never too early to think about what to do with your leftover turkey. I've found a couple yummy slow cooker recipes perfect for using up those turkey leftovers…after you've had your fill of hot turkey sandwiches, of course!
If you don't want to whip out your crock pot, you can always throw that leftover turkey into my super easy homemade chicken noodle soup recipe. Gobble, gobble!
…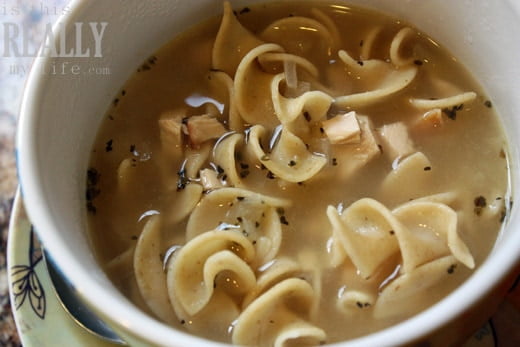 …
Slow Cooker Turkey Noodle Soup
12 cups chicken broth
1/2 tsp poultry seasoning
2 onions
2 carrots, peeled and chopped
1 garlic clove, minced
2 stalks celery, chopped
1/2 tsp dried thyme
1/2 tsp salt
1/4 tsp pepper
2 cups cooked turkey, shredded
Egg noodles, uncooked
2 T fresh parsley leaves, chopped (optional)
Pour broth in crock pot and add poultry seasoning. Add onions, carrots, garlic, celery, thyme, salt and pepper. Cook on High for 4 hours. Add turkey and noodles and cook an additional 1/2 hour.
…
Slow Cooker Turkey Chili
1 lb cooked turkey, diced
1 small onion, chopped
1 small can green chilies, drained
1 can black beans, rinsed
1 can chickpeas, rinsed
1 can kidney beans, rinsed
1 large can diced tomatoes with juice
1/2 cup water
1 can tomato sauce
1-2 T chili powder, to taste
Add all ingredients to the crockpot and cook on High for 6 hours. Serve topped with shredded cheese, tortilla strips and sour cream.
…

Photo by Food Thinkers, shared via Flickr.
…
Slow Cooker Cranberry Turkey
1 lb chopped turkey
1 envelope Lipton onion soup mix
1 can cranberry sauce
1 cup gravy
Place turkey in crock pot. Mix together cranberry sauce, gravy and soup mix. Pour over turkey and cook on High for 2 to 3 hours. Serve over rice or mashed potatoes.
…
Slow Cooker Turkey Tettrazini
Slow Cooker Turkey Tetrazzini
2 cups diced cooked turkey
2 cups broken uncooked spaghetti
1 cup shredded cheddar cheese
1/4 cup finely chopped onion
1 cup hot water
1 (10.75-oz) can cream of chicken soup
1 (4-oz.) can mushrooms, undrained
2 T chopped pimiento
1 tsp dried parsley flakes
Spray inside of crock pot with cooking spray. Place spaghetti pieces in crock pot. In a medium mixing bowl combine water, soup, pimiento and mushrooms. Stir in the cheese, turkey, onion and parsley. Pour over dry spaghetti. Cook on Low for 4 to 6 hours or until spaghetti is tender.
…
Previous Slow Cooker Anyday recipes: