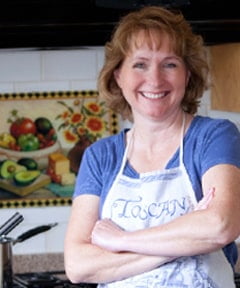 Have you seen the #ladieswholunch hashtag on Twitter? You'll find Heather, aka @slclunches, tweeting it when organizing another group lunch date at a fab local Utah restaurant. I have only been able to attend once due to that whole life thing getting in the way, but I can tell you this: the group is made up of some truly fabulous women, novice (like me) and expert foodies alike.
One of the ladies in this "ladies who lunch" group is Barbara from Barbara Bakes. A dessert lover after my own heart, Barbara post some of the most delicious recipes. Her reason for starting her blog?
I started my blog because I wanted to join in on the Daring Baker fun and because my daughter called and got me out of bed to give her our favorite cookie recipe, Martha Stewart's Oatmeal Toffee Cookies. I'm sure I've given the recipe to her dozens of times. So now it's online and she'll always have it, along with other family favorite recipes that I hope you and she will enjoy.
Sounds like the perfect reason to me! Below you'll find Barbara's crock pot recipe for Spicy Chicken Soup. Enjoy!
…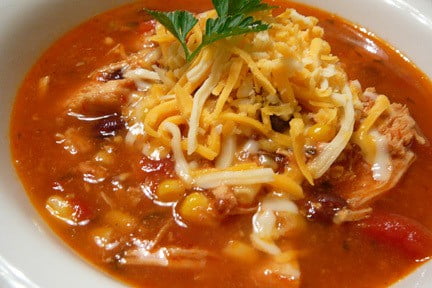 …
Spicy Chicken Soup
1 (16 ounce) jar mild chunky salsa
2 (14.5 ounce) cans peeled and diced tomatoes
2 (14.5 ounce) cans chicken broth
2 (16 ounce) cans black beans, drained
1/2 teaspoon salt
1 teaspoon ground black pepper
1 teaspoon garlic powder
2 tablespoons dried parsley
1 tablespoon onion powder
1 tablespoon chili powder
2 tablespoons olive oil
1 onion, chopped or 2 tablespoon dehydrated minced onion
3 cloves garlic, chopped
8 skinless, boneless chicken breast halves (can be added frozen)
1 (15 ounce) bag frozen corn
Put all of the ingredients in a large crock pot and cook on low for 6-8 hours.
I usually don't add the frozen corn until the last 30 min. I like to serve it with a little cheese on top, or you could top it with a little sour cream and tortilla strips.
My daughter's addition: For those of you with smaller crock pots, only add half the chicken and take out a can of beans.
…
Previous Slow Cooker Anyday recipes:
…


Feel free to "like" is this REALLY my life? on Facebook. It won't always earn you an extra entry in a giveaway but it will give you warm fuzzies.
Don't forget to sign up for free is this REALLY my life? updates via RSS or email so you don't miss a single awesome post.
…