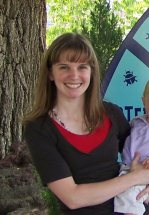 Today's slow cooker recipe comes to you courtesy of Pam Wiggins from A Cookbook Blog and Flowers and Frills and Puppy Dog Tails. She submitted a few slow cooker recipes (look for another delicious one in the near future) and it was hard to choose, but I think I chose well! (And Pam, I think you need to leave us a link to your no-fail fudge recipe in the comments below this post!)
"Hi there, Emily! My name is Pam. I live in Utah and love me some good recipes! Though I am not the most prolific or fantastic writer, I do pride myself on some super easy and yummy recipes. (If you are ever on a sweet kick, I ought to give you my no-fail 5-minute fudge that ALWAYS gets good reviews.) In my many (read 10) years of marriage and cooking I have found that the very best recipes are those with just a few ingredients. Oddly, it's those that always get me my best compliments! I love to have friends over for dinner and am not at all stingy with my recipes. Being Mormon myself leaves me with the same predicament as you (though this year we got the long straw and I have church from 9 to noon—YAY!). My crock pot is one of my very best kitchen tools (only trumped by my Pampered Chef chopper and my micro s'mores thingy-ma-jig).
I think this may be one of my favorite meals of all time. Especially good in the winter. It gives you that smoky flavor as though you slaved over an outdoor grill to prepare this tasty dish. It is so tender that turning it into a BBQ pulled pork sandwich is a snap! The key to this fake barbecued flavor is the liquid smoke. It adds the perfect touch of smoke." ~Pam
Slow Cooker (Sneaky) Honey BBQ Ribs
3 lbs. boneless pork ribs
1 c. water
1/2 tsp. garlic salt
1/2 tsp. pepper
1 c. ketchup
1/2 c. brown sugar
1/2 c. honey
1/4 c. spicy brown mustard
2 T. Worcestershire sauce
1 1/2 tsp. liquid smoke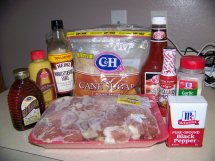 Place pork ribs in bottom of slow cooker and add water.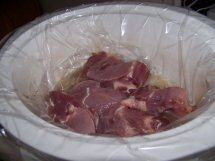 Cover and cook on high for 3 hours. Drain and discard liquid. Reduce heat to low. In a bowl, combine garlic salt, pepper, ketchup, brown sugar, honey, spicy brown mustard, Worcestershire sauce and liquid smoke. Mix well.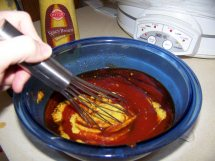 Pour over ribs in slow cooker. Cover and cook on low for 3 hours.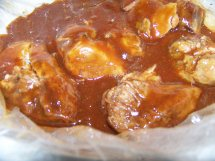 Serve with rice or shred and serve on rolls.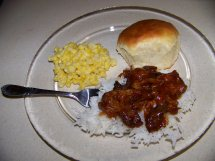 Note: This recipe freezes well. Double the batch and freeze half for a future dinner.
…
Previous Slow Cooker Anyday recipes: