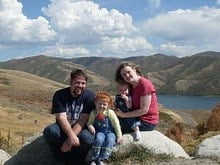 As usual, I can't remember the first time I met Sari (aka @LadyofPC). Wait! I think it was at our first SassyScoops girls' night out. She is as cute as a button and funny to boot. And no, the "PC" in her Twitter handle does not mean Park City like I originally thought. It stands for "Perpetual Chaos," the state in which she claims to live 24/7. And that is why I like her. We can relate. Plus she makes a great Chick-fil-A play date companion (and our girls are play date buddies too). Sari's macaroni and cheese recipe sounds super delicious, and she claims the frozen pureed squash "makes it creamier without adding fat." If it were anyone else but Sari, I might not believe it, but because she has lots of great tips and tricks, it must be true!


Image by Tammy Green, shared via Flickr.
Homemade Macaroni & Cheese
16 oz. pasta of your choice
2 cans cheddar cheese soup
2 cans milk
1 lb. Polska kielbasa (Polish sausage)
1 box of frozen pureed squash
1 bag frozen peas
Tomatoes, diced
Shredded cheddar cheese
Pasta
Cook according to the lovely directions provided on the package. When the pasta is finished cooking I usually add the bag of peas to the water and let them cook before draining the pasta.
Sauce
Combine and heat cheddar cheese soup, milk, sausage and squash. I like doing this in the crock pot because of the risk of scorching. And it's easier when dinner time comes and all I have to do is cook the pasta.
Combine the pasta, sauce and as much shredded cheese as you would like. I also like to add diced tomatoes and peas because it's just yummy.
…
Previous Slow Cooker Anyday recipes: