Technically this isn't a slow cooker recipe, but I'm sure you could make a variation of it in your crock pot. Still, it does take a good 7 hours to cook in a roasting pan or Dutch oven, so you can throw it in the oven in the morning and have it ready by dinner time without much work on your part (yay!).
This recipe is one of my favorite slow-cooking recipes. It is Pioneer Woman's Spicy Pulled Pork from The Pioneer Woman Cooks cookbook. I've made it a couple times and have found it's not actually spicy, just very flavorful. Plus it makes a ton so you can freeze the leftovers and use them in tacos or quesadillas when you need to quickly throw together dinner.
We love serving this pulled pork in small soft tacos topped with our favorite taco fixings like diced tomato, avocado, sour cream and even a squeeze of lime juice if you're a fan. I've also made Pioneer Woman's Pico de Gallo from the same cookbook and it is delicious with this pulled pork recipe…and with tortilla chips, of course! This is a great recipe for entertaining. Shred the pork, set up your taco bar and you're good to go!
Pioneer Woman's (Not So) Spicy Pulled Pork
5- to 7-lb pork shoulder roast
1 onion, quartered
1 T chili powder
1/2 cup brown sugar
4 garlic cloves, peeled*
1 tsp dried oregano
2 tsp ground cumin
1 to 2 T salt, to taste
Freshly ground black pepper
3 T olive oil
2 T white wine vinegar
Lime wedges
Flour tortillas
Preheat oven to 300 degrees. Rinse pork shoulder roast and pat dry.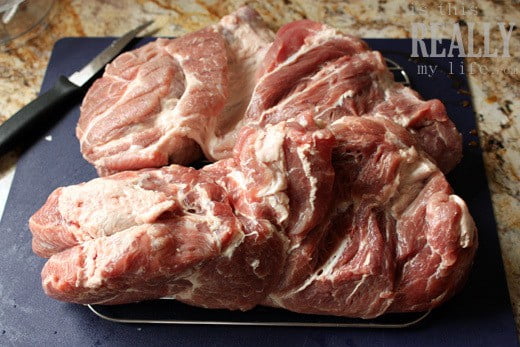 …
In a food processor, combine the onion, chili powder, brown sugar, garlic, oregano, cumin, salt, pepper, olive oil and vinegar.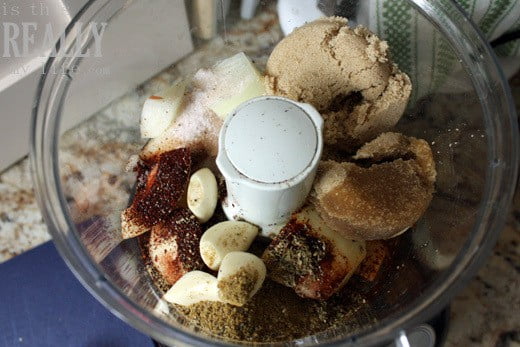 …
Pulse until totally and completely combined.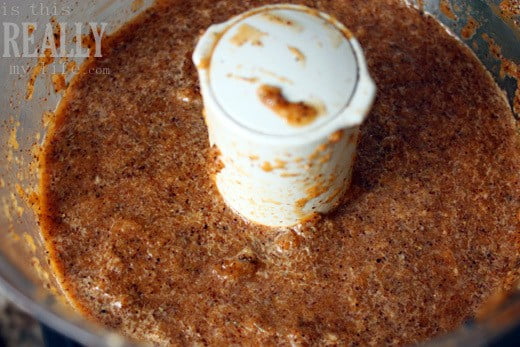 …
Pour the mixture over the pork and thoroughly rub it in here, there and everywhere.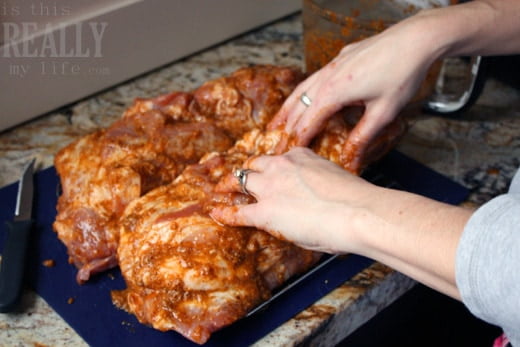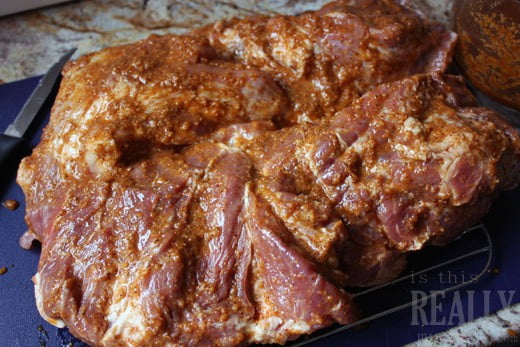 …
Place the pork in a roasting pan or Dutch oven and add 2 cups water.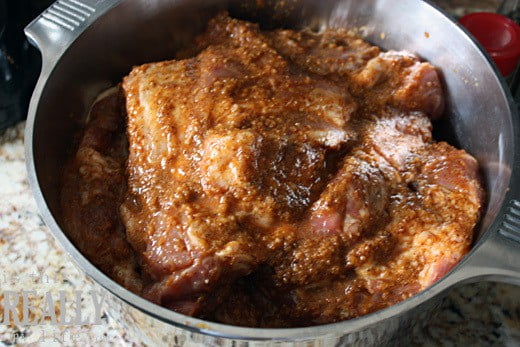 …
Cover tightly and roast for 6 or 7 hours, turning once every hour. (I've forgotten to do this and turned it only once about 1/2 to 2/3 the way through and it turned out just fine!)
Use a fork to make sure it's tender. Increase the heat to 425 degrees and roast uncovered for 20 minutes or until skin gets nice and crispy. Remove from oven and all to rest for 15 minutes.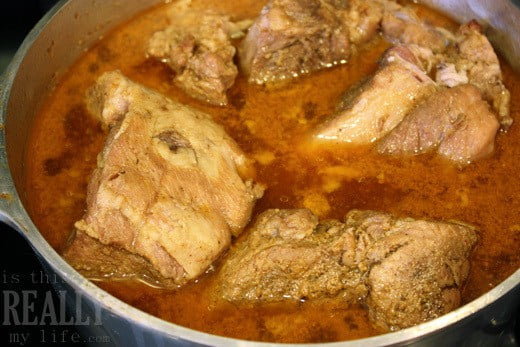 …
Using two forks, shred the meat. Place the meat on a large platter and pour the pan juices over the shredded meat so it stay extra tender. Serve with warm tortillas and pico de gallo (optional…sort of).
I wish I had a photo of the pulled pork on a nicely lime-lined platter but it was for a party and I plum forgot amidst putting up the tiki torches, plugging in the paper lanterns and making sure every guest got lei'd.
Don't forget—freeze any leftovers and use for spicy pulled pork quesadillas!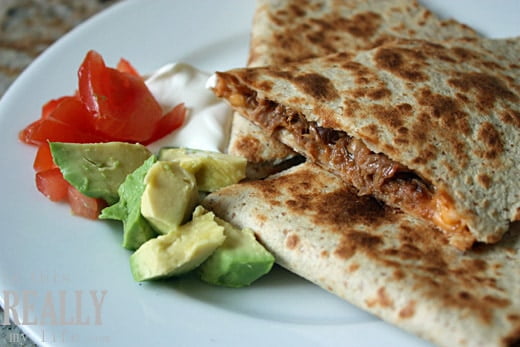 …
Pioneer Woman's Pico de Gallo
Yellow or red onions
Roma tomatoes
Cilantro
Jalapenos
Lime
Salt
Finely dice onions.* Dice tomatoes so you have an amount equal to the onions. Use a bunch of cilantro equal in amount to the tomatoes and chop finely.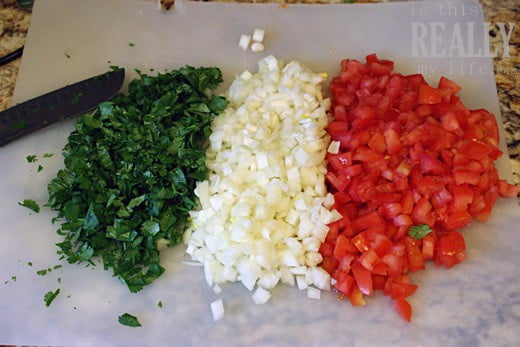 …
Slice 1 or 2 jalapenos in half and use a spoon to scrape out the seeds. Finely dice the jalapenos.
Combine onions, tomatoes, cilantro and jalapenos in a bowl. Slice a lime in half and squeeze the juiced into the bowl. Sprinkle with salt and stir until combined. Taste the pico de gallo using a tortilla chip and adjust the salt and/or jalapenos until it's exactly how you'd like it. (Pico de gallo only keeps a day or two in the fridge, so keep that in mind when figuring out how much to make!)
* I wrote a quick tutorial for a super easy way to peel garlic and dice onions. I use these methods all the time! (Okay, all the time when I'm not using pre-minced garlic or frozen chopped onions.)
…
And now for today's giveaway…because I love giveaways, even small ones like this one sponsored by yours truly.
…
I am giving away one (1) copy of Pioneer Woman's new book,
Black Heels to Tractor Wheels—A Love Story!
…
For your chance to win, leave a comment telling me your most favorite recipe ever!
For extra entries, you can do any/all of the following. Please leave a separate comment for each one you do (each one earns you an extra entry).
~ "Like" ITRML on Facebook.
~ Become a friend of ITRML on Google Friend Connect (sidebar) and/or subscribe to ITRML.
~ Tweet about this giveaway and leave the URL of your tweet.
~ Update your Facebook status with a link to this giveaway.
This giveaway will end at midnight on June 10th.
Note: Winner will be notified via email. If no reply is received, a new winner will be drawn.
Disclosure: I bought my own copy of The Pioneer Woman Cooks cookbook and did all the dicing, processing, rubbing, Dutch oven-ing, pico de gallo-ing myself. I also bought the giveaway copy of Black Heels to Tractor Wheels—A Love Story. It's not an autographed copy, but I'd be happy to sign it for the winner.
…
Previous Slow Cooker Anyday recipes: