One of my most favorite and quite possible THE EASIEST slow cooker recipe is this one:
1 jar of your favorite simmering sauce
Frozen boneless, skinless chicken breasts
THE END.
My latest involved Maya Kaimal Butter Masala Indian Simmer Sauce from Whole Foods Market. It was delicious...and 4 out of 5 family members would totally recommend it. (The 5th prefers to only eat yogurt, cheese and Otter Pops.) It is a little spicy so if you prefer something more mild, go for their Tikka Masala Indian Simmer Sauce.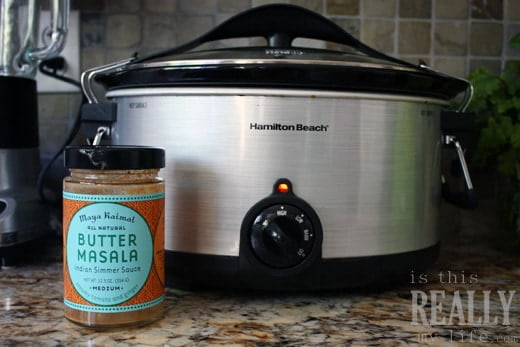 I placed five frozen chicken breasts in the slow cooker (so Nathan would have leftovers for work), poured the Butter Masala sauce over the top, added a titch of water and then set the slow cooker on high for a good 6 hours. The chicken fell apart when I pulled it out. I cooked up some sticky white rice to serve with it, so I placed the chicken atop the rice and drizzled more of the sauce over it. SO good!
I can't wait to try some of the other simmering sauces I picked up at Whole Foods on my last visit. They have a wonderful selection—feel free to stock up!
Previous Slow Cooker Anyday recipes: