This isn't really a slow cooker-specific meal but once you have it all prepped and ready, you can throw it in your crock pot on warm or low and it's thickened and ready to serve when you get home. (If possible, stir it every couple hours. If not, it will still taste delicious but you'll have a little extra scrubbing to do on the sides of the slow cooker. But that burns more calories so you can have a guilt-free second helping of this delicious clam chowder.)
My sister-in-law made this Market Street Clam Chowder for our annual Christmas Eve dinner, which consists of an assortment of soups in bread bowls. It was a hit so of course we asked her for the recipe. Turns out it's the clam chowder from Market Street Grill, a Gastronomy restaurant. I couldn't wait to make it again, so I thought I'd give it a shot and test it out in my slow cooker. It worked perfectly!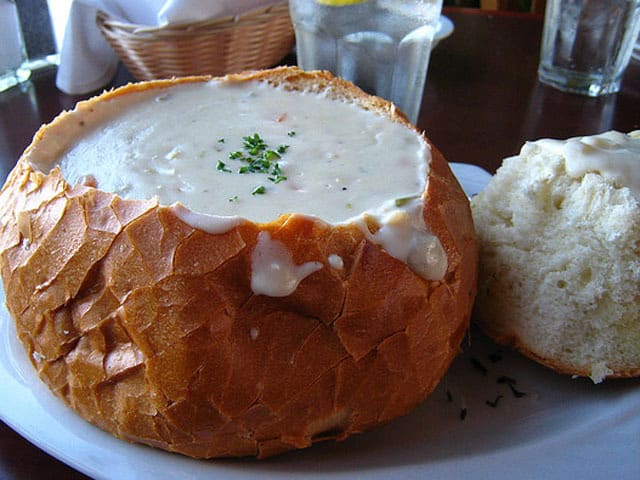 Image by Simon Shek, shared via Flickr.
It does take a little prep beforehand, so do plan ahead, but you could even dice and chop the night before, then do the quick simmering of the veggies while baking the butter and flour mixture, then throw it all together in the crock pot. It's worth it, I promise! And clam chowder isn't even my favorite soup!
Note: I used canned chopped clams (two small cans) and had more than enough clam juice and just the right amount of chopped clams. Also, I didn't have Tabasco sauce so I used regular ol' hot sauce; sherry cooking wine worked fine too. As far as the time goes, I had the soup on warm for a good four hours and it was perfect when I got home. It probably could have been in there another couple hours and still tasted great!
…
Gastronomy's Market Street Clam Chowder
Original recipe here.
1 cup potatoes, diced 1/2 inch
1 cup celery, diced 1/2 inch
1 cup onion, diced 1/2 inch
1 cup green pepper, diced 1/2 inch
1 cup leeks, diced 1/2 inch
3/4 cup chopped clams (canned or fresh)
3/4 T coarse ground black pepper
1 1/2 T salt
3/4 T whole thyme
6 bay leaves
1 teaspoon Tabasco
3/4 cup sherry wine (optional)
2 cups water
3/4 cup clam juice (drained from canned clams or purchased separately in can)
3/4 cup butter, melted
1 cup flour
2 quarts half-and-half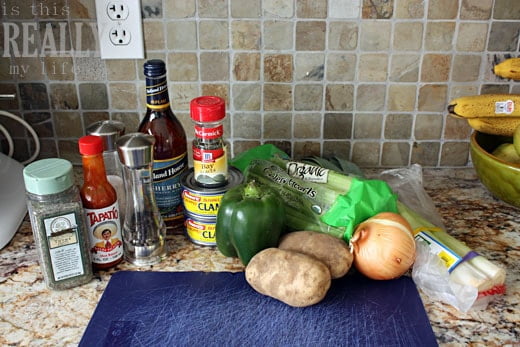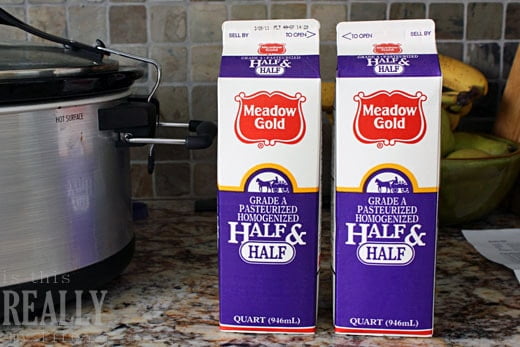 (Yes, you need this much half-and-half. I didn't title this a "Diet Anyday" recipe now, did I?)
…
Combine melted butter and flour in oven-proof container and bake at 325 degrees for 30 minutes.
…
In large saucepan, combine remaining ingredients except half-and-half.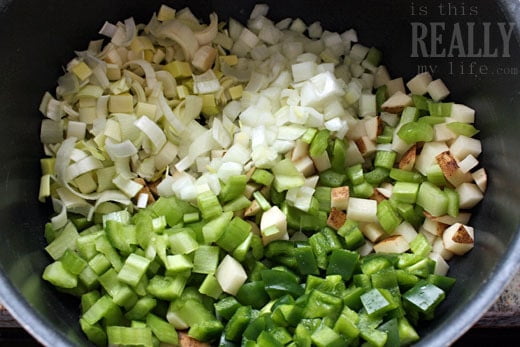 (I'm starting to detect a 1/2-inch theme here.)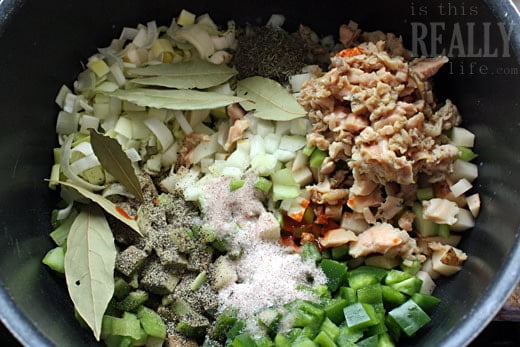 (Did I tell you chopped clams, fresh or canned, make me want to gag and yet I love clam chowder…as long as I don't get a large, chewy clam piece in my soup.)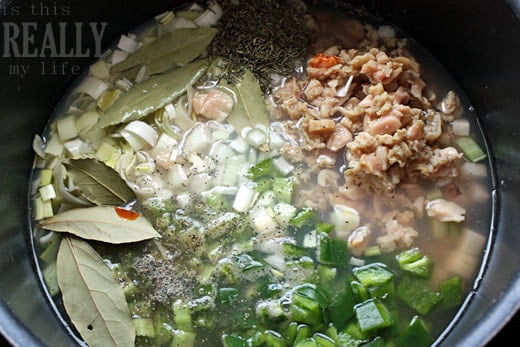 …
Simmer until potatoes are thoroughly cooked. (Mine took about 15 minutes or so.)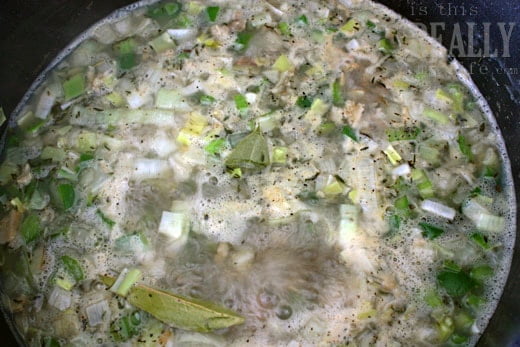 …
Stir butter-flour mixture into chowder and stir until thick.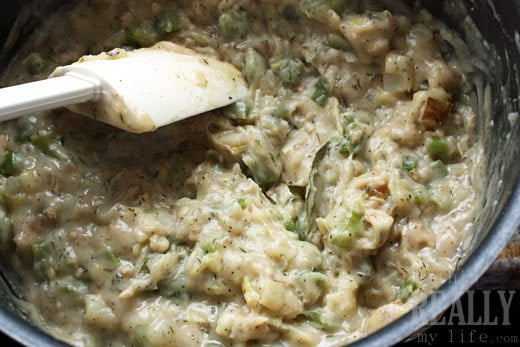 …
Remove chowder from heat and pour into slow cooker. Stir in half-and-half until well blended. Cook on low or warm until heated through and thickened.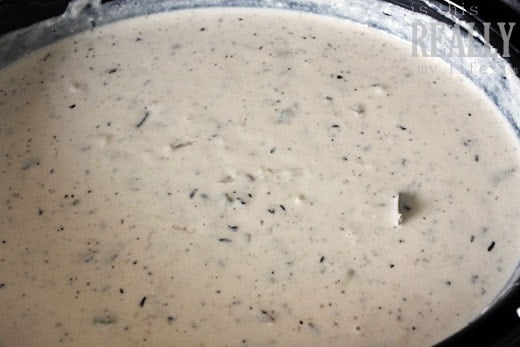 (I wish I had a photo of the clam chowder in a bow looking all pretty but all I have are white and glass bowls—not the best for a creamy white soup. Oh wait, I just remembered…I have some dark red bowls tucked away on the shelf. Guess I'll have to make this again!)
P.S. Yes, the photos of the diced ingredients was a bit of an overkill, but practice makes perfect when it comes to food photography. Right, Quinn?
…
Previous Slow Cooker Anyday recipes: