Okay, so you're not really cooking full chicken tacos in the crock pot, but with how easy and delicious this recipe is, you won't mind the extra step it takes to throw it in flour tortillas with some lettuce and diced tomato. Oh, and these crock pot chicken tacos are family friendly as proven by most everyone enjoying seconds.
I don't count Livi because the only time she asks for seconds is when we're serving chicken divan or ice cream.
...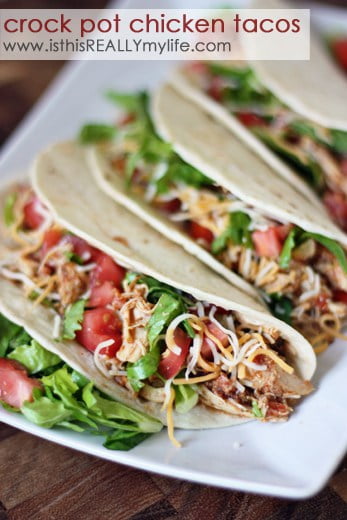 ...
Every Tuesday is Taco Tuesday in our home. Crock pot chicken tacos are a great way to change things up from the typical ground turkey tacos with homemade taco seasoning. Plus you can freeze the leftovers and use it for a future Taco Tuesday...when you forget to start the slow cooker before noon.
Printable recipe for crock pot chicken tacos below.
...

Crock Pot Chicken Tacos
Easy and delicious recipe for crock pot chicken tacos. Freeze the leftovers for a future taco night!
Author:
Emily ~ isthisREALLYmylife.com
Ingredients
1 (16-oz) jar salsa (I prefer fresh like Jack's Special Salsa)
2 T homemade taco seasoning (or 1 packet dry taco seasoning mix)
1 lime, juiced
3 T Garden Gourmet cilantro (or 3 T chopped fresh cilantro)
1 tsp Garden Gourmet minced garlic
2 lbs boneless, skinless chicken breasts
Small four tortillas
Shredded lettuce
Shredded cheese
Diced tomatoes
Diced avocado
Instructions
In a medium bowl combine salsa, taco seasoning, lime juice, cilantro and garlic. Stir to combine.
Place chicken breasts in bottom of crock pot and top with salsa mixture. Coat evenly.
Cover crock pot and cook on low for 6 to 8 hours or on high for 4 hours or until cooked thoroughly.
Shred chicken. Fill flour tortillas with about a ½ cup of chicken. Top with lettuce, cheese, tomatoes and avocados.
...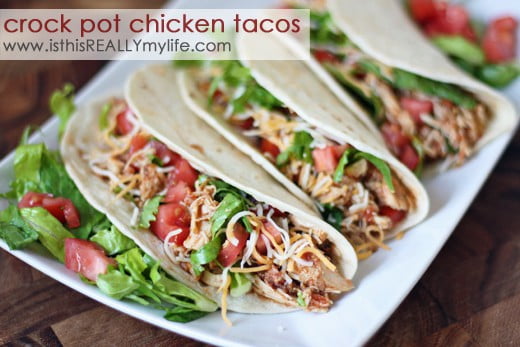 ...
Previous Slow Cooker Anyday recipes:
...

Feel free to "like" is this REALLY my life? on Facebook. It won't always earn you an extra entry in a giveaway but it will give you warm fuzzies.
Don't forget to sign up for free is this REALLY my life? updates via RSS or email so you don't miss a single awesome post.
...