I am really trying to get into the habit of using my slow cooker more often. I am pretty tired of me asking myself "what's for dinner?" at around 5:12 p.m. every day. I'm getting better at it but I still have a ways to go before I'm queen of the slow cooker like Steph.
I did throw together a recipe recently that everyone in the family loved, so I'll definitely be making it again. It's another one where you probably have all the ingredients on hand, and if you buy the pork ribs on sale and in bulk, it is super affordable too!
I obviously don't know how to photograph dark sauces, so I apologize for the lackluster (or over luster) appearance. They really do taste better than they look (as do those garlic cheddar biscuits) and literally fall apart when you take them out of the crockpot. So yummy! Ready. Set. Slow cook!
Slow Cooker Barbecue Pork Ribs
4 lbs pork baby back or country-style boneless ribs
Salt and pepper to taste
1 cup ketchup
1 cup of your favorite barbecue sauce
2 T brown sugar
1 tsp Worcestershire sauce
Tabasco hot sauce to taste
Preheat oven to 400 degrees. Season ribs with salt and pepper and place on a lightly greased baking pan.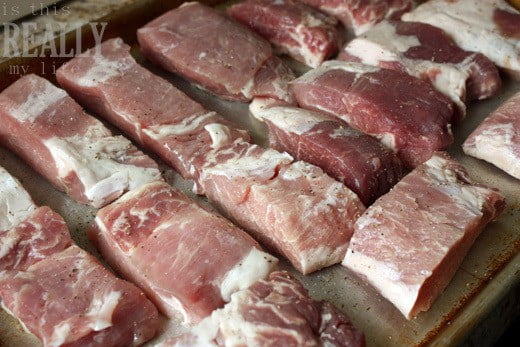 Brown in the oven for 30 minutes, turning once halfway through. Drain fat. (I did not include a photo of the browned ribs. For some reason, they don't look appetizing that way.)
In a medium bowl mix together the ketchup, barbecue sauce, brown sugar, Worcestershire sauce and hot sauce.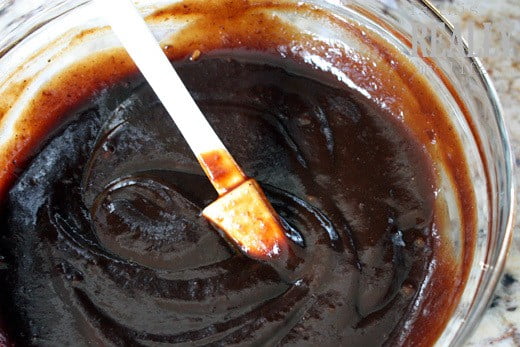 Place ribs in slow cooker. Pour sauce over ribs and turn to coat. Cover and cook on low 6 to 8 hours or high for 4 to 5 hours or until ribs are tender.
Previous Slow Cooker Anyday recipes: