Yesterday I wrote about locally raised, grass-fed beef from Brady's Beef in Idaho. (There's a giveaway, so you may want to check it out!) In that post I mentioned using their organic ground beef to make beef sliders, and I promised you the recipe.
Today I'm making good on that promise.
I found the Honey Wheat Hawaiian rolls (12-pack) were PERFECT for the sliders--just the right amount of bun for those burgers. For the cheese, we picked up a variety pack of Cello cracker cut cheese from Costco. Again, perfect for the sliders. The cheddar went well with the beef and the Havarti with the turkey.
Did I mention you could substitute lean ground turkey for the ground beef? We served both and not a bite was left of either flavor. If you do use turkey, I would increase the seasonings just a titch.
If you don't do caramelized onions, go with grilled or leave them off entirely. You could top these with onion strings and bleu cheese dressing instead if you'd like. The options are endless! Just promise you'll trust me on the Hawaiian rolls.
One other note: It was mid February in Utah when I made these sliders so we cooked them inside on our Cuisinart panini press inside. They were still tasty, but I can't wait to try them on our gas grill when the weather warms up!
...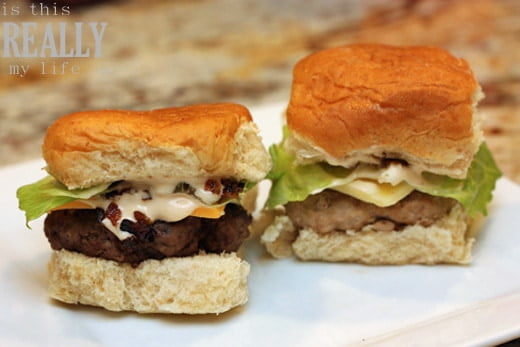 Pin It
If you're not familiar with how to cook caramelized onions, Allrecipes.com has a helpful tutorial. You'll  want the recipe for the spicy chipotle mayo too, I promise.
Printable recipe for beef sliders below. ...

Sliders with Caramelized Onions & Chipotle Mayo
Super easy recipe for beef sliders. Top them with whatever you'd like, though we prefer caramelized onions, cheddar cheese, lettuce and chipotle mayo.
Author:
Emily ~ isthisREALLYmylife.com
Ingredients
1 to 1½ pounds lean ground beef
2 to 3 green onions, finely chopped
A few dashes of Worcestershire sauce, to taste
Salt and freshly ground black pepper, to taste
1 (12-pack) Honey Wheat Hawaiian rolls
Caramelized onions
Cheese
Lettuce
Chipotle mayo
Instructions
Preheat grill over medium-high heat.
Combine ground beef, green onions, Worcestershire sauce, salt and pepper in a large bowl. Take about a ¼ to ⅓ cup and form tightly into a small patty.
Grill about 4 to 5 minutes per side.
When done, top with cheese and let melt slightly.
Remove from grill and place on Hawaiian rolls. Top with sauteed onions, lettuce and chipotle mayo.
Notes
Feel free to substitute ground turkey for the ground beef; just increase the seasonings a titch.
Pin It