These skinny lemon poppy seed muffins are a great option for healthy snacking—full of flavor but not full of calories, fat and sugar. Get the recipe + tips for minimizing mindless snacking below!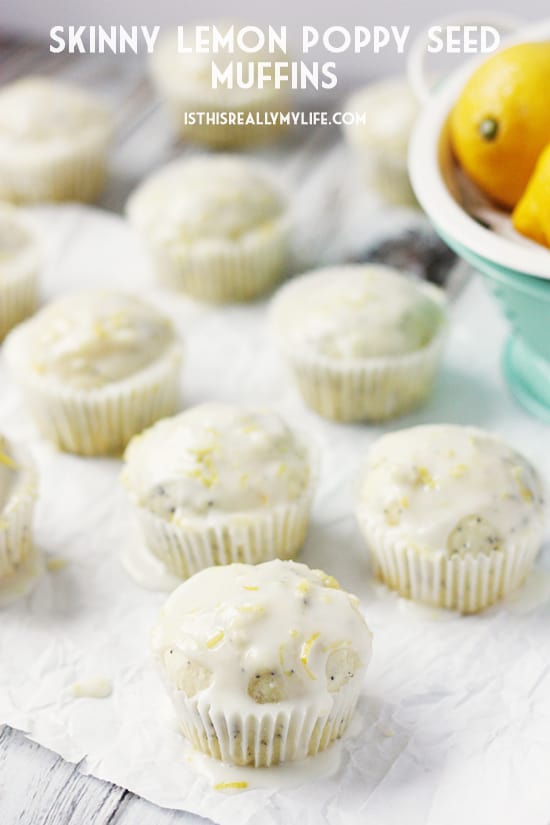 I work from home (#bloggerlyfe) and while I find most of my snack cravings take place after 10:00 p.m., there's plenty of mindless snacking going on throughout the day. And it's usually baked goods, especially if they're sweet rather than savory.
I'm pretty sure I have not one sweet tooth but all sweet teeth.
With the new year well underway, I'm still working on making healthier choices when it comes to snacking. Not only am I trying to snack less often (not every trip through the kitchen requires a snack) but also choose better snack options like fruits, vegetables and the occasional crunchy peanut butter protein bite.
Choosing healthier snack options is just one way to minimize mindless snacking. Here are a few other ideas if you find you can't stop the cravings.
1. Drink water.
Thirst is often confused with hunger, so drink a large glass of water if you find yourself grabbing for a snack. I'll admit I have a hard time with this one, but I've set a goal to drink 64 ounces of water a day. I keep a reusable water bottle on my desk at all times and try to drain it at least once before grabbing a Diet Coke.
2. Eat more protein during breakfast, lunch and dinner.
Eating more protein can make you feel full and satisfied longer. I try to have a high-protein breakfast like a protein shake and make sure I have protein at lunch (peanut butter, Greek yogurt) and dinner (lean meats).
3. Plan healthy snacks between meals.
One of the best ways to minimize unhealthy snacking is to plan healthy snacks between meals. If you let yourself get too hungry, you'll be snacking all day long! Celery with peanut butter, Greek yogurt topped with a spoonful of granola, a handful of almonds, "skinny" popcorn or even a skinny lemon poppy seed muffin are all better choices than a candy bar, bagel or bag of chips. You can even prep your snacks the day before!
4. Get enough sleep.
I find when I'm tired, I snack way more than when I'm rested. Granted, my rested days are few and far between but I'm trying to be better about how much sleep I get. Lack of sleep can mess with the hormones that affect appetite, so get some rest!
5. Go for a walk.
For reals. Whether it's around your office or around the block, sometimes you need to get away from your desk and get some fresh air. A little exercise can help stop the cravings and will give you a little boost of energy without the need for caffeine or chocolate. Don't forget your water bottle!
6. Use portion control.
Don't underestimate the power of portion control. Eating straight from the bag or box is the epitome of mindless snacking. Use a snack-size bag or small plastic container to portion out a healthy amount of your favorite munchies. If you're lazy like me, you'll eat what you've portioned out and find it's too much work to go and do it all over again.
7. Chew gum.
I'm not kidding. For me, this is the most powerful way to fight mindless snacking. When I find all I want to do is snack all day long, I grab a piece of gum (no lie, Orbit Sweet Mint is my favorite) and my appetite is satiated. Combine the gum chewing with another tall glass of water and I'm good to go for at least another hour!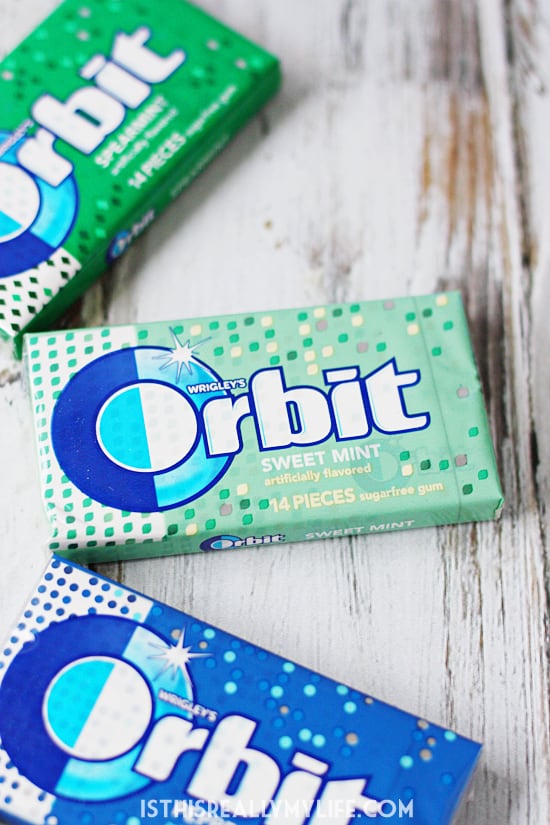 If you're not a fan of a sweet mint flavor, you're in luck! Orbit sugar-free gum is available in a variety of flavors including Spearmint, Peppermint, Wintermint, Bubblemint, Strawberry, Citrus, Sweet Mint (THE BEST of all the flavors) and Orbit White.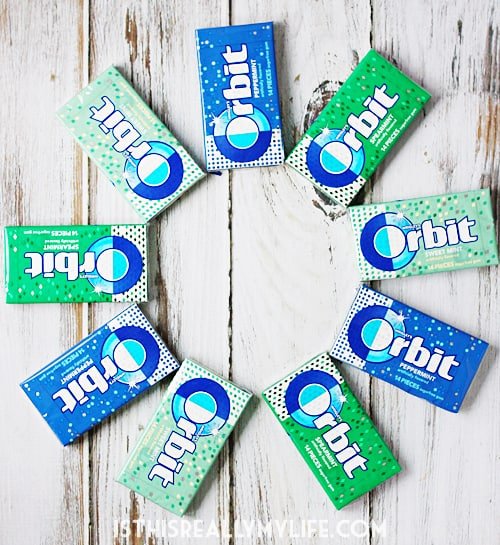 I wasn't lying when I told you chewing Orbit Gum can help keep your wellness goals on track by minimizing mindless snacking throughout the day. Not only does that simple act of chewing keep my mouth happily occupied, mint is a known appetite suppressant. Bonus!
Also, a consumer research study shows gum is grouped with perceptually healthier products like granola, fruits and nuts. Research also noted 80 percent of gum buyers also purchase better-for-you bars.
I'm guessing that's NOT a Kit-Kat.
Gum is a flavorful treat—yes, I said treat—with only 5 to 10 calories per serving. And sugar-free gum provides oral care benefits, fresh breath being the most obvious one. But I'm also a fan of it clearing any tiny food particles left over after lunch with my girlfriends.
Wrigley's #ChewToABetterYou campaign encourages everyone to incorporate sugar-free gum into their health and wellness routine to promote balance through mindful consumption.
Speaking of mindful consumption, choosing "skinny" options for some of your favorite treats is another way to minimize mindless snacking. Let's be honest, sometimes what you really want is a lemon poppy seed muffin. Fortunately for all of us, these skinny lemon poppy seed muffins are full of delicious lemon poppy seed flavor but seriously lacking in calories, fat and sugar.
You're welcome.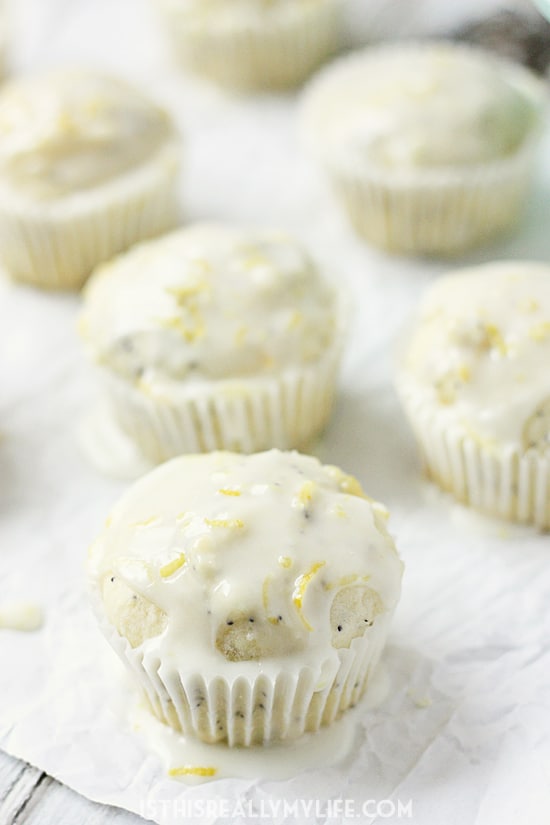 I was worried the texture of these skinny lemon poppy seed muffins would be super dense, and while they're slightly denser than some of your full-fat bakery-style options, the texture is amazing for such a healthy muffin.
If you want to cut back on the calories and sugar even more, omit the lemon glaze. The muffins will still be yummy, I promise!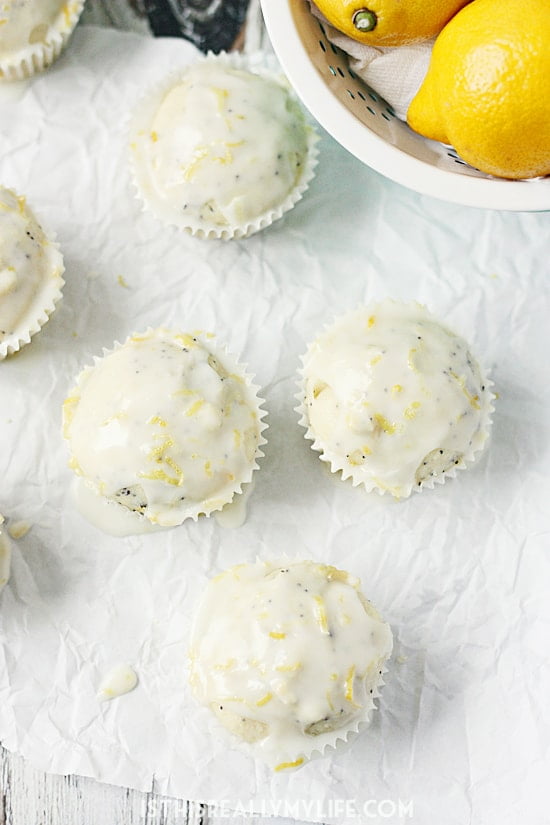 I strongly encourage you to incorporate these healthier muffins into your routine. Printable recipe for skinny lemon poppy seed muffins below. Enjoy!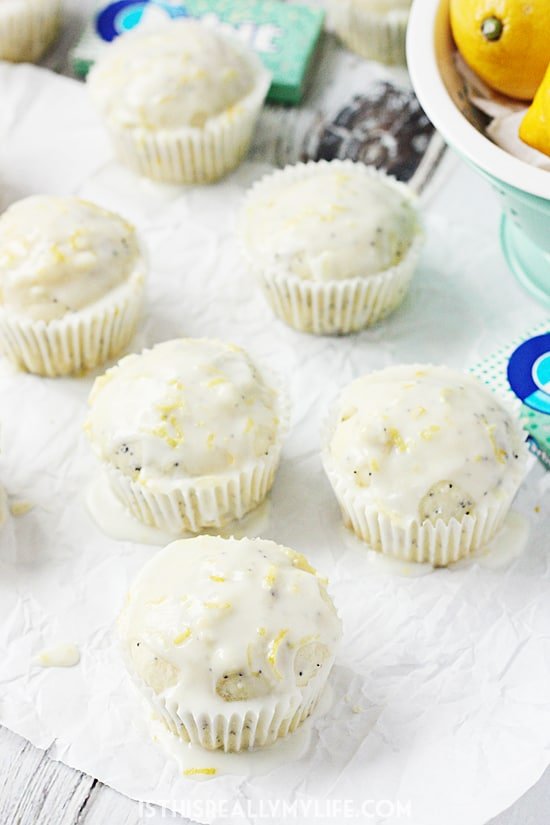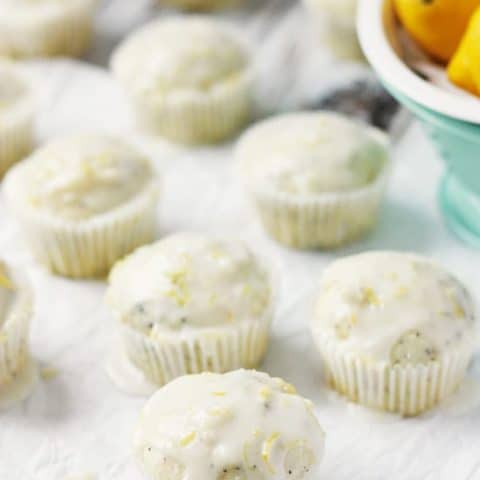 Skinny Lemon Poppy Seed Muffins
These skinny lemon poppy seed muffins are a great option for healthy snacking—full of flavor but not full of calories, fat and sugar! Make sure the ingredients you're mixing with the coconut oil are room temperature or they will turn that coconut oil into a solid! Makes approx. 12 muffins.
Ingredients
Muffins
1 ⅔ cup flour
⅔ cup Splenda
2 tsp baking powder
½ tsp salt
⅓ cup coconut oil, melted
⅔ cup lemon-flavored Greek yogurt, room temperature
⅓ cup skim milk, room temperature
1 egg, room temperature
1 T poppy seeds
Glaze
2 T fresh lemon juice
1 cup powdered sugar
1 T lemon zest
Instructions
Muffins
Preheat oven to 350 degrees. Line a muffin pan with baking cups.
Combine flour, sugar, baking powder and salt in a small bowl; set aside.
Whisk coconut oil, Greek yogurt, milk, egg, lemon zest and poppy seeds together in a medium bowl.
Stir in flour mixture until just moistened. Batter will be on the thicker side.
Use a large scoop (about 3 T) to divide batter evenly among muffin cups.
Bake for 15 to 20 minutes or until a toothpick inserted in center comes out clean. Cool in pan for 2 minutes before removing.
Glaze
Combine lemon juice, powdered sugar and lemon zest in a small bowl; whisk until smooth.
Drizzle over muffins a few minutes after removing from pan.
Nutrition Information:
Yield:

10
Serving Size:

1
Amount Per Serving:
Calories:

218
Total Fat:

8g
Saturated Fat:

6g
Trans Fat:

0g
Unsaturated Fat:

1g
Cholesterol:

20mg
Sodium:

232mg
Carbohydrates:

32g
Fiber:

1g
Sugar:

14g
Protein:

5g
Here are a couple other healthy recipes to help curb those not-so-healthy cravings!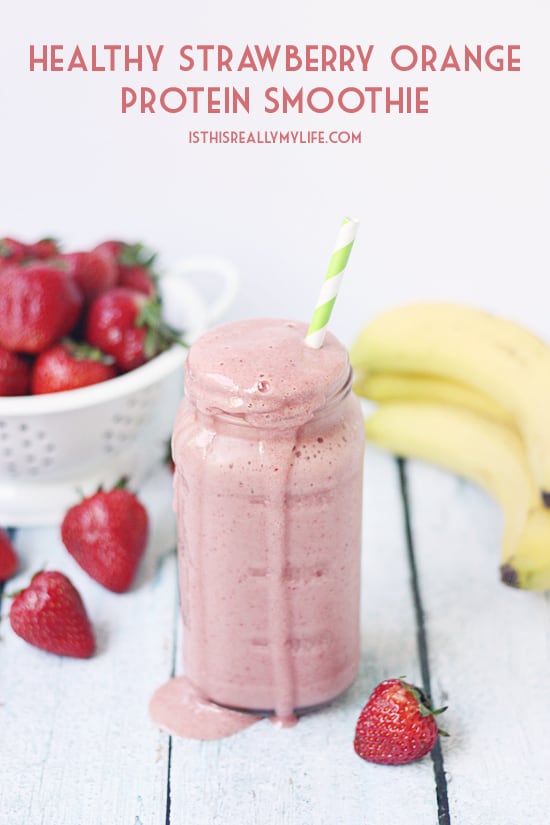 Strawberry orange protein smoothie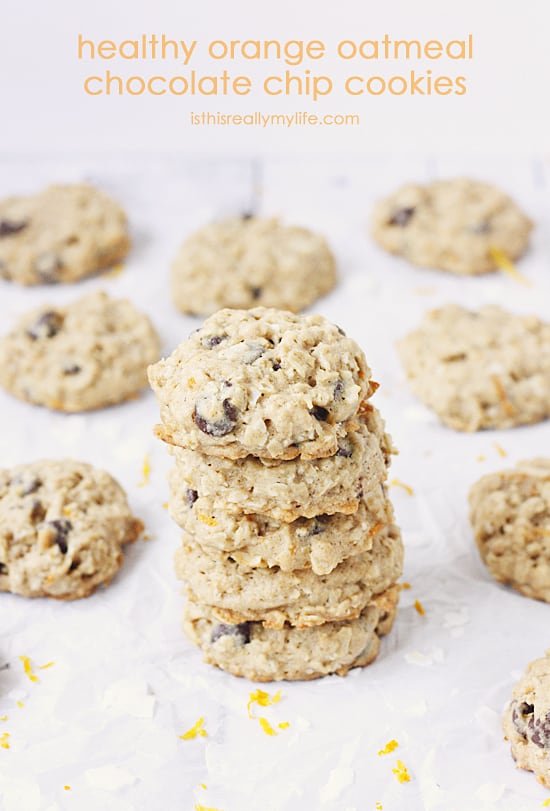 Orange oatmeal chocolate chip cookies