Edison-style cafe lights are the secret to creating the perfect (romantic) ambiance in this simple master bedroom makeover.
.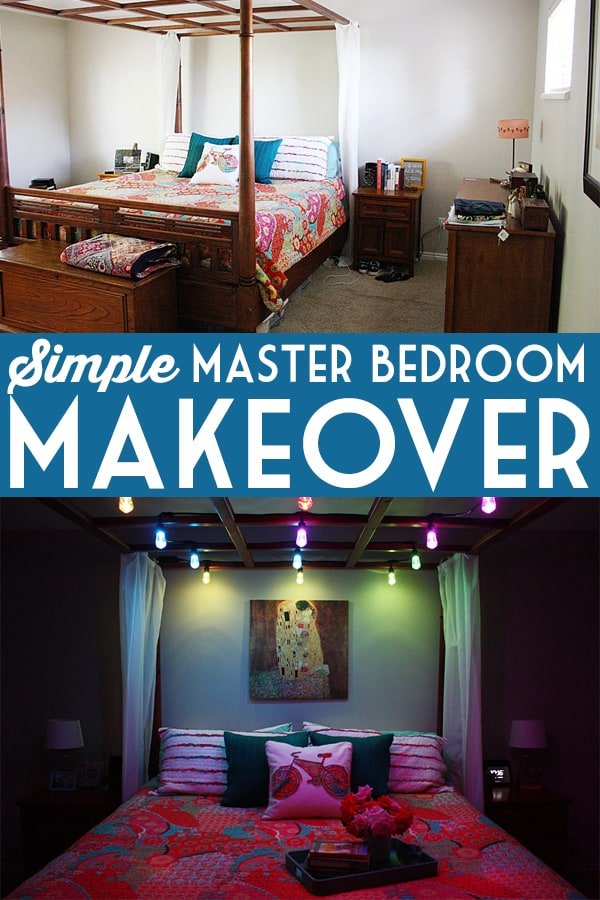 .
Disclosure: This is a compensated post for Jasco. The content and opinions expressed are my own.
.
Longtime readers of this blog know about the only things I regularly DIY are recipes. I've created the occasional printable (these gift tags are my favorite) and even refashioned a unisex concert t-shirt, but those projects are few and far between.
I've been dying for a master bedroom makeover. Unfortunately, all the bedroom makeovers I've seen are way out of my league. They involve far too much spray paint, pillow coordinating and power tools. I'm a simple gal who wanted a simple master bedroom makeover, so I ignored the Pinterest pins and went with the right amount of DIYing:
Organizing (closet, dresser and corner-of-the-room dejunking)
Spray painting (cutlery tray transformed into "Nathan's random crap from atop the dresser" tray)
Shopping (two lamps, one throw pillow, one succulent planter, one set of bookends and one Klimt on canvas)
Creative thinking (outdoor Edison-style cafe lights brought indoors for some serious ambiance)
.
And by serious ambiance I mean romantic, mini-oasis-from-life, why-didn't-we-do-this-sooner ambiance.
For reals.
We took Enbrighten Color Changing Café Lights—the type of lights you'd typically use only outdoors—and attached them to our canopy bed. I'm not lying when I tell you it's the best part of the master bedroom makeover.
Now it's time for the before and after photos. I always try to be completely honest (you can check my Instagram stories if you don't believe me), so the before photos are truly what it looked like, messes and all. You'll also see that the after photos aren't that much different aside from the "DIYing" listed above. But what a different those simple changes—and those Enbrighten Color Changing Café Lights—made!
BEFORE
.

.

.

.

.

.

.

.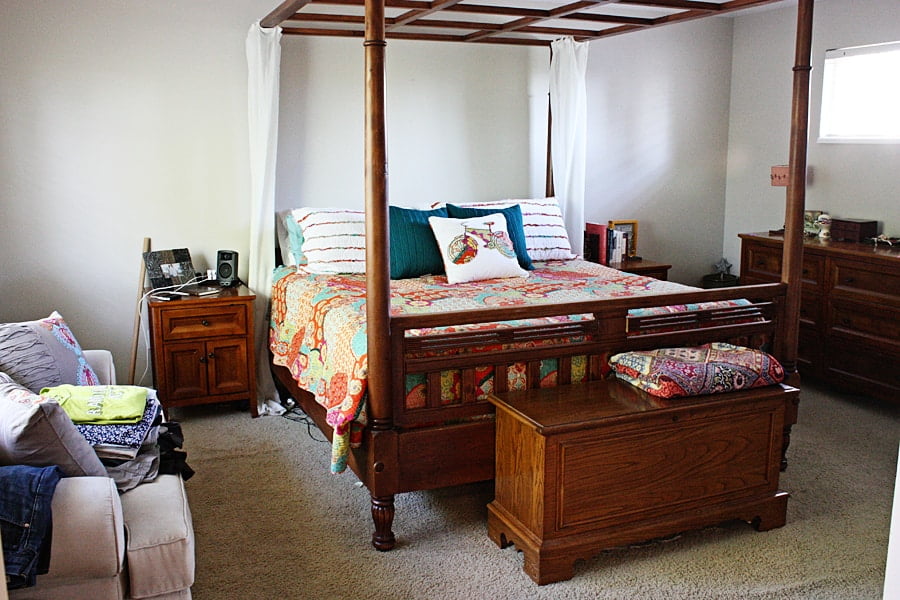 .
AFTER
.

.

.

.

.

.

.

.

.

.
Nathan and I love how uncluttered our bedroom feels even though we probably have more decor than we previously had. Or maybe we just have more books, which is way okay with me. I called this makeover a simple master bedroom makeover because it was accomplished in one afternoon and although it wasn't one of those "under $10" makeovers, it was still super budget friendly.
But let's be honest; the best part about the bedroom makeover are the cafe lights. Enbrighten Color Changing Café Lights by Jasco are Edison-style lights that combine the functionality and durability of Jasco's standard LED lights with a vintage feel and the coolest—THE COOLEST—color modes.
.

.

.

.

.

.

.

.
Check out all the cool features you get with Enbrighten Color Changing Café Lights:
Remote control -- color-changing capability with the press of a button
Built-in timer -- your grownup night light
Linkable up to 750 feet -- perfect for home theaters and rec rooms
Flexible mounting options -- in case you don't have a cool canopy like ours
Multiple color options -- sports team colors, anyone?
Dimmable -- perfect for setting the mood
Lifetime LED bulbs -- unlike your typical outdoor colored lights
Impact resistant -- an important feature if they're in a rec room...or bedroom
.
Imagine all the different ways you could use these babies: backyard parties, wedding reception (indoor and outdoor), home theater, bedroom, walkway, outdoor chandelier, indoor fort...the possibilities are endless!
For more ideas, check out this DIY Spaces Pinterest board.
By the way, one of the things I didn't dejunk was the handcrafted sign on our master bedroom door. Because, hello, it's going to be worth millions when Livi grows up.
.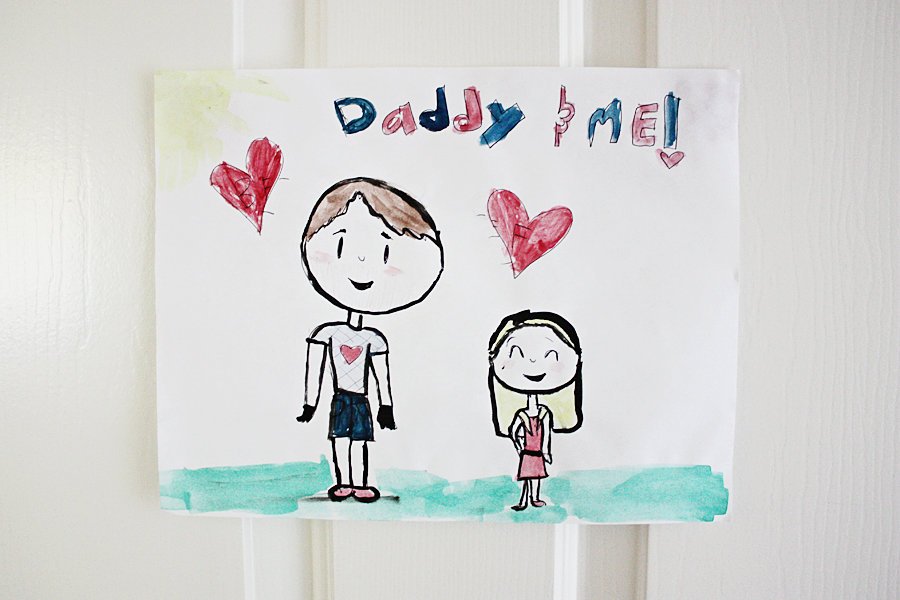 .
And now I need to head upstairs. My "new" bedroom and all those books (and chocolate) are calling me...
.
.
If you're looking for more yummy recipes, you should browse my "best of" Pinterest board.
.
.

Feel free to "like" Is This Really My Life on Facebook. It won't earn you an extra entry in a giveaway but it will give you warm fuzzies.
Don't forget to sign up for free Is This Really My Life updates via RSS or email so you don't miss a single awesome post.
.