Disclosure: I was given two pairs of SikkShades by Eddie Bauer Jr. for this review but all thoughts, opinions and pairs of white Qualifiers are mine.
Here's the thing. I love sunglasses but rarely fork out the big bucks for a pair because I tend to lose them. Or drop them. Or discover them at the bottom of the dress-up box a mere shadow of their former selves. I did finally buy a pair of designer sunglasses but only because they were half off and I so loved the brand.
Dang those flash sales! They always suck in the impulse buyer.
But I may have changed my mind about making investments in sunglasses after virtually befriending Eddie Bauer Jr. (@EddieBuaerJr) and learning more about SikkShades. He pretty much had me at "handmade in Italy."
And then he had me at "oh my gosh, how awesome does George look sporting a pair even if they're twice his size!"
…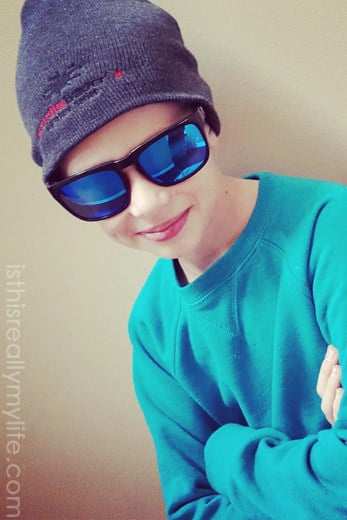 …
And then George pulled this move and I died a little.
…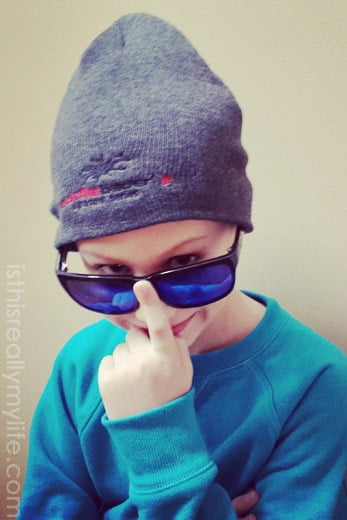 …
George is sporting the black Huckleberry SikkShades with blue iridium lenses. These babies may look simple yet stylish but that's where you're wrong. The adorable 8-year-old is hiding behind sunglasses that are military-specification 31013 ballistic rated, certified shatterproof with lenses that outperform standard polarized lenses. Oh, and they've also been rocket-propelled wind tunnel tested and athlete approved.
These are some seriously sick shades, my friend.
Of course my favorite are the Qualifiers because of their sleek unisex design. They make me feel like I should be driving a Maserati instead of a minivan.
…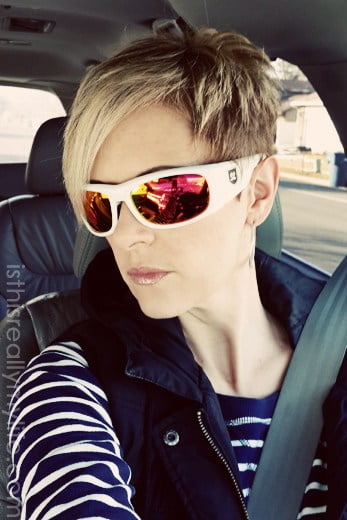 …
Somehow Madison and Livi picked up on their cool factor and felt the need to steal them. Fortunately I caught them in the act.
…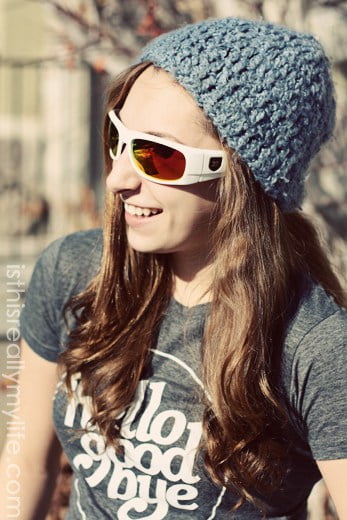 …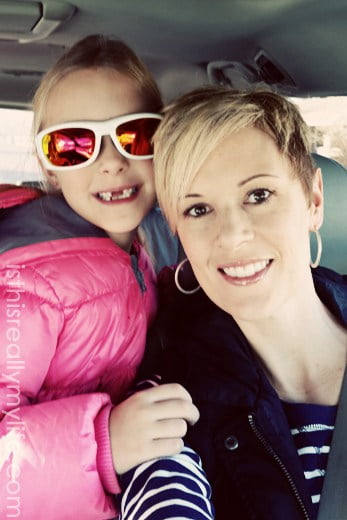 …
Lauren, not a fan of sunglasses in general, passed on the SikkShades and went right for the beanie. It seems Coco approved.
…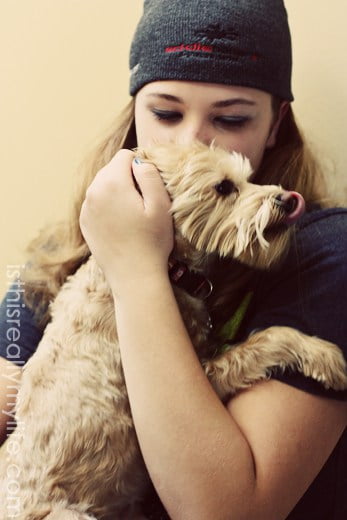 …
Dang. I've got some cute kids.
Though I prefer the design of the Qualifiers (the Huckleberry style didn't suit my face shape), I could tell both pairs of SikkShades were made using solid construction and serious attention to detail. They feature a rubberized nose piece and lightweight frame for comfort (i.e., perfect for family road trips this summer) and that whole wind tunnel test means they'll stay on as I kamikaze down the slopes…IF I take up skiing again.
But I would be remiss if I were to wrap up this review without telling you about Eddie Bauer Jr., the man behind the lenses. Through our online friendship I've come to understand this man is as serious about his eyewear as he is about motocross:
In the beginning I had no desire to slap my name on someone else's frame and call it my own. I wanted to make great, stylish sunglasses that were durable yet fashionable. Tired of the overpriced monopoly I perceived in the marketplace, I set out to design frames that were affordable and out-performed what was available. The vision was clear. The road ahead — not so clear. Looking back, it's safe to say I had no idea the journey I would travel to realize the dream.
To hear the SikkShades story straigh from Eddie Bauer Jr.'s mouth, visit his Indiegogo project. While there, you can participate in his crowdfunding efforts and score a pair of SikkShades at cost, which means your cool factor will be multiplied by 10 before you can say, "Dude. Don't even think about stealin' my SikkShades."
You can also find SikkShades on Twitter and Facebook and follow Eddie Bauer Jr. on Twitter and Instagram.