I have been a fan of Shutterfly since I first learned about them in 2003. By then they'd had 4 years' experience in the online photo industry and were well on their way to becoming the #1 online photo service. (It says so on their login page and I totally believe it.)
I've ordered over 4,000 photos from Shutterfly...and that doesn't include our annual holiday card. Here are our 2010 and 2011 Shutterfly holiday cards—I couldn't resist sharing.
2010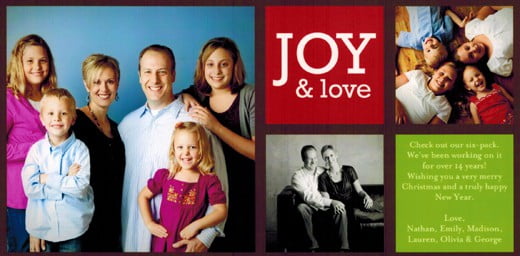 ...
2011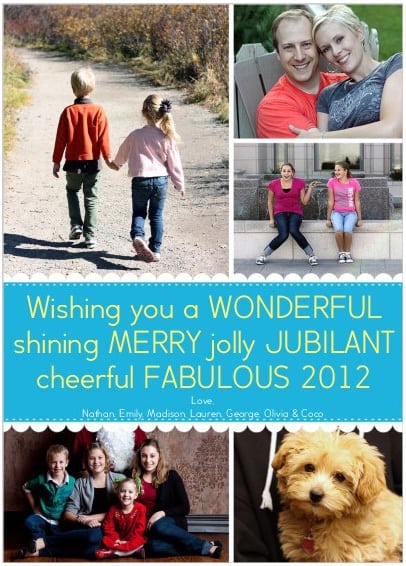 ...
Last year I didn't send out cards until well after Christmas (hence the New Year's theme) and I'm sure this year will be the same. That's why I've already scoped out my favorite New Year's holiday cards Shutterfly is featuring this year:
...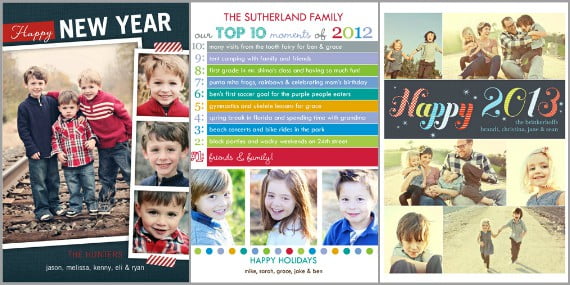 From left to right: Cheery Snapshots; Top Moments; Starry Happiness
...
I'm not sure why I love Shutterfly, but if I had to guess at 1:48am in the morning, I'd say it's because they offer:
Great pricing
A gazillion options, from photo books and calendars to greeting cards and coffee mugs
An easy and intuitive interface
Fabulous customer service
...
There's a reason we've been customers for close to 10 years. In fact, I just gave you 4 reasons.
Along with your typical holiday cards, Shutterfly offers religious and scripture-based cards (though they're severely lacking in Festivus cards) and business Christmas cards. Whatever your style, I can guarantee you'll find something you'll love.
Oh, and I almost forgot to mention how awesome Shutterfly is when it comes to special offers. They always have deals going on; I recommend you sign up for their email newsletter so you don't miss out. You can also check out their SPECIAL OFFERS page for current promotions.