If you've connected with me on the social media, then you know I share awesome—my family, my recipes, my special moments—as often as I can.
I also share the not-so-awesome like this candid shots taken by my husband. Hey, it's my reality.
Thanks, babe.
Though I do a lot of sharing online, I try to be smart about what and where (social media platform and physical location) I'm sharing. I avoid giving out any info related to where we live and don't geotag my photos unless I'm traveling. Though I use my kids' real names on my blog, I try to leave them out of posts on platforms like Twitter and Instagram and tend to do the same on my Facebook page. I don't know why, but to me it's a comfortable amount of sharing.
My husband and I try to teach our kids the importance of being smart when it comes to digital sharing. It's an ongoing process for sure. Here are some of our dos and don'ts when it comes to online safety with our kids:
DO connect with friends. DO NOT connect with people you don't know in real life. And know well.
DO disable geotagging on your phone. DO NOT allow apps to use your location. There's no need for you to check in on Foursquare or become the Duchess of Sonic Drive-In.
DO give Mom and Dad your username and password for every social media platform for which you have an account. DO NOT change your passwords without telling us.
DO put a lock on your phone so friends can't hijack it. DO NOT forget to tell Mom and Dad what that lock is.
DO share fun moments you have with friends and family. DO NOT publicly share moments that may make someone feel left out or decrease your chances for future dates. (Boys don't like seeing you in photos with other boys…unless it's a dance. Those they understand.)
DO use the computer/iPad/tablet/laptop during the hours we've set. DO NOT use the aforementioned devices in your bedroom or another out-of-sight location.
DO share things that inspire you and will inspire others. DO NOT, I repeat, DO NOT participate in any form of cyberbullying, sexting, inappropriate Snapchat or other form of harassment EVER.
DO remember what you share online is there for the world to see, even if you delete it. DO NOT assume what you share privately will stay private.
DO know your parents have your back. ALWAYS.
.
My 17-year-old daughter has her own set of rules. They were too brilliant not to turn into a graphic.
Talk about #ShareAwesome.
.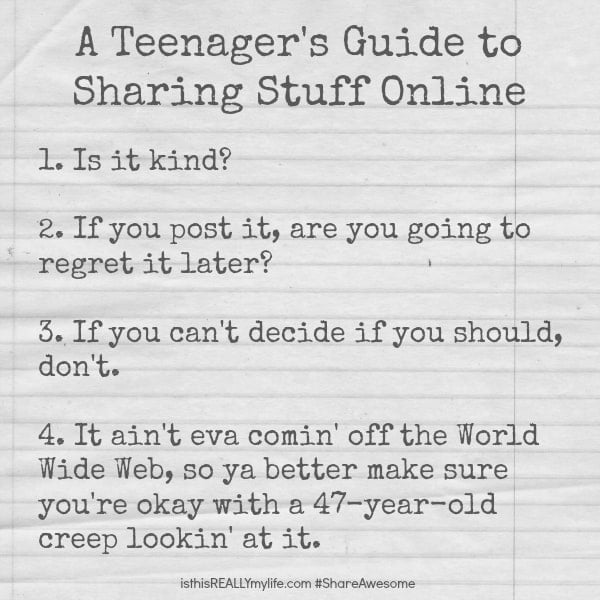 .
You caught that hashtag, right? #ShareAwesome is a super cool campaign aimed at building an understanding among parents and students that no matter the device, the app or the networking site, the skills we need to be safe and positive online are similar to what you need offline. And isn't that the truth? You could easily take most of the guidelines I listed above and apply them to real-life situations.
National PTA has partnered with LifeLock to share awesome ways families can create an open, evolving conversation about positive, safe decisions when using digital tools. It's all part of enjoying a happier, healthier lifestyle.
If you visit ShareAwesomeNow.org, you'll find some great tools to help you create that open, ongoing conversation. One of them is a quick little quiz to test how awesome your digital citizenship skills are.
I took the quiz and even with our current efforts, there's definitely room for improvement.
One of the easiest and coolest ways to participate in the #ShareAwesome campaign involves something your kids are (probably) doing every day…
.
Snap a photo of an awesome moment in your day and share it on Facebook, Twitter, or Instagram with the #ShareAwesome hashtag.
Students who enter the #ShareAwesome contest between September 15 and November 30, 2014 will have a chance to win fantastic prizes, including tablets and a $2,500 scholarship!
.
But the campaign isn't just for students. The #ShareAwesome contest invites social media users like YOU to share a smart and safe decision, uplifting accomplishment, or pay-it-forward moment to inspire others using the hashtag #ShareAwesome on Instagram, Twitter, and Facebook. Visit ShareAwesomeNow.org to learn more.
.
Speaking of sharing, I'd love for you to share your guidelines for online safety and/or digital sharing. Do they differ from the guidelines you've set for your kids? What guideline has been the most successful or easiest to implement?
.
I was selected for this opportunity as a member of Clever Girls Collective and the content and opinions expressed here are all my own.
.


Feel free to "like" is this REALLY my life? on Facebook. It won't always earn you an extra entry in a giveaway but it will give you warm fuzzies.
Don't forget to sign up for free is this REALLY my life? updates via RSS or email so you don't miss a single awesome post.
.