Having a September birthday means you have a sapphire birthstone, which is way okay with me because I adore sapphires. The gorgeous blue color gets me every time, especially if it's surrounded by tiny, clear, sparkly stones like in the ring Nathan gave me early in our marriage.
…
…
Because we were on a budget, the sapphire in my ring is synthetic and those sparkly stones are CZs, not diamonds. But knowing that doesn't make me love it any less. Truly.
As much as I love my blue sapphire ring, I'm intrigued by black sapphire jewelry. And because I know nothing about black sapphires (or sapphires in general), I did a little research. Here are the basics:
Sapphires come in a variety of colors: white, blue, green, yellow, orange, brown, pink, purple, gray, black, multicolored and even colorless.
Sapphire is one of the most popular gemstones with blue most often used in jewelry.
Similar to other gemstones, the cost of natural sapphires can vary depending on color, clarity, size, cut and overall quality as well as their geographic origin.
Black sapphire is a grounding stone, one of protection and centering; it deflects negativity from others and provides a calm strength in high stress or chaotic situations.
…
Did you know Shane Co. sells only naturally mined sapphires hand-selected for their beauty and depth of color?
Black sapphires are rare, which makes that statement even more impressive.
One of the hottest jewelry trends right now is using black sapphires in wedding jewelry. Check out these gorgeous black sapphire engagement rings from the Shane Co. What do you think? Are you a fan of black sapphires?
…
…
Or if you prefer a more traditional-style engagement ring…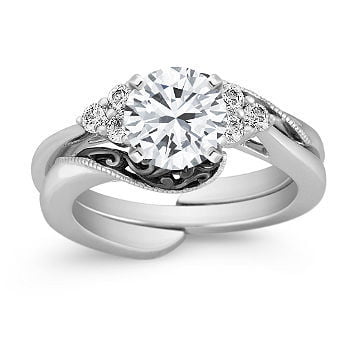 Of course, not everyone is shopping for engagement rings during the holidays, but that doesn't mean I you can't keep black sapphires on my your holiday wish list. Here are my two most favorite pieces of black sapphire jewelry from the Shane Co.
…
…
Aren't those black sapphire earrings in rose gold absolutely stunning? Just think how fabulous they'd look paired with a black dress for that upcoming New Year's Eve party.
I love any excuse to buy a new dress and these earrings are definitely a good one.
Though I can appreciate beautiful jewelry and beautiful stones like the black sapphires from Shane Co., I will always prefer my synthetic sapphire and CZ ring, not because it's worth thousands—or even hundreds—of dollars but because Nathan gave it to me. And he pretty much rocks my world (pun totally intended).
…
…
I was selected for this opportunity as a member of Clever Girls Collective and the content and opinions expressed here are all my own.
…


Feel free to "like" is this REALLY my life? on Facebook. It won't always earn you an extra entry in a giveaway but it will give you warm fuzzies.
Don't forget to sign up for free is this REALLY my life? updates via RSS or email so you don't miss a single awesome post.
…