Though it's only 11pm I'm fighting a losing battle with exhaustion due to a really long day and an evening spent at traffic school. Don't you worry–I'll be posting all about my traffic school experience soon. It was an hour and a half of enlightenment, humor and some sobering statistics.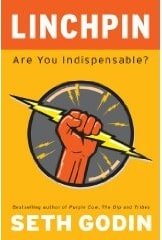 Right now I'm working on a post recapping our recent Enrichment night where we had a hands-on class dipping various delights in white, milk and dark chocolate. But I'm afraid I won't make it through the entire post tonight so here's a mini post for you in the meantime:
Nathan and I are attending Startup Princess' "Lunch With Seth Godin" event on Friday. We read Purple Cow while working at LoveSac and both thoroughly enjoyed it. I have yet to read Tribes but am partway through his newest book, Linchpin. Linchpin is all about whether or not you're indispensable (i.e., someone who cannot be replaced because his role is far too unique and valuable).
Last night, before we fell asleep, I said the following to my husband:
"I think you're indispensable. That's why I haven't offed you yet."
And I believe just after that I added, "If you ever do become dispensable, you're outta here!" Call me sentimental, but I'd say that's quite possibly the sweetest thing I've ever said to him. Thank you, Seth, for making this Valentine's Day the most romantic one yet!