Christmas has come and gone and if you're family room looks anything like mine, you're wondering where in the heck you're going to put all the new crap gifts. Remember The Great Declutter*? Looks like it's time for a smaller, post-holiday version.
That's where eBay comes in handy. In fact, you can multitask (one of my most favorite things to do): find good homes for the "old" while making a little money to pay for the "new." Come January many of us will suffer credit card shock when our December statements arrive via snail mail or email. It's not going to be pretty, trust me.
Soften the shock by stockpiling some PayPal funds now. Gather up clothes, electronics and toys that are so 2011 and sell them on eBay.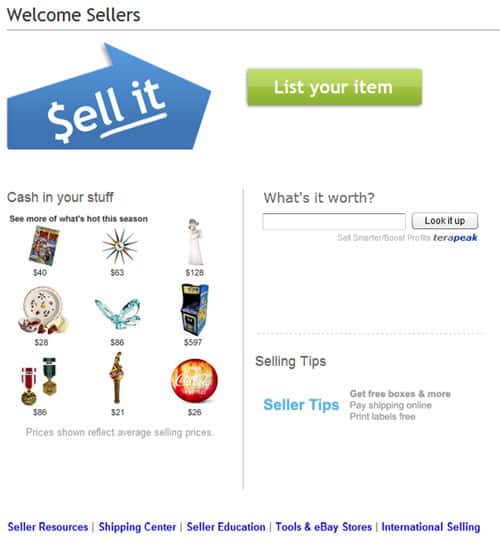 You may no longer need your previous generation iPhone but someone out there wouldn't mind owning one. Did the Nintendo DS Lite get replaced by a Nintendo 3DS? Perfect! Sell the DS Lite on eBay. If it's in good condition, you can still make a pretty penny on it. (Trust me—I bought George a used DS Lite for Christmas.)
If Lalaloopsy has replaced the Fisher~Price Little People, find those little guys (and their farm or playhouse or car wash) a new home via eBay. The same goes for the cocktail dress you wore only once due to holiday festivities making it so you no longer fit into it. Gently used and new dresses sell really well on eBay…probably due to everyone else no longer fitting into their pre-holiday party apparel.
While you're selling, continue the spirit of giving by opting to donate 10 to 100 percent of your sales to a charity of your choice. Every little bit helps, especially after the holidays when donations tend to slow.
Still not sure about selling on eBay? Perhaps the new eBay MoneyMakers series will convince you. The stories of eBay changing the lives of real families are inspiring…and empowering. Just what we all need to ward off the post-holiday blues. (I don't know about you, but I tend to get slightly depressed once the holidays are over.) You can find the entire series on eBay's YouTube channel.
Ready to get rid of the old to make room for the new? Here are a couple resources that may help:
Seller Information Center

: Includes selling, shipping and payment tips in addition to other helpful tips and tools for new and experienced sellers alike.

Technology & Electronics Selling Guide

: Teaches which products, accessories and brands are in demand; how much cash you could make on tech and electronics you might otherwise have thrown out; what items sell when, price ranges and selling histories.
There's nothing like a little post-holiday selling to breathe new life into your 2012 budget!
* The Great Declutter led to around $600 in eBay sales. I highly recommend trying it for yourself!
Disclosure: As an eBay Parent Panel member, my eBay-related posts are sponsored by eBay. My opinions, thoughts, views and love of buying and selling (basically selling so I can buy) on eBay are mine, all mine. And yes, I really do the eBay thing; check out my eBay seller ID: emihill.