My friends and family know I am not a crafter per se. I don't come up with super cute ideas for ribbon rosettes like my new friend Becca or the sweetest toy chest like my good friend Vanessa made for her daughter's room remodel. I guess I put most of my creative energy into words, and I'm not sure those are always crafty.
BUT just in case my friends believed me when I said I never craft with my kids, here's proof that once in a while I do whip out some paper, crayons and yes, even foam stickers: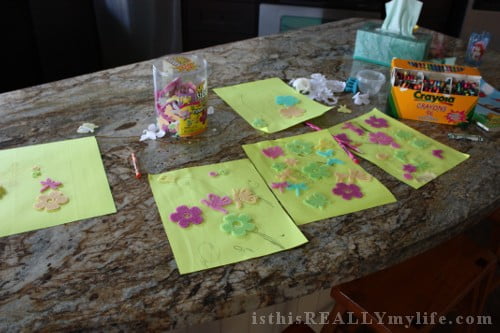 I may not craft but I do love to cook (and throw a good party) so I'll be busy this week putting together a post or two with photos of what I affectionately call my "12-Hour Cupcakes" and Evonne's baby shower where we served those "totally worth it anything for Evonne and Vin" cupcakes. One word of advice: don't try out new recipes for cupcakes and icing or experiment with royal icing flowers and fondant a day or two before a party. What would normally take a couple hours may keep you up until 2am.
Off to go clean up the crap crafts leftover from George's and Livi's one TV-free hour for the day!