I thought the new Scheels in Utah was just another Cabela's (i.e., perfect for Nathan and of little interest to me).
Boy, was I wrong.
Scheels is 85 specialty shops—including a Denim Den…be still my denim-loving heart—under one roof complete with 16-car Ferris Wheel and Gramma Ginna's Deli & Fudge Shop.
It's basically a sporting goods store combined with a mall combined with fun center all on crack.
I was invited to the Scheels pre-opening press event tour of the new store. Sadly, a lot of the store was still in boxes but that didn't stop me from catching a glimpse of some pretty cool merchandise.
Believe me when I say Scheels is ginormous. GI-NOR-MOUS. And it has to be in order to house the Ferris Wheel, life-size airplane…
…children's play structure, shooting gallery (who does that guy remind you of?)…
…demo kitchen, archery lane, wildlife mountain and those 85 specialty shops I mentioned.
Megan from Brassy Apple was my tour buddy. She had a lot of fun testing out the guns at the shooting gallery.
Maybe too much fun.
I must admit, the Ferris Wheel was pretty impressive as were the Barbie fishing poles, bins of ammo, and selection of Real Salt Lake gear. But what wowed me the most was the 16,000-gallon salt water aquarium.
We were able to watch as they started introducing the salt water fish to their new home. Who knew it required an entire team including a scuba diver?
By the way, I had no idea tropical fish came in a box.
I honestly can't wait until Scheels finally opens its doors on September 29th. I'm totally planning a visit as a family night activity. My family will love the shooting gallery, sports simulator games, mini bowling and a few turns on the Ferris Wheel. We'll follow it up with a taste or two of Scheels fudge.
Let's just hope this gal is dressed a bit more modestly before those doors open.
These were my three most favorite shots from the Scheels tour:
…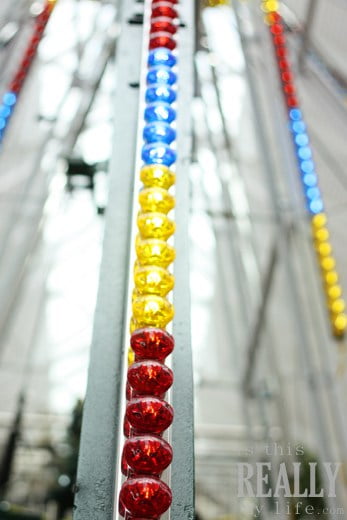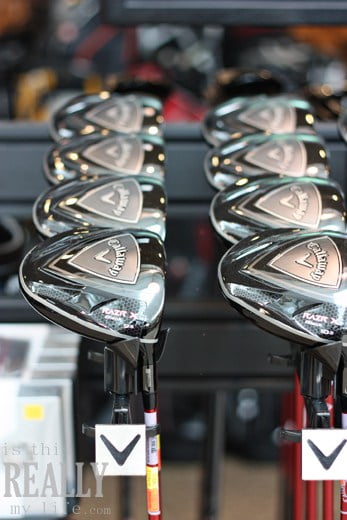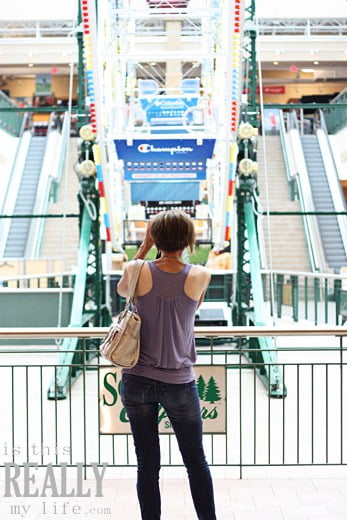 …
Disclosure: Scheels provided me with a tour of the new store and lunch. They offered me a ride on the Ferris Wheel but I politely turned them down due to my fear of vomiting in one of their new Ferris Wheel cars.