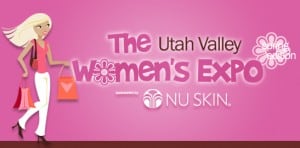 Twice a year 12,000 women come out to the Utah Valley Women's Expo. It is THE place to be, and there's no better reason than an expo dedicated to women for a fab day and/or night out with the girls!
SassyScoops.com will have a booth there and we can't wait to meet you IRL ("in real life" for those who don't text or Twitter)!

When: April 23rd & 24th, 11:00 am to 8:00 pm (both days)
Where: McKay Events Center, UVU, Orem, Utah (directions)
SassyScoops.com has a free ticket for you, so head on over and print it right from the original post. Hope to see you there!
P.S. I'll be working the booth from 5:00 p.m. until 8:00 p.m. on Friday and I'd love to see a few friendly faces, so stop on by and say hello!