If you haven't already figured it out, the Sassies behind SassyScoops.com know how to have a good time and look for any excuse to do so. Hence the planning of what is sure to be the best girls' night out this spring: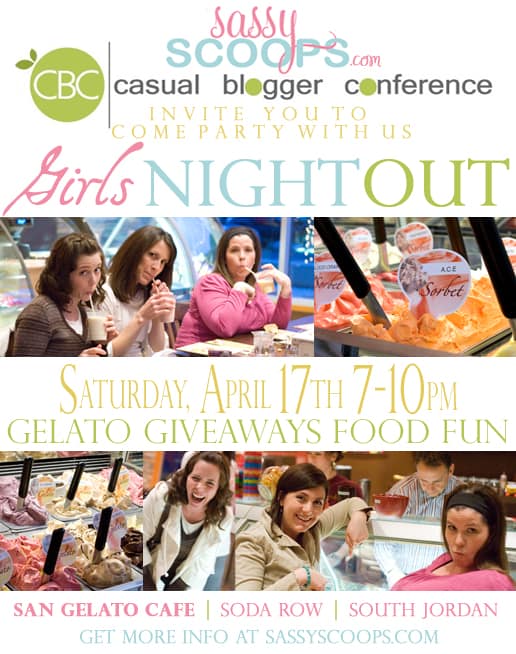 We are partnering with the Casual Blogger Conference to bring you a night of food, fun, giveaways and of course yummy gelato from San Gelato Cafe. The night is open to all "girls" whether you're a blogger, beautician or Bumpit designer. (If you are a Bumpit designer make sure to say hi to our Sassy Steph. She's a big fan!) Here's more from the SassyScoops.com post about the upcoming GNO:
Feel free to bring your girlfriend, mom, sister, niece, neighbor, stylist…anyone you know who's ready for a night on the town (or at least a night at a yummy cafe in the heart of Daybreak). The evening will be full of food, fun, giveaways and of course gelato—quite possibly the best gelato in all of Utah. Here are the details:
Saturday, April 17th
7:00 p.m. ~ 10:00 p.m.
San Gelato Cafe on Soda Row
11259 Kestrel Rise Rd., South Jordan
Because San Gelato Cafe loves us as much as we love them, they'll have a special that night for those who come to party with us: one free scoop of gelato with any purchase. Buy a scoop, get one free; buy a delicious panini, get a scoop free (on the side unless you're a "panini a la mode" gal).
We will also have some fabulous giveaways that night from some of our fave local business including San Gelato Cafe, Blend Fashions, My Dough Girl, and our ever favorite Girl Scouts. (Too bad I'm exempt…I'm running low on Samoas and Thin Mints already!) We'll also be giving away one ticket to the upcoming Casual Blogger Conference, but you have to be in attendance to have the chance win it!
We hope you can join the Sassies for our first of hopefully many girls' nights out!
I'll be there with bells on and raffle tickets in hand. Think of it as a post-tax-day party! Hope to see you there!