One of my most favorite cookie recipes is the chocolate toffee almond cookies from Two Peas & Their Pod. I make them often enough that I keep at least two bags of Heath milk chocolate toffee bits in my pantry at all times.
I do the same for caramels thanks to those salted caramel butter bars we can't get enough of.
As I was recently going through said stashes of toffee and caramel, I came across a bag of Rolos—another must-have for those oh-so-deliciously-gooey Rolo cookies. That's when I had one of those "a ha" moments. (And this one was a scrumptious one.) Why not wrap that chocolate toffee almond cookie dough around a Rolo to give the cookies a salted caramel kick?
...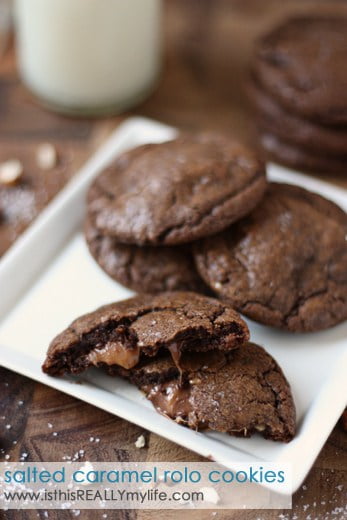 ...
You can kiss your 2013 resolution to "eat healthy and lose weight" goodbye. These babies are absolutely delicious...and due to their tasting best warm from the oven, the batch must be eaten in its entirety before cooled.
Kidding. But that won't stop you from trying.
Printable recipe for salted caramel Rolo cookies below.
...

Salted Caramel Rolo Cookies
This recipe takes my favorite chocolate toffee almond cookie and combines it with Rolos for the ultimate twist on Rolo cookies.
Author:
Emily ~ isthisREALLYmylife.com
Ingredients
2½ cups flour
1 tsp baking soda
¼ tsp salt
¾ cup dark cocoa powder
1 cup unsalted butter, softened
1 cup granulated sugar
1 cup light brown sugar
2 large eggs
1 tsp vanilla extract
½ tsp almond extract
1 package Heath milk chocolate toffee bits
1 cup almonds, chopped
1 (12-oz) bag Rolo candy
Sea salt, for sprinkling
Instructions
Preheat oven to 350 degrees. Line baking sheet with parchment paper or silicone mat. Set aside.
In a medium bowl, whisk together flour, baking soda, salt and cocoa. Set aside.
In a large bowl, cream butter and sugars together until smooth. Add eggs, vanilla and almond extracts. Mix until blended.
Add flour mixture to sugar mixture and mix until flour disappears. Stir in toffee and almonds.
Unwrap Rolo candies. To make cookies, shape a rounded tablespoon of dough around each Rolo. Make sure candy is completely covered with dough. (I roll them in my hands to form a ball.)
Place cookie dough on prepared baking sheet, about 2 inches apart. Sprinkle with sea salt.
Bake cookies for 8 to 10 minutes. Don't over bake. Remove from oven and let sit on baking sheet for 2 minutes. Transfer to cooling rack and cool completely.
...

Feel free to "like" is this REALLY my life? on Facebook. It won't always earn you an extra entry in a giveaway but it will give you warm fuzzies.
Don't forget to sign up for free is this REALLY my life? updates via RSS or email so you don't miss a single awesome post.
...