This salted caramel pecan ice cream boasts a decadent caramel swirl and chopped pecans. It's quite possibly the best salted ice cream you'll ever taste.
A little background about this salted caramel pecan ice cream recipe (quite possibly the most amazing salted caramel pecan ice cream you'll ever taste)...
As for the ice cream, it was a true labor of love. I had no idea what a labor of love it would be as I'd never made a custard-based ice cream before, one that included a from-scratch salted caramel flavor and from-scratch caramel swirl.*
* You can't see the caramel swirl in the first photo because I made the mistake of adding it to the ice cream machine before it started.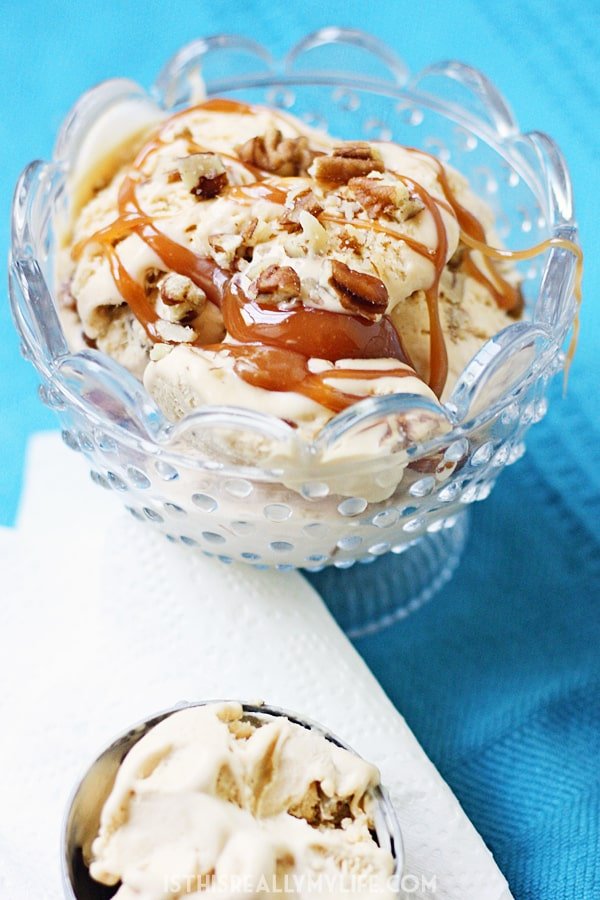 I learned one important lesson during the process of creating this salted caramel pecan ice cream (note the asterisk above):
Adding the caramel swirl before you add the ice cream to the machine is SO not the way to do it. Make sure you add the caramel swirl after it's done.
You'll layer it as you place the finished ice cream into an airtight container for final hardening in the freezer. Oh, and the caramel swirl is totally optional. If you skip it—or choose to use it as an ice cream topping like I did in the photo below—the salted caramel pecan ice cream will be just as yummy...and you'll have fewer dishes to clean.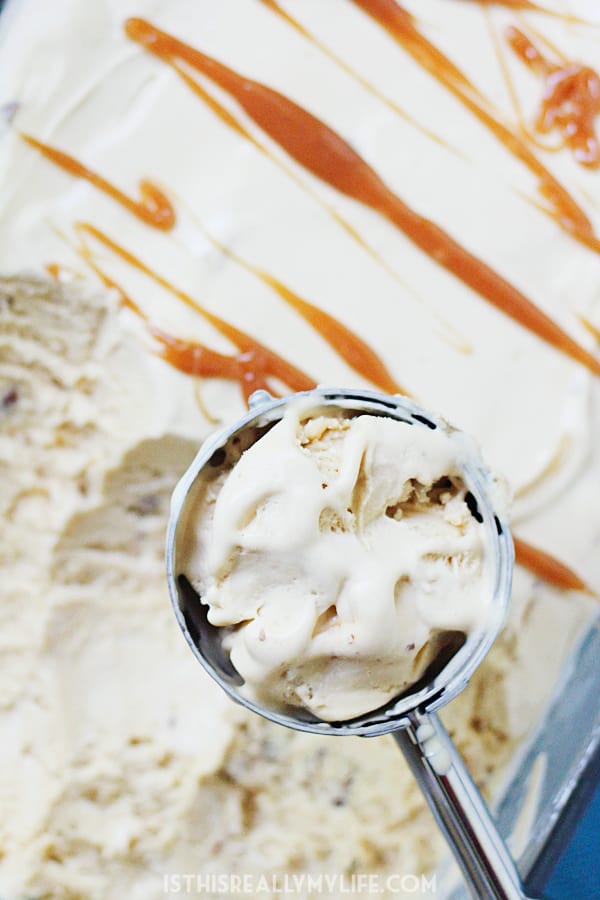 Printable recipe for salted caramel pecan ice cream below. Enjoy!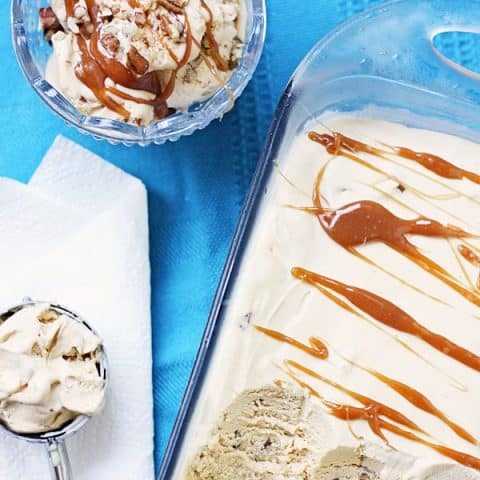 Salted Caramel Pecan Ice Cream
Quite possibly the best salted caramel pecan ice cream you'll ever taste. The caramel swirl is optional. If you do choose to include it, make sure you layer it *after* the ice cream has been through the ice cream machine. (See directions in recipe.)
Ingredients
Caramel Swirl
½ cup sugar
⅓ cup light corn syrup
¼ cup water
7 T heavy whipping cream
½ tsp vanilla
Ice Cream
1 ¼ cups sugar, divided
2 ¼ cups heavy whipping cream, divided
½ tsp coarse sea salt
½ tsp vanilla
1 cup whole milk
2 large eggs
1 T butter
⅓ cup chopped pecans
Instructions
Caramel Swirl
Combine sugar, corn syrup, water and a pinch of salt in a large saucepan. Bring to a boil over medium heat, stirring until sugar is dissolved.
Continue to boil but don't stir! Gently swirl pan until mixture turns a deep golden caramel. Remove from heat and carefully add cream and vanilla. Mixture will get angry and vigorously simmer; caramel will harden. Don't worry!
Return to medium heat and simmer, stirring until caramel is dissolved. Remove from heat and allow to cool to room temperature.
Note: You can make the caramel swirl up to 1 week ahead. Cover and keep in refrigerator. Bring to room temperature before using. If caramel swirl is too thick to drizzle, warm slightly in the microwave.
Ice Cream
Heat 1 cup sugar in a large, heavy skillet over medium heat, stirring with a fork or whisk to heat sugar evenly. Once it starts to melt, stir occasionally so sugar melts evenly. Be patient! This can take a while. Allow it to melt completely until it turns a dark amber.
Carefully add 1 ¼ cups cream. Again, mixture will get angry and sugar will harden but no worries. Continue to cook, stirring until caramel has completely dissolved. Transfer to a bowl; add salt and vanilla. Cool to room temperature.
Bring milk, remaining 1 cup cream and remaining ¼ cup sugar just to a boil in a small heavy saucepan, stirring occasionally.
Lightly whisk eggs in a medium bowl, then add half of hot milk mixture in a slow stream, whisking constantly and furiously. You don't want those eggs to scramble! Pour egg-milk mixture back into saucepan and cook over medium heat, stirring constantly with a wooden spoon or spatula until custard coats back of spoon and registers 170°F. Do NOT let boil!
Pour custard through a fine-mesh sieve into a large bowl, then stir in cooled caramel. Chill custard, covered, until cold, at least 3 hours and up to 2 days. Stir once every hour for the first 3 hours or so.
Pour custard into ice cream maker and begin freezing. While ice cream is freezing, melt 1 T unsalted butter in a medium skillet. Add pecans and cook over medium heat, stirring constantly, until lightly browned and fragrant, 3 to 5 minutes. Cool to room temperature; add to ice cream maker five minutes before ice cream is done.
Transfer ⅓ of the ice cream to a 2-quart airtight container. Drizzle ⅓ caramel swirl over it. Repeat with remaining ice cream and caramel swirl. Freeze ice cream until hard, at least 8 hours and up to 1 week.
Nutrition Information:
Yield:

8
Serving Size:

1
Amount Per Serving:
Calories:

563
Total Fat:

36g
Saturated Fat:

21g
Trans Fat:

1g
Unsaturated Fat:

13g
Cholesterol:

144mg
Sodium:

219mg
Carbohydrates:

59g
Fiber:

0g
Sugar:

59g
Protein:

5g
If you're an ice cream fan (and who isn't?) you're going to want to give these frozen treats a try...