This is a sponsored conversation written by me on behalf of Sargento. The opinions and text are all mine.
One of my all-time favorite shows on the Food Network is Chopped. I'm amazed at the dishes those chefs create using the most random ingredients@mdash;cactus flower buds, quail, marrow bones, chicken in a can...
Speaking of chicken and Chopped, I got a taste of Chopped thanks to Sargento and the Chopped at Home contest. I was given Sargento Off the Block 4 Cheese Mexican shredded cheese, boneless chicken tenders, couscous and salsa and asked to create a Chopped-inspired dish.
Thank heavens they didn't give me durian.
.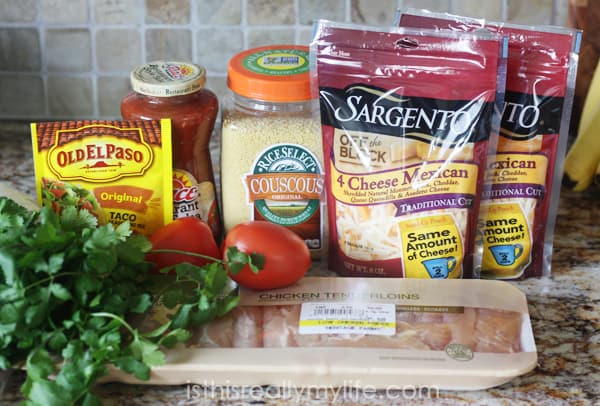 .
The highlight of this dish is the cheese. (Isn't that the best part of any dish?) I love a good Mexican blend and Sargento has created a super tasty one with a combination of Monterey Jack, mild cheddar, queso quesadilla and asadero cheeses.
.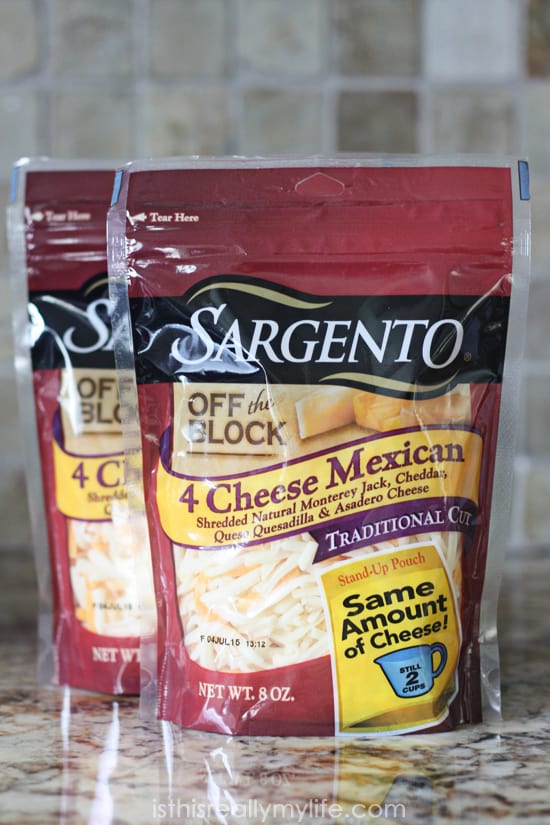 .
I took Sargento's Chopped at Home challenge and created a dish worthy of any Taco Tuesday: Salsa Chicken with Mexican Couscous. When the salsa chicken came out of the oven, it was all I could do not to eat that cheesy, salsa-y dish straight from the pan.
.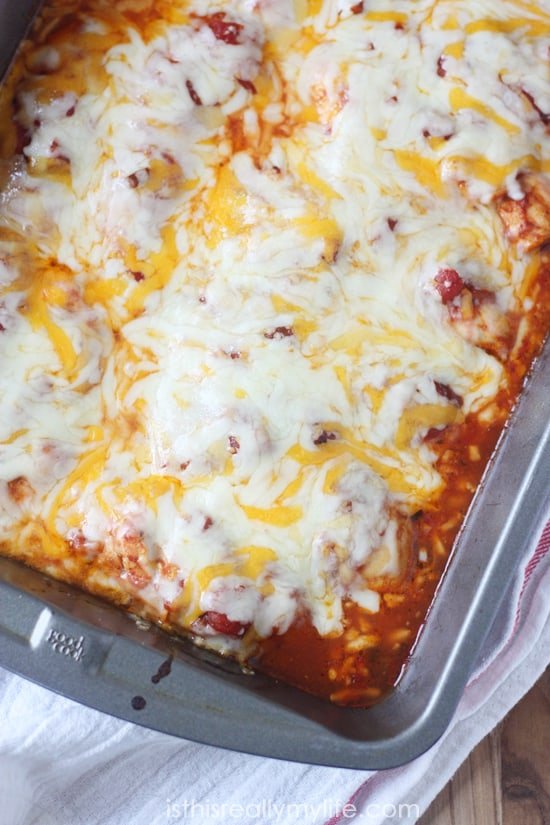 .
Of course there was still the couscous. I thought, what better side dish than a Mexican-inspired couscous recipe? And it paired perfectly with the salsa chicken. Delicioso!
.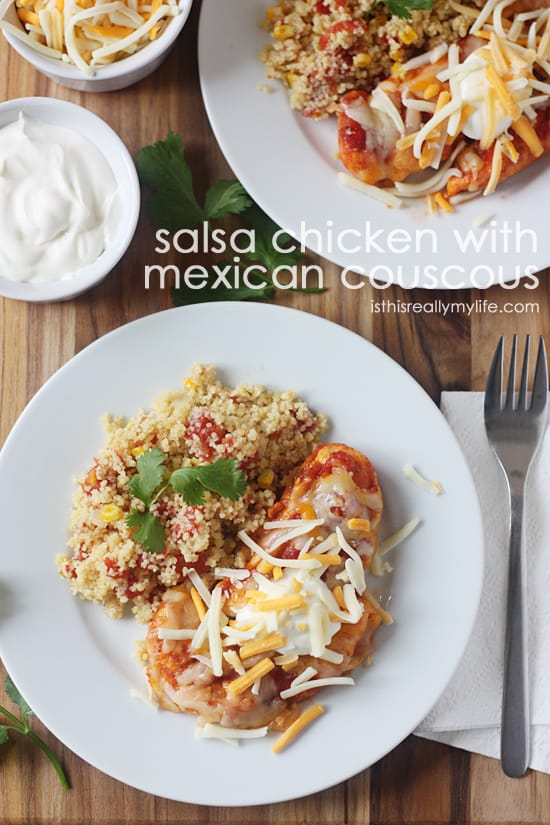 .
Never one to pass up an opportunity for more cheese, I added a dollop of sour cream and sprinkled additional Sargento Off the Block 4 Cheese Mexican on top of the already cheesed-up salsa chicken. Mmm...
.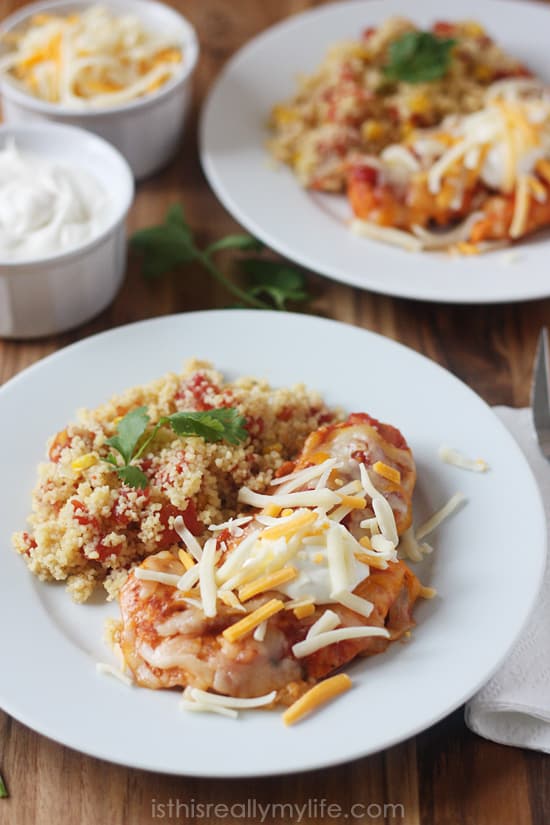 .
It was basically the perfect Chopped-inspired dish, especially if you love Mexican-inspired recipes.
If this recipe has peaked your interest about the Sargento Chopped at Home contest, you can find all the details and enter your recipe here: http://goo.gl/pzi0uZ. Remember, Sargento cheese is the star of the show so make sure you feature it in your recipe like in the photo below.
.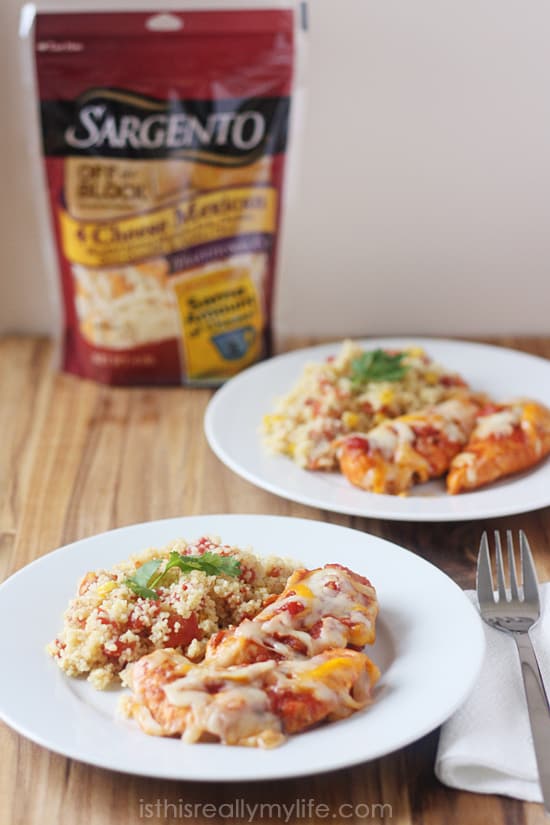 .
Printable recipe for salsa chicken with Mexican couscous below. Enjoy!
A few tasty tidbits about Sargento
Available in 30 versatile varieties, unique blends and distinct cuts, Sargento Shredded Cheese is always cut from blocks of 100% real, natural cheese. For more inspiration, check out the Sargento Pinterest page or visit Sargento.com for more information. The Chopped at Home Challenge gives viewers a chance to create their best recipe using the selected basket ingredients, including Sargento Shredded Cheese, for a chance to win $10,000!
.

Salsa Chicken with Mexican Couscous
This salsa chicken is super easy to make and a total crowd pleaser. Serve with a side of Mexican couscous for the perfect Taco Tuesday (or any day) meal!
Author:
Emily ~ isthisREALLYmylife.com
Ingredients
Salsa Chicken
2 lbs boneless chicken tenders
4 tsp taco seasoning
1 (16-oz) jar salsa
1 (8-oz) package Sargento Off the Block 4 Cheese Mexican, divided
Sour cream (optional)
Mexican couscous
1 tsp + 1 T olive oil, divided
½ cup frozen corn
¼ cup diced yellow onion
½ tsp minced garlic
1 cup uncooked couscous
1 tsp salt
1 tsp cumin
1 tsp coriander
1 can diced tomatoes with green chilies
1 cup chicken broth
1 T chopped fresh cilantro (optional)
Instructions
Salsa Chicken
Preheat oven to 375 degrees.
Place chicken tenders in a large resealable bag with taco seasoning and shake to coat evenly.
Spread 1 cup salsa in bottom of 9x13-inch pan. Place chicken in pan and cover with remaining salsa.
Bake for 25 to 30 minutes or until chicken is tender and juices run clear.
Sprinkle 1½ cups of cheese over chicken and bake another 5 minutes or until cheese is melted and bubbly. Top with sour cream and serve.
Mexican couscous
Add 1 tsp of oil to a small saute pan and heat over medium-high heat. Add frozen corn and cook, stirring occasionally, until corn looks as if it's been grilled. Set aside.
Heat 1 T oil in a medium saucepan over medium heat. Add onion and garlic and saute for 1 to 2 minutes.
Stir in cooked corn, salt, cumin, coriander and chicken broth and bring to a boil.
Reduce heat and simmer, covered, for 10 to 12 minutes or until liquid has been absorbed.
Fluff with a fork and top with cilantro before serving.