With french doors from the backyard into our family room, that carpet sees a serious amount of traffic (i.e., sand, dirt, muddy dog paws). Renting a Rug Doctor is a quick and dirty way to get 'em clean.
.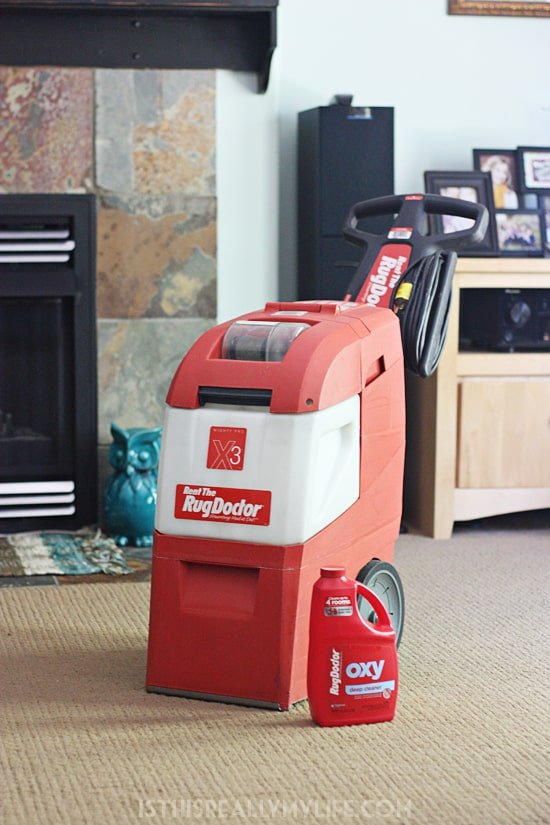 Disclosure: This is a sponsored post written by me on behalf of Rug Doctor. All opinions are 100% mine.
.
Whoever thought it was a good idea to have people—mainly kids and pets—walk directly from a grassy, sandy, sometimes muddy backyard into a carpeted family should have his contractor license removed. Or at least foot the bill for our carpet cleaning.
.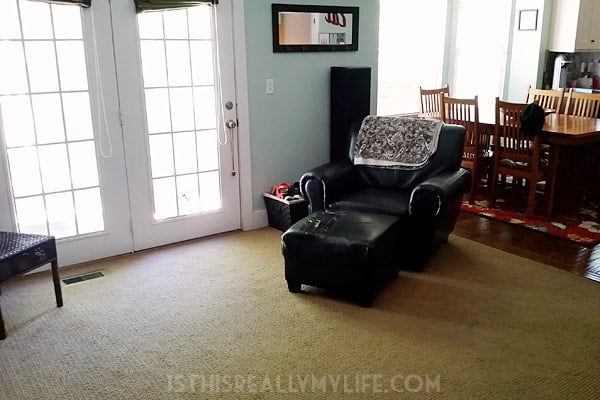 .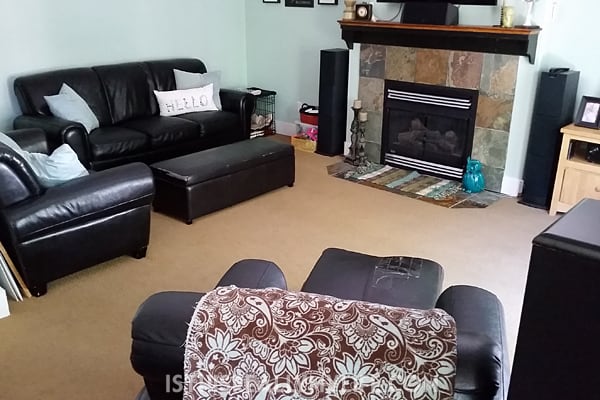 .
Yes, that's duct tape on our ottoman; I'm fancy like that.
Thanks to such a high-traffic area, that carpet needs cleaning more often than most but there's never a good time to do it. If kids aren't dragging in sand and dirty and sprinkler water in the summer, they're tracking in snow and slush in the winter. And Coco, as cute as she is, can leave muddy paw prints from the door to the kitchen.
.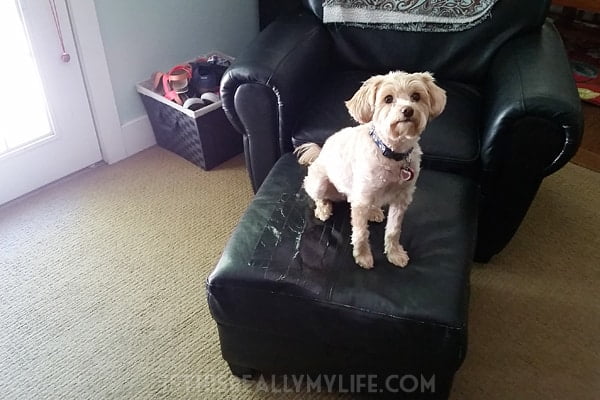 .
It's way too much work and money to have a professional cleaner come as often as needed, and your standard upright steam cleaner/vacuum isn't always up to heavy-duty tasks like this one. That's where Rug Doctor comes in...and this isn't the first time we've used it.
When we were living in an apartment, Rug Doctor came in super handy post potty training or when toddlers had the flu. (Why is it they can never make it to the bathroom but prefer vomiting in their beds?) We could rent a Rug Doctor any time of day or night from our local grocery store, and with only a few minutes of setup, have our carpets clean in record time.
.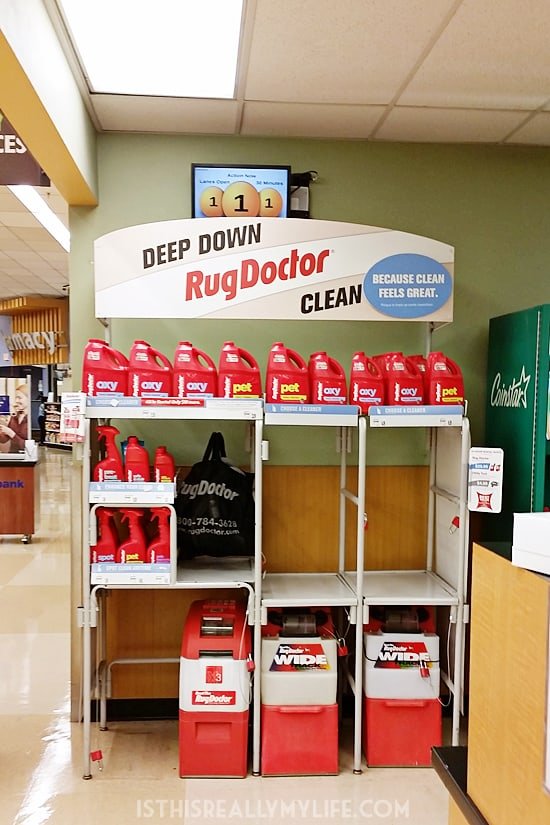 .
Now that the kids have grown up and we have a dog, Rug Doctor is a great solution for keeping not only my family room carpet clean but also getting the kid and pet and teenager out of our microfiber couches. Yep, Rug Doctor can be used on more than carpet including upholstery, mattresses and other soft surfaces. Plus it's a professional-grade deep clean at a fraction of the cost (about $29.99). With George's amazing appetite, my grocery bill is skyrocketing; I need to save wherever I can!
We had friends staying with us over the 4th of July holiday. They brought four kids and one dog, so our family room carpet definitely needed freshening up. I grabbed a Rug Doctor from Smith's along with a bottle of Oxy cleaner and had that family room clean in about 20 minutes from start to finish.
.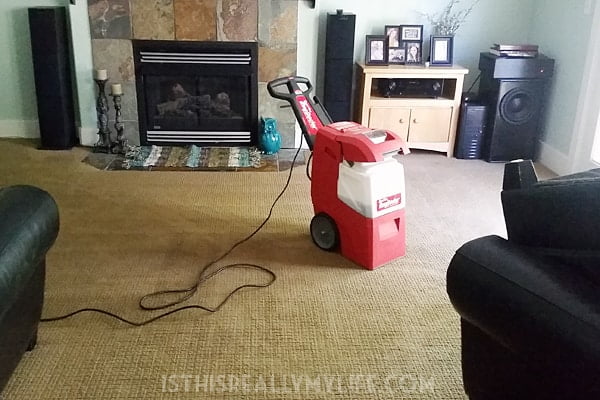 .
And boy, did it need it. Ewww...
.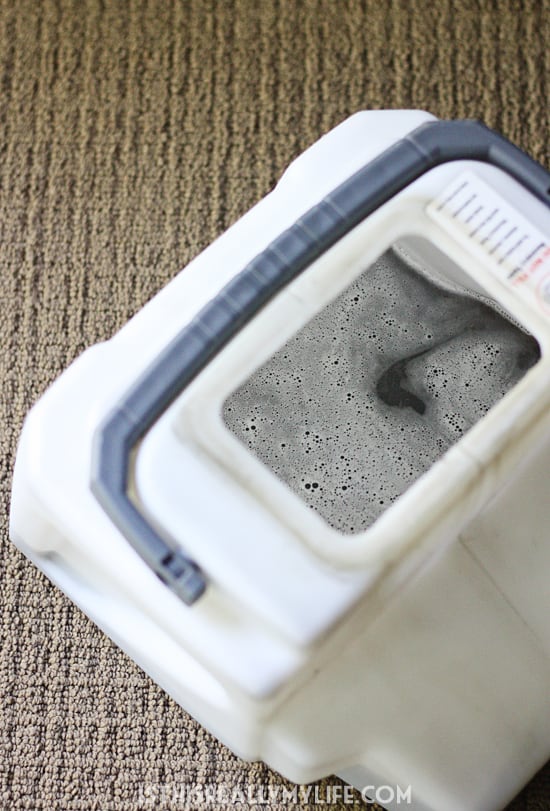 .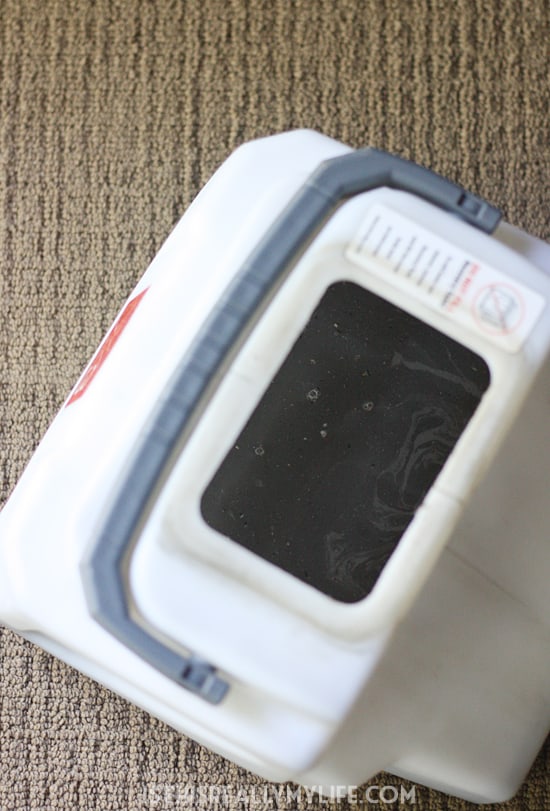 .
I had an extra stubborn spot, so I pre-treated it with some Spot & Stain Remover. I haven't had much luck in the past, so I was pleasantly surprised when the Rug Doctor nearly eliminated it. Check out the before and after. Yippee!
.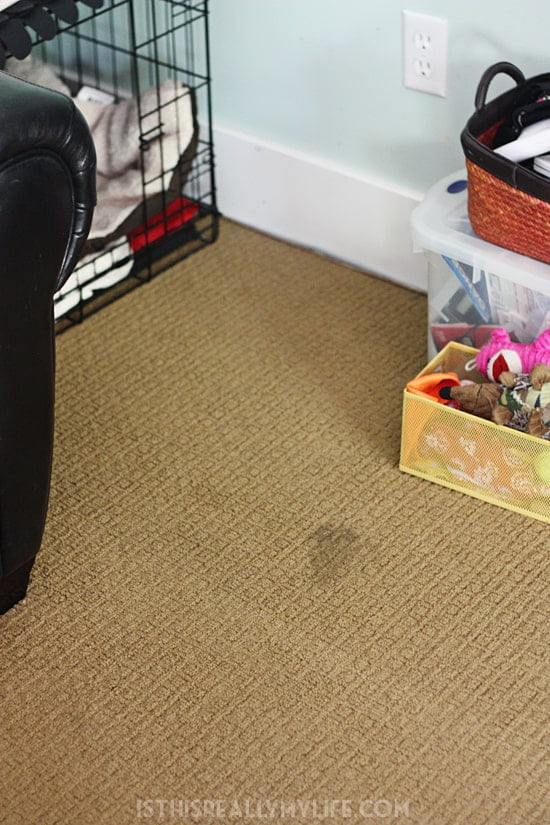 .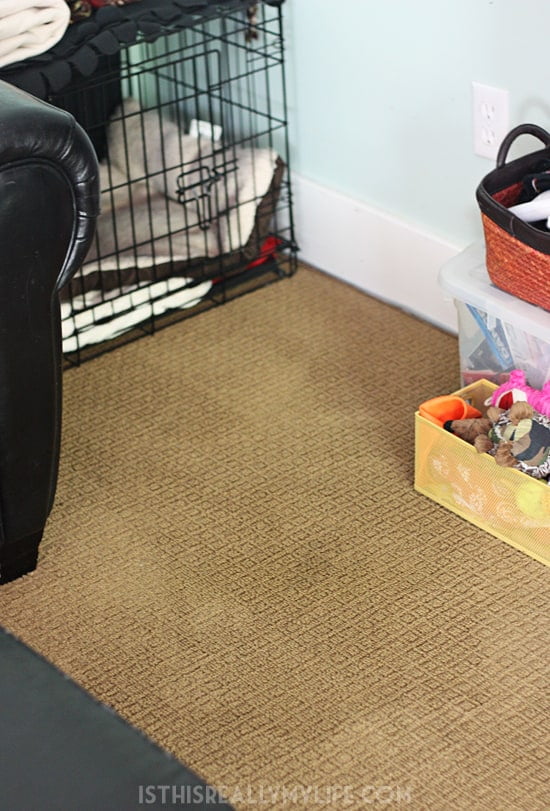 .
Even better, the carpet took far less time to dry than my upright vacuum/steam cleaner. It was dry to the touch within a couple hours and completely dry by the time we woke up the next morning. And because all cleaning solutions have been tested and proven safe for children and pets, I didn't worry about Coco having any weird reactions to the newly cleaned carpets...other than not recognizing them.
If you're still not convinced you should Rug Doctor your carpets (I love turning nouns into verbs!), Rug Doctor machines have a Seal of Approval from the Carpet and Rug Institute, the carpet industry's only scientific program to test and measure the effectiveness of cleaning products and equipment. So yeah, they're pretty dang good at what they do. Head online to find a rental location near you or learn more about available options.
.
.
If you're looking for more totally honest reviews, check out my ITRML reviews Pinterest board.
.
.

Feel free to "like" is this REALLY my life? on Facebook. It won't always earn you an extra entry in a giveaway but it will give you warm fuzzies.
Don't forget to sign up for free is this REALLY my life? updates via RSS or email so you don't miss a single awesome post.
.