While writing a guest post for Always Something to Talk About, I wanted to link to a past Rocky Mountain Moms Blog post about how yes, I do have a favorite child. I couldn't find a reference to it anywhere on ITRML nor on Rocky Mountain Moms Blog, but I did find it elsewhere on the web. (Thank heavens for syndication!)
I didn't want to lose it, especially because it's one of my faves, so here it is. Enjoy!
…
Yes, I have a favorite

By Emily Hill, Rocky Mountain Moms Blog
If you were to ask me about my children I would give you a rundown on their ages, interests, unique personalities and my buttons they most like to push … and then I would proceed to tell you which one is my current favorite. Yes, I just admitted to you that I have a favorite. (Right now it's George. It used to be Livi but Livi lost her "favorite" status when she discovered how nice pencil marks look on the hallway walls.)
I am not ashamed to admit out of four children, one is my most favorite. Don't get me wrong, I love my children, but depending on their attitude, hormones, penchant for mischief and stage of life it changes.
Sometimes a child can hold his or her position as favorite for weeks on end. Other times it lasts merely a day or even a few hours. Babysit your younger brother and sister so I can nap or do the impossible and actually clean your room using some other tactic than shoving your clothes and papers under the bed means you'll be my favorite for at least a couple days. Go to bed without putting up a fight and top it off with a few hugs and kisses makes you my favorite for at least 12 hours.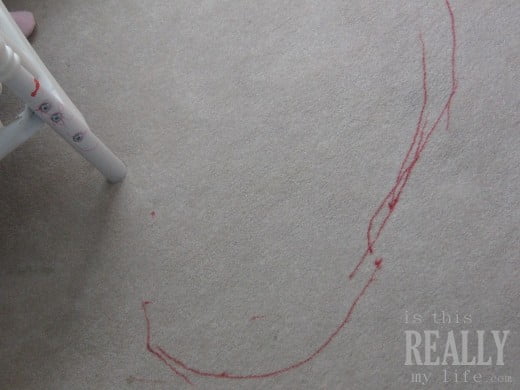 On the other hand, pick a fight with your sister; take permanent marker to the carpet (see photo above), curtains and back of the door (yes, that really happened); give your baby sister's hair a "trim" (hasn't happened yet but I'm sure it will) and you are bottom of the list until one of your siblings does something worse. In our house with two pre-teen daughters, a very busy little boy and one totally terrible two-ing it, it's always a surprise as to who will be Mom's favorite that day.
I'm sure by now some of you are reading this and thinking I'm a horrible mother for admitting I have a favorite child, but you're only fooling yourself if you think you don't have one as well. Every mom has a favorite; the trick is using that to your advantage. None of this "every child is my favorite child" or "they all believe they're my favorite." I'm all about a little healthy competition if it means beds are made, dishes are clean and a few fights are avoided. Trust me, all my kids know they're loved equally and unconditionally. They also know if they help me out, do more than they're asked or are irresistibly cute, they'll be my favorite.
By the way, I'm my parents' favorite. (Right, Mom?!?!)
Original Rocky Mountain Moms Blog post by Emily Hill, a mother of four, who finds there are days when no one is her favorite and days when all four children fit the bill.