I will admit I have thoroughly enjoyed my time away from the computer for the holidays. In fact it was easier to step away from the keyboard than I thought. No withdrawals, no post-traumatic Facebook disorder, nothing…just more time to spend with family and less time feeling my butt go numb.
I did spend a little bit of time writing my latest post over on Rocky Mountain Moms Blog and would love for you to check it out when you have a minute. I have a feeling many of you will relate to my latest thoughts on the joys of parenthood!
I plan to get back in the blogging saddle next week, though I may continue this newfound love of less time online and more time "in real life." We shall see…
Who said anything about sleep?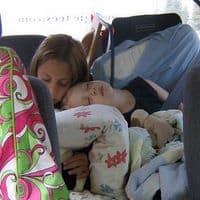 When reading the title of this post your probably thought I was referring to those first few months (okay, sometimes the first year) of parenthood. True, infant sleep patterns are often as random as 80's fashion but babies do tend to take some good, long naps the first 18 months of life, which means Mom can catch some zzz's here and there if she's lucky.
No, what I'm talking about are those precious few children who refuse to sleep during road trips from Utah to California, or for that matter any road trip long enough to overlap nap time or bed time. All four of our children fit this description. Every single one has fought sleep outside the comfort of his or her very own bed in his or her very own home. We chalk it up to the whole sleep training thing–we've trained them so well that's the only place they want to rest their weary heads.
We've tried leaving late at night and driving all night long. That attempt left us tired and grumpy because our kids took forever to fall asleep and then only slept in short intervals. Believe me, we had quite the road-trip hangover the next day.
One time we left extremely early in the morning, like around 5am, hoping the kids would fall back to sleep once we started driving. No such luck. Even with their favorite blankets, pillows and stuffed animals, those kids would rather check out the never-ending salt flats than the insides of their eyelids! Heck, we even got desperate enough to slip a little Dramamine into our daughter's lemonade (the correct dosage, of course), which eventually kicked in after that super windy stretch of Highway 80 from Wells to Elko.
I wouldn't mind so much if my youngest were content to ride in the car for 12 hours, but since she's pretty much fought her car seat since day one, it's a blessed event when she does finally crash. We were lucky enough to enjoy an hour's worth of silence during our most recent drive to California. It was so life changing I can still recall the time: 8:03 p.m.—exactly 10 hours after we'd left home. And she slept for a grand total of 55 minutes.
Why a whole post sparked by my youngest child's refusal to sleep in the car? Probably because sleep is so dang important to my sanity. When my little ones don't sleep, whether during a drive across country or at night in their own beds, I don't sleep. And when I don't sleep it I can make life pretty miserable for my kids. It weakens the restraint that keeps me from duct taping my kids' mouths shut before using bungee cords to strap them into their car seats. Before you call child protective services, I've never actually duct taped my children in any way, shape or form (though I've been seriously tempted). But for their own safety I highly recommend some serious napping on the return drive. I can't be held accountable when sleep deprived.
This is an original Rocky Mountain Moms Blog post by Emily Hill, mother of four who prefers to use the expression "family adventure" rather than "family vacation."