This was my first post for Rocky Mountain Moms Blog. I was a contributing writer from June, 2009 through February, 2010. Soon the site will no longer be updated and so I am moving the content from the posts over here to ITRML. I'd hate to lose any of the life-changing epiphanies I shared with RMMB readers, you know, like how I really do have a favorite child and readily admit it.
So here you go—my original RMMB post!
When I grow up I want to be a really cool mom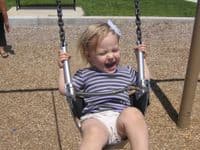 You think I'm joking but I'm totally serious; I am so not a cool mom. I live in a state where there are a lot of moms and they all do really cool things with their kids during the summer. Up until now I've used the I-birthed-four-children excuse to get me out of going anywhere other than the grocery store and the park with children in tow, yet I know it can be done.
My friend Vanessa from I Never Grew Up is always doing fun, crafty things with her children or taking them on nature walks. Utah in summer has so much to offer families and I rarely take advantage of it. You have Hogle Zoo with its Madagascar exhibit; the Children's Discovery Museum with all the hands-on fun you can handle (though your kids could handle much more) ; and both the Provo and Salt Lake Farmers Markets, which I have yet to visit with or without kids.
Here are the excuses I've used in the past for not doing fun things with my kids. Consider them my stumbling blocks to becoming a cool mom. Before you think I'm truly the worst mom in the world, I do redeem myself–if only a little bit–after this list:
I own a business and write for various websites and I'm attached at the hip to my computer.
Because I have four kids most of my work is done at night so I get very little sleep; I'm too exhausted to keep four kids in check in a public and often very spacious place.
Two of my kids still nap in the middle of the day and for some reason my college education did not include how to schedule things around nap time, though I did become proficient at scheduling things around numerous social events.
I want to teach my kids how to be independent individuals and entertain themselves. (Okay, this is the lamest excuse yet–I'm in total denial.)
To my credit I am slowly realizing I don't have to check email every half hour; my two older girls help with their younger siblings so public spaces aren't nearly as exhausting; and nap times can be shifted and even missed once in a while. As for my kids learning how to entertain themselves, I have found time to teach this important skill even with a two-hour visit to a local park scheduled on the same day.
So far summer vacation has been less than stellar, but that's due in part to a week's worth of rainy days with a scattering of hailstorms. Our only outdoor activity this past week consisted of bailing out the flooding patio. But as the weather clears up and the temperatures warm up, I am determined to do a bit of growing up.
My first attempt at becoming a really cool mom? Taking the family to the upcoming 7th annual Chalk Art Festival in downtown Salt Lake City. We'll see over 120 artists transform The Gateway into a street-painting celebration complete with live entertainment and even a "Kids Korner" so my kids can show off their creative talent. Yes, The Gateway is a very spacious place but I'll be packin' a double stroller and my husband; it just might be manageable. And if I throw in taking the family someplace fun for lunch I'll be well on my way to a becoming a really cool mom. Maybe in a year or two I'll even be super cool…a mom can only hope, right?
Original Rocky Mountain Moms Blog post (by me).