Another Rocky Mountain Moms Blog post is live and this one is all about simplifying the holidays, namely the often dreaded wish list. The secret? Read on to find out!
So what are your tips and tricks for simplifying the holidays? I'd love to hear! Happy holidays!
Simplifying the Christmas Wish List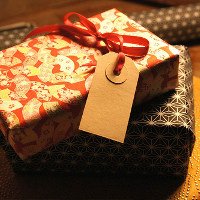 I'm not sure what it is but lately we've been all about trying to simplify our lives, or rather the chaos that is our lives. A couple weeks ago I told you about our new schedule designed to remove the whining and complaining by both parent and child surrounding a child's daily routine. Though the jury is still out on the schedule (the holidays are making it a little tricky), I'm all about at least making an effort and this year you'll find us once again attempting order out of the chaos that is the Christmas Wish List.
In the past we've often felt like Santa pretty much dumped the entire contents of his sleigh under our tree, especially when you added in the gifts from Grandma and Grandpa, aunts and uncles and friends. We would try to stick to a budget for each child, but I often shopped throughout the year and then forgot I had purchased half the items in my hidden Rubbermaid container so I went and purchased more. The insanity needed to end and last year a friend gave me a great way to put a stop to the madness that is Christmas morning: Want, Need, Read & Wear.
For our 2008 Christmas wish lists we had the kids list items in four columns with the headings I mentioned above (Want, Need, Read and Wear). Once they had at least two or three things (or more) listed for each category, Mom and Dad would choose one item from each column and those would be their Christmas gifts from us. That's a total of four gifts, though we did throw small stocking stuffers and a Santa gift to the mix. But that was it…four things from four categories.
We thought we'd have a little push-back from the older girls but they actually found it kind of fun to wonder just what four things they would receive come Christmas morning. And I loved not having to keep track of what I'd purchased when and who still needed what. I didn't go through multiple rolls of wrapping paper Christmas Eve and there was still room under the tree so you could actually see the tree skirt. (I love my tree skirt!) It did take a lot less time to unwrap gifts Christmas morning, and that may have taken the kids by surprise, but at least I didn't feel like Toys R Us had thrown up all over my house. Plus Grandma and Grandpa showed up later with more than enough wrappings to make up for any slight disappointment earlier that morning.
This year we even went one column less by removing the "Wear" category. We found most of what the kids "Need" were things to "Wear," so this year it was Want, Need & Read. The lists were filled out Monday, compiled by me last night and already sent to Grandma and Grandpa so they could decide what they wanted to give the kids this year. Everyone seems surprised I haven't done any "real" Christmas shopping yet, but when you're only buying about 12 to 15 gifts (and doing most of it on Amazon.com), there's no rush. No rush means a less crazy, less chaotic, more simplified Christmas and a lot more time to remember the real reason for the season.
Image by allereirau, shared via Flickr.
Original Rocky Mountain Moms Blog post by Emily Hill who always lets her little sister do the Black Friday shopping for her.