This Wednesday not only marks our big move into a new home but also the first day of school for my girls. With back-to-school thoughts on my mind I turned to Rocky Mountain Moms Blog for a mini confession: I love it when my girls go back to school. There. I've said it, and you can read all about it on Rocky Mountain Moms Blog.
And if you're feeling so inclined, I'd love for you to comment on the post and tell me whether or not you too love it when your kids return to school in the fall!
Raise your hand if you love the first day of school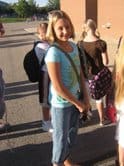 Do you see it? Do you see my hand stretching as high as it can possibly go? Perhaps if I stand on my tiptoes I can reach even higher…and no, I'm not being sarcastic. I believe I am in the minority when it comes to how I feel when my kids going back to school. For most moms, back-to-school means a lovingly packed lunch, multiple photos and a handful of tightly wadded Kleenex for the tears. For me it' means a recent deposit into the school lunch account, a couple snapshots and a few joyful tears mixed with silent cries of "Hallelujah!"
I have never been one to get teary eyed when it comes to the first day of school. Okay, I take that back. I think I did have one moment where I was struck by how quickly my kids were growing up, but it lasted mere seconds and I was in the car on my way back to a very quiet home. Like I said, I'm one of the few moms I know who loves it when her kids head of to school for a full day of reading, writing and arithmetic. Instead of fighting over whose turn it is to watch TV they're grappling with fractions. Rather than leaving a trail of toys throughout my home they're playing with someone else's "toys" and playing on a swing set far bigger than mine. Oh, and lieu of the same ol' peanut butter sandwich and Goldfish crackers for lunch they get to choose from two different meal options AND look forward to pizza on Fridays.
And while they're at school for those 7 1/2 hours (but who's counting?) I'm home, usually still in my pajamas, enjoying a little more space, a little more peace and a lot less guilt about spending too much time on my computer. Granted, I do still have two little ones at home, only one of whom attends preschool twice a week, but they still nap for a couple hours a day and then the house gets really quiet! Don't get me wrong; I absolutely adore my two older girls, especially because they do a great job entertaining their younger brother and sister. But they are only happy about babysitting so much before it becomes more work than it's worth. That's when it's time for school to start and it's usually Mom counting the days and hours.
I know, I know. I need to enjoy these moments and stop wishing for my kids to grow up, but I have a feeling I'm going to be one of those moms—in the minority again—who loves watching her kids learn, grow and develop into wonderful, talented, brilliant adults. Oh, and I probably won't struggle nearly as much when it comes time for that empty-nest syndrome. Just sayin'…

Original Rocky Mountain Moms Blog post by Emily Hill, a mother who loves all her children dearly and admits she did get emotional when looking at the back-to-school photo of her oldest daughter used in this post.