I'm hoping my latest post over at Rocky Mountain Moms Blog will open up a discussion on how to best make sure our daughters (and sons) have and maintain a healthy self-esteem and positive self-image. In our family my husband definitely worries more about our children's weight than I do and I think a shift in focus is what he needs. It's all about living a healthy lifestyle and not about body shape or pant size.
We are still having discussions about the girls and I hope the discussions will continue (out of our daughters' earshot of course) until we are on the same page. We are not perfect parents but we can at least try our best to do right by our children. You can read the full post here. Feel free to leave your two cents in the comments section and continue the discussion.
P.S. Go easy on Nathan...he is a man and therefore a little slow on the uptake but he'll get it!
My pre-teen daughter, her body image and an overly concerned dad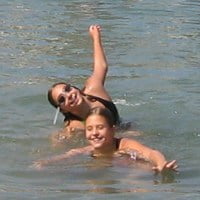 I am in the midst of a new parenting phase, that of a mother to a pre-teen daughter. It's uncharted territory for me and I'm trying to make my way as best I can. I've been lucky in that my daughter isn't into the latest pop singers or the hottest clothing brands; heck, until recently I had to remind her to comb her hair. Other than the occasional fight with her younger sister, the pre-teen years have been pretty easy so far.
But the one thing I'm most anxious about is my daughter's self-image. Even with efforts like Dove's Campaign for Real Beauty and celebs going untouched on the cover of a magazine you get the sense that being ultra thin and looking hot is important.
Perhaps my daughter doesn't feel the pressure yet but someday soon she will. I'm hoping I can convince her it's all about being healthy, feeling good and most importantly, loving herself.
Here's where the overly concerned dad comes in to play. Because my two oldest daughters have always been in the 90th percentile for height and weight on the growth charts, and because I've since learned from our pediatrician "girls grow out before they grow up" (i.e. gain a little weight before they hit a growth spurt), they are not pencil thin. I didn't find my own waist until college so the odds of their being a size 4 or even a size 6 in high school are not good. And that has Dad concerned.
I'm okay with his being concerned when there's reason for it, but telling me our girls are getting "tummies" and thinking they eat junk all day (not true) when their pediatrician says they are just fine is getting a bit old. It definitely doesn't help the situation when they get frustrated the new jeans I buy them don't fit and their old jeans from last year don't fit either. Oh, and my oldest has already shed tears mixed with an "I'm the fattest girl in my class" over a stupid-yet-innocent comment a childhood friend made in reference to one bouncing higher than the other on a trampoline. Funny thing is, even when she was at swim team practice twice a day four days a week this summer she maintained the same shape and size. How's that for proving healthy doesn't always equal thin?
Okay, so maybe I do have my work cut out for me, and it's not just making sure my girls have the highest and strongest self-esteem possible. I also need to try harder or find some other way to get it through my husband's head his girls are fine. In fact they're more than fine; they're absolutely, totally and wonderfully beautiful. They will hit puberty, they will get taller, they too will find their waists someday. And if they don't, who the heck cares? In the meantime I will be doing my best to navigate these pre-teen (soon-to-be teen) years carefully so my daughters have the best self-image possible...and if their dad doesn't ease up a bit you better believe I'll be asking the last time he found his waist!

Original Rocky Mountain Moms Blog post by Emily Hill, a mother of four who hopes to instill in her daughters a strong sense of self and the belief that they truly are beautiful.