Anyone else finding the holidays are well under way, which means something going on every night plus twice as many errands during the day? I really want to enjoy the season rather than survive the season so you may find my posts a bit more random than usual. Someone's got to play Santa around here!
Because it's Monday and because there's snow on the ground I'm feeling the need to snuggle a bit more with my little ones today, so today's post is what I consider a cheater post: the mention of a post I've written somewhere else. But that's all you're going to get today. If you have an issue with it you can take it up with the little elves running amuck in the house. Over on Rocky Mountain Moms Blog you'll find my latest post "Let's hear it for the boys."
Anyone else dealing with the drama? Read the full post and share your thoughts on the subject. Happy Monday!

Let's hear it for the boys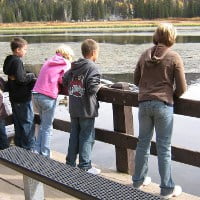 Wherever you find girls, you find drama. I learned this for myself in elementary school when I pretended to not be friends with one girl so another girl wouldn't get mad at me. My girls are learning this now. I believe it was the second grade when one daughter was invited to a New Year's Eve party only to be told she was there because another girl couldn't make it. Another daughter recently had a friend upset with her because she (my daughter) was friends with a girl who's been "together" with a boy the first girl likes. (Did you follow that?)
The point is, girls are a crazy, emotional, nutty bunch no matter the age. I've heard about drama in kindergarten but it seems to hit critical mass during the pre-teen, teen and college years. That's a good 12 to 15 years of glares, gossip and grudges. My solution? Steer clear of girls and make friends with boys.
It worked for me through junior high and high school. It would've worked just as well in elementary school if they weren't running away from me—hard to play with boys when you're chasing them across the playground.
You'll find very little drama when it comes to boys and that's why I enjoyed being friends with them…and as many of them as possible. Okay, maybe I'll leave that last part out when I impart this wisdom to my girls. But really and truly boys are the way to go. They don't care who you're friends with or whether or not you "like like" a certain person. It's all about hanging out and having fun…and the less drama, the better.
Don't get me wrong—I have a wonderful group of women I call my friends and can't imagine my life without them, and as any woman will attest, a best friend is worth her weight (and more) in gold. I'm all for making lifelong female friends, but when it comes to the day-to-day workings of the playground, spare yourself a handful of hurt feelings and hang out with the boys.
Okay, so maybe this philosophy works best around junior high or high school when boys no longer have cooties and drama queens rear their perfectly styled heads. That doesn't mean my girls can't benefit from a little more male companionship and a little less, you guessed it, drama. With four girls and two boys in our family, including a daughter who perfectly defines the term "middle child," we have enough drama as it is.
This is an original Rocky Mountain Moms Blog post (by me).