Sometimes it really is all in how you say it. My latest post is up on Rocky Mountain Moms Blog and it details our latest attempt to get our girls to "happily" chip in around the house so Mom doesn't have to nag 24/7. (It's actually more like 14/6 if you don't count the hours the kids are asleep and Sundays.) The idea for a "schedule" rather than a "chore chart" came from Nathan and I must give credit where credit is due since he rarely gets any credit. He's a smart man, don't get me wrong, but I'm really the brains behind this operation we call a family. (Totally kidding–couldn't do it without you, babe!)
I'd love for you to read the post , and of course I'd love you to comment if you feel so inclined. Share with us what works for you or hasn't worked for you. Who knows? This schedule thing may just fizzle and we'll need a new idea!
It's a schedule, not a chore chart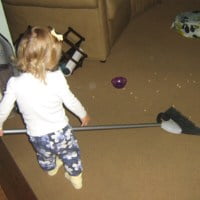 You may know by now that I am the mother of four children ranging in age from 12 to 2. While parenting children with a gap between ages has its difficulties (I wrote a whole post about it on I Never Grew Up), it does have its benefits. The two oldest are able, though often unwilling, to help around the house and with the little ones. We are all about everyone chipping in to help the family but how to get them to do it and do it consistently, that's the question.
We've tried so-called chore charts in the past and even The Chore Board, a board-game version of a chore chart, but no matter chart or game, the newness wears off quickly. As a mom with a long to-do list I can totally sympathize with my kids when they whine and complain about vacuuming or doing laundry or heck, even making their beds. I constantly remind them Mom is the only one who gets to have a bad attitude around the house so they better change theirs and change it quickly!
So how do you make a daily task feel less like a chore? I think we finally found the answer: you take the word "chore" out of it all together. I hate to admit it, but it was my husband's idea to draft up daily schedules for the girls rather than the typical chore chart. (By the way, I kept referring to it as a chore chart and he kept correcting me. Annoying, I know, but I soon learned to call it by its rightful name.) He also did a super smart thing and involved the girls in the planning process.
And somehow by involving the girls and avoiding the words "chore" and "chores" it made them more willing to accomplish their daily tasks. They did ask if they could have a sticker when they completed everything on the schedule that day, and even though this seemed more appropriate for my four-year-old, I readily agreed—anything to make it fun!
After two days of asking if I'd typed up the schedule I finally got it done and taped it to the inside doors of a cupboard in the desk area of our kitchen. The girls immediately looked it over, read what had to be done today and lo and behold, actually started doing it! Sure, it could be those tiny little stickers they get to put in the "done!" box at the end of the day or the lesson we had on what it means to be a family, which included working together and doing our part to make sure things run smoothly, but I think it's all in how we—or rather my husband—titled it. A "schedule" feels a lot more doable, a lot more "okay, here's what I need to do today and when I need to do it" for my girls than a list of "I always have to do the dishes and clean my room" chores with check boxes.
Granted, it's only the first week since the schedules went up so we shall see if my theory holds true but I have a feeling it will. Shakespeare's Juliet once said:
"What's in a name? That which we call a rose
By any other name would smell as sweet."
Just this once I might have to disagree with Shakespeare. "Schedule" definitely sounds sweeter to me—and my kids—than "chore chart."
Original Rocky Mountain Moms Blog post by Emily Hill who wonders if she should type up a weekly schedule for herself because her chore chart is truly depressing.