Though my schedule tends to be overbooked, my children's schedules—for the most part—are wide open. If "anti-overscheduled parenting" were an actual parenting style, it would describe my parenting style perfectly. I my latest post on Rocky Mountain Moms Blog, I share with readers my take on leaving little or no room for free play.
I found articles both for and against keeping children hopping from on activity to the next. "The Overbooked Child" from Psychology Today believes overscheduling leads to stress and even depression and robs children of time with family and friends. "The Overscheduled Child Myth" from TIME magazine argues that teen pregnancy, drug abuse and hours spent watching TV have declined due to children being more involved in scheduled activities.
Do you keep your kids busy from sunup to sundown or do you try to make room for some downtime?
What works best for your family? And does it depend on the child?
Anti-overscheduled parenting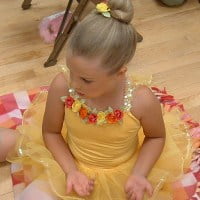 If there were such a phrase as "anti-overscheduled parenting" it would describe my method of parenting. I am a firm believer that packing in too many activities in your child's day leaves little or no room for the most important activity: free play.
I must admit, one of the reasons I don't sign up my children for soccer, orchestra and dance all at the same time is because I don't want to spend my afternoons in a minivan running here, there and everywhere. Dropping off and picking up only works well if a carpool of some sort is involved; otherwise it's not worth the drive home just to turn around and head back to the dance studio. I have pretty much only two options: one, chase after my toddler and pre-schooler so they don't jump into the pool where my oldest daughter's swim team is practicing; or two, fill that lesson time running errands, and the latter often means a trip to Target where I can easily find things to fill up a shopping cart. What should be $75-a-month swimming lesson quickly turns into $475-a-month swimming lesson.
But even if I enjoyed packing up all four kids and traipsing all over town for this lesson or that practice, I still wouldn't fill multiple afternoons with scheduled activities. I am amazed at how some parents—and kids—-manage to stay sane when there is little time for breathing let alone free play. More and more I'm hearing about the negative effects of completely booked schedules on a child's well-being. They are becoming stressed, anxious and exhausted at a fairly young age. I experience stress, anxiety and exhaustion on a daily basis (kind of comes with being a parent) but I sure as heck don't want my kids to deal with those "perks" of parenthood. They grow up quickly enough as it is…how about we let them wait to experience all the fun stuff that comes with being an adult?
I'm not saying don't sign your kids up for sports, Scouts or dance lessons. I think those are all wonderful activities—in moderation—and participation is a great way to find out more about your child's talents and abilities. What I am saying is keep it balanced by throwing in a good dose of free time. That's when your child may discover her love of reading or her natural ability to tell an imaginative story. She may whip out the Play-doh and explore sculpting or use those dollar-store watercolors to paint her first of many masterpieces. Or she may even choose to practice the cello on her own, well on her way to becoming the next Yo-Yo Ma.
Even if it's for slightly selfish purposes (I hate having my butt glued to the driver's seat), I'm all about giving my children time to be children. You probably know as well as I do there is plenty of time later in life for an overbooked schedule.
This is an original Rocky Mountain Moms Blog post by Emily Hill, mother of four who prefers to stay in her pj's until noon and only leave the house if she's out of Diet Coke and Reduced-Fat Oreos.