My latest post is live on Rocky Mountain Moms Blog. I had a really fun time writing this one and I'd love for you to read it. If you feel so inclined to comment, please do! I'd love to keep the convo going. Anyone else looking forward to grandchildren?!?!
A glimpse of grandparenthood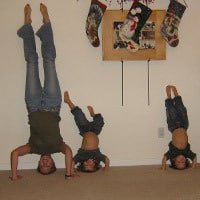 I've always wondered why the older women in my life were so excited to become grandmothers. If you're a grandmother then you're…well…old. And I don't want to be old. I want my kids to grow up, move out and leave us empty nesters at the ripe ol' age of 45 with plenty of time and energy to see the world, not to mention sleep late on the occasional Saturday. (No chance of that happening at 45 since I'll hit 36 this year and still have a toddler at home…sigh.)
But if you take the whole growing old thing out of the equation, the idea of becoming a grandparent isn't nearly as scary. And after visiting a dear friend of mine I finally understand what has all these women so excited. By the way, it isn't the senior discount at McDonald's though I am looking forward to half-price Diet Cokes.
A little background: I have known LeShan for over 12 years and over the course of those 12 years we've given birth to four children. (She wins for having a set of twin boys!) About four years ago she moved across country and I've managed to visit her once a year or so. I live in Utah and she lives in "sunny weather, Disneyworld, white sand beaches" Florida. To get there I sell crap treasures on eBay so I can have a mini vacation from my own little reality here in the Salt Lake Valley. The effort is well worth it.
Friends often ask me how it's a vacation when I go from one family of six to another family of six complete with the all too familiar preschool carpool, bedtime rituals, tantrums and constant craziness. My answer? They're not my kids. I get to bring them gifts, play with them, love them, read to them, tickle them and even perform a headstand or two. (Who knows where the energy comes from; I certainly don't have it here at home.) And when one of LeShan's children decides it's time to throw a tantrum or pick a fight with his or her sibling or does something that begs a timeout, I step back and let LeShan take charge. I maintain my "favorite aunt" status and everything that goes with it (treats, tickles, silly stories) while she gets to do the mom stuff like reprimanding and disciplining.
Sound familiar? It should since that's the same sort of thing my parents pull whenever they come for a visit. They bring goodies, take my kids to the park, play games (no one else will play Life or Monopoly) and tell great bedtime stories. And on the rare occasion (ha ha) when my kids throw tantrums, pick fights or refuse to go to bed, Grandma and Grandpa step back and let me do the dirty work. As a matter of fact it's a pretty sweet deal…for them.
I consider my visits to LeShan a small taste of this grandmother thing, and I rather like it. When I'm grandparenting my own grandchildren, I imagine it will be even sweeter. I guess grandparenthood isn't that scary; in fact, I'm rather looking forward to it. Now if I could just figure out how to become a grandmother without that whole growing old thing, I'll be set!
This is an original Rocky Mountain Moms Blog post by Emily Hill, mother of four who finds she thoroughly enjoys playing the "favorite aunt" role.