My recent post for Rocky Mountain Moms Blog (RMMB for short) is live. This week I took on the new MTV show "16 and Pregnant." Have you seen the show yet? Consider yourself lucky if you haven't. I ask you, what exactly is the point of this show?
I'd love for you to read what I have to say about it and then leave a comment on the RMMB site letting us know your thoughts on the whole thing. Really, just what are we trying to teach our kids?
"16 and Pregnant"–Seriously?!?!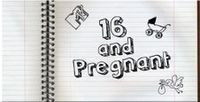 Once in a while I hop on the treadmill for a three- or five-mile run in preparation for the Hobblecreek Half Marathon. Because more than a couple miles on a treadmill can get pretty tedious I kill time by flipping through TV channels; unfortunately you won't find much on around 10 or 11am in the morning. (For some reason I can't seem to get out of my pajamas—or away from the computer—any sooner.)
The other morning I caught a fairly new reality-type show on MTV titled "16 and Pregnant." WHAT?!?! Okay, it didn't surprise me to find this show on MTV; they've definitely created worse shows as far as I'm concerned. What surprised me is that a show I had hoped would portray teenage pregnancy as the difficult and life-altering experience it is actually had me oohing and aahing over the birth of a baby to a girl not much older than my oldest daughter. And I'm worried it is having the same effect on other teenage girls out there.
The episode did show how tough pregnancy can be for teenagers. For example, you can't go four-wheeling at eight months pregnant, you can't hang out all night with your girlfriends and you may not be able to buy that Wii because baby formula is more important. You also might have a boyfriend who'd rather not change diapers or get up at night with the baby or babysit so you can study for your GED. But, oh, how those girlfriends of yours croon over the new baby and how supportive they are when your boyfriend isn't pulling his weight. Of course they're not much help when it comes to diapering, feeding and bathing because they're still in school full time, and when they're not in school they're at cheerleading practice or the local hangout.
Perhaps I should cut MTV a little slack. Maybe the original idea behind "16 and Pregnant" was to show the difficulties of teenage pregnancy in hopes of preventing more from happening, but if that was their intent I'm pretty sure they're failing. Except for those few stressful moments on screen, I'm thinking the balance of the show shifts in the other direction. "Sure, pregnancy is hard but you can do it! Heck, anyone can do it!" And I'm not sure this is the message I want my girls—or any pre-teen and teenage girls—hearing.
To the show's credit one episode, which I didn't see but read about online, featured a new teen mom and her boyfriend making the decision to give their baby up for adoption. That is one very difficult decision and I so applaud them for making it…and most of those commenting on her follow-up post do the same. But what struck me was the one comment that railed against the two for being quitters, for giving up, for being selfish. Hello? Giving up your child for adoption to a family who's been waiting forever for that little baby so you can continue learning, growing, maturing is one of the smartest, albeit hardest, decisions you'll ever make. Why is there such a rush for our children to grow up? Becoming a mother makes you grow up overnight. Heck, it's not easy for 20- and 30-somethings…just think how much harder (like a billion times) it is for 10-somethings.
Perhaps I'm way off base. Perhaps many of you feel this show is a great way to teach teenagers about the hardships that go along with teenage—and in many cases, pre-teen—pregnancy. But I truly wonder if that's the case when I read statistics like a recent U.S. government study showing birth rates among U.S. teens increasing in 2006 and 2007 following a large decline from 1991 to 2005. Oh, and let's not forget the whole "let's all get pregnant and raise our babies together" pact made by a good-size group of teenagers at a Massachusetts high school. (You can read more about that adventure online at Time.com.)
If you really want to deter teenage and pre-teen pregnancies why don't you have your daughter take over the nighttime shift for a new mother in your neighborhood? Better yet, have her take over 24/7 for a few days and throw in one of those all-too-graphic birth videos. I can pretty much guarantee she'll think twice before getting knocked up.
Original Rocky Mountain Moms Blog post by Emily Hill, mother to four (three of whom are girls). She doesn't plan on being a grandmother for at least 12 more years.