Like my friends Kalli and Steph, I was given a few passes so I could take the kids on Gardner Village's Ride to a Witch  during their annual WitchFest. Though I've been to Gardner Village plenty of times (hello, we're talking Sweet Afton's, Purse-onality, Down to Earth and Naborhood Bakery), I've always wanted to visit during the WitchFest festivities but somehow never make it over there. This year, Ride to a Witch—and no UEA plans—gave me the incentive I needed.
Apparently it was the same incentive everyone else in the state of Utah needed because they were all there last Thursday. I should have turned around the moment I saw multiple minivans parked a good half mile away from the Gardner Village entrances, but I knew if I did I wouldn't return. Having just braved some serious crowds in New York City, I felt I was up to the challenge.
Boy, was I wrong.
…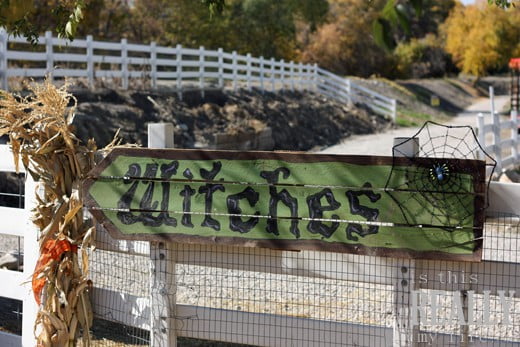 …
Good thing there wasn't a long line or long wait for Ride to a Witch. We got our tickets—in the form of cockroaches, no less—and waited for the hay bale-lined trailer to pick us up.
…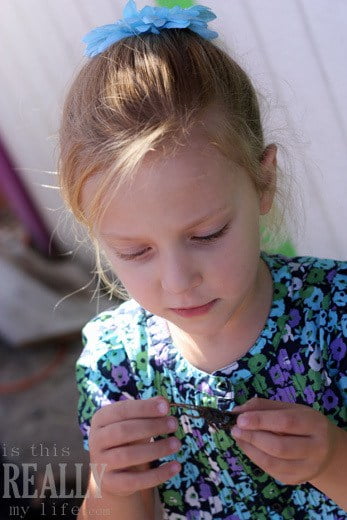 …
We piled in and made our way to Cricket Hollow Swamp…not the most desirable real estate in Utah, but it did have a certain charm.
…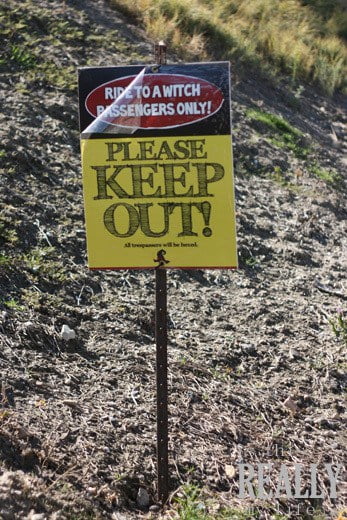 …
The resident witches treated us to some magic spells, freaky disco moves, a cauldron of gruesome goodies and even a cockroach funeral.
…
…
George and Livi ate it up (not literally, thank heavens; the brew looked less than fresh…see photo above) and I even caught Madison and Lauren enjoying those over-the-top witches.
…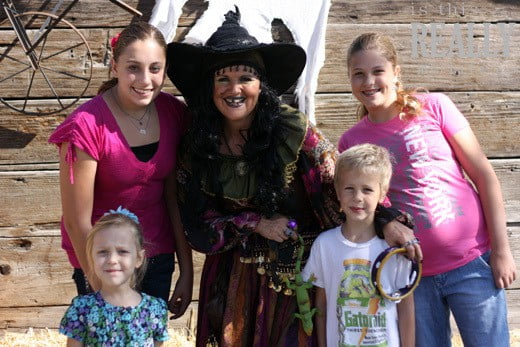 …
We hopped on the trailer for the short ride back and then tried our hand at a little shopping.
…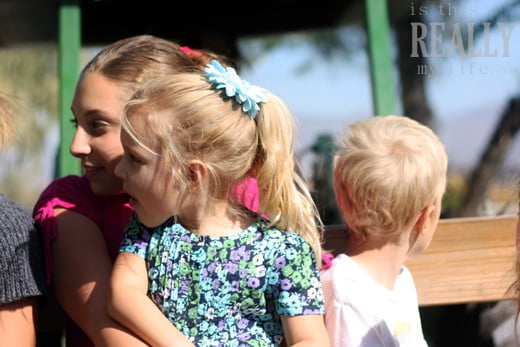 …
That's where it turned scary. Really, really scary.
I rarely pass up an opportunity to shop, but the crowds that day were too much for me. I think they may have trumped Times Square. A 30-minute wait in line at Sweet Afton's was the last straw. We gave up the shopping ghost, piled into the minivan and headed to Chick-fil-A for some much needed nourishment. (I would have preferred a roast beef sandwich from the aforementioned Naborhood Bakery but the line scared me more than Gremlins…and I found Gremlins very, very scary.)
But back to Gardner Village. Would I take the kids on the Ride to a Witch again? At $5 per person, probably not, especially the older ones. Perhaps if they combined the pony ride with your ticket, I'd consider it. As far as a first-time run, I think it would be worth it. My kids had a great time.
But I will NEVER visit Gardner Village during UEA weekend again. I probably won't attempt WitchFest either unless it was a girls' night out sans kids.
I think I'm traumatized for life.
P.S. I love a little Halloween humor, don't you?
…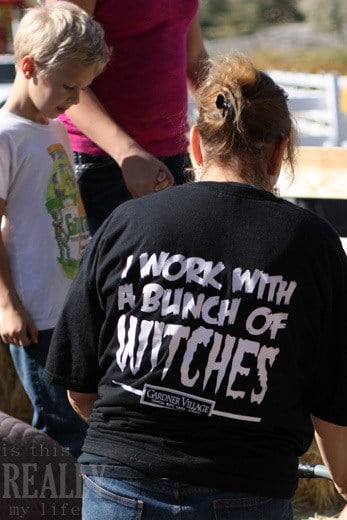 Disclosure: Gardner Village provided me with four tickets so I could take the kids on a test drive of their Ride to a Witch experience. Good thing Steph had an extra cockroach ticket or I'd have actually had to pay a whole $5. Either that or let the kids ride by themselves. Now that would've been frightening.