Though I've exercised my creative muscles here and there (cupcake and owl cell phone charms, flower hair clips, neatly folded fitted sheets...hey, a neatly folded fitted sheet takes a little creativity), I have yet to work them out on a regular basis. Though I'm good at wielding a glue stick (I prefer purple), hot glue gun and needle nose pliers, I'm not so good at incorporating art into daily life. And I think my left-brain daily life could use a little more creativity.
That is why I'm super excited about being part of the Rhonna DESIGNS cReative team.
...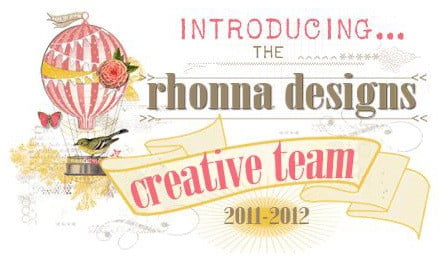 ...
Yes, you read that correctly. Rhonna Farrer asked me to be part of her cReative team.
I'm convinced she was either half asleep or on drugs when she emailed me, but I accepted too quickly for her to tactfully rescind the offer. Sorry, Rhonna.
And even though the left side of my brain is singing "one of these gals is not like the others...," the right side of my brain is silently cheering me on, knowing full well how much good Rhonna's art going to do. I believe I'm on the team to show you that yes, her kits are for everyone, even someone like me, someone who:
Has never scrapbooked online or off.
Buys scrapbook paper, fabric and jewelry supplies for fun yet rarely uses them.
Didn't know decorative brads existed until last summer's LDS girls camp.
Wouldn't know how to refashion a shirt if the tutorial hit her in the face.
Prefers to shop on Etsy rather than recreate what she sees on Etsy.
Pins a heck of a lot more high-heel shoes than craft projects on Pinterest.
I can't wait to start using some of her digital frames with the photos I post on isthisREALLYmylife.com. It might be a titch uncomfortable at first—strength training new muscles always is—but it will be totally worth it. Stronger muscles burn more calories, and I'm all for burning more calories.
For more info, check out:
Rhonna DESIGNS blog
Rhonna DESIGNS shop
Rhonna on Twitter