A few weeks ago I was invited—okay, I invited myself—to a Rhodes Bake-N-Serv blogger event at their demo kitchen in Murray. Though my favorite rolls of all time are my homemade dinner rolls, I use Rhodes to make my second favorite rolls…the Pioneer Woman's buttered rosemary rolls.
..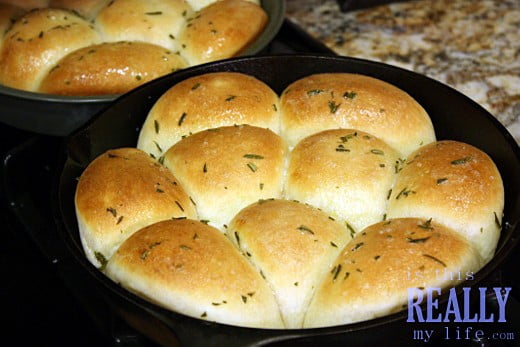 ..
My sister requests them when she's not requesting my homemade rolls and they're gone in record time. Yes, they're that good!
We also love Rhodes for scones. My mom introduced me to these super easy scones years ago and they're a tradition every time we visit. Simply defrost a loaf or two of Rhodes frozen loaves of bread dough overnight. (They will be good sized in the morning!) Heat your favorite frying oil in a large pan over medium to medium-high heat. Tear of palm-sized pieces of the dough, flatten slightly and drop in hot oil. When lightly browned on the bottom, flip over to brown on the other side. Drain on paper towels and top with butter, powdered sugar and syrup. Easy AND delicious!
Don't forget the various styles of pull-apart breads you can make (aka "monkey bread") using frozen roll dough. We've served a caramel butterscotch one on Christmas morning once and it was a hit!
But back to the Rhodes demo. Though I'm familiar with rolls and scones, I had no idea you could make so many other things with Rhodes products.
..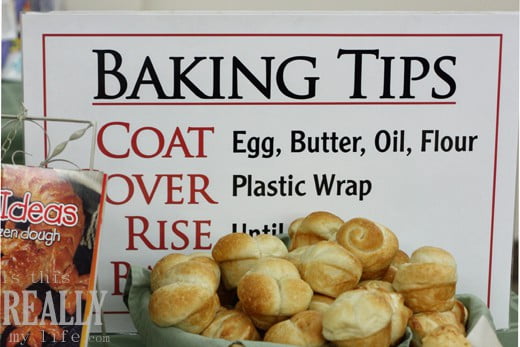 ..
We're talking a baked Reuben braid,
dough-lovin' frogs,
cinnamon rolls,
..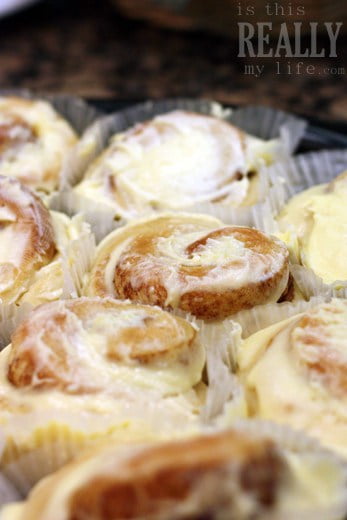 ..
cinnamon blueberry crumble,
and super cheesy cheddar bread.
..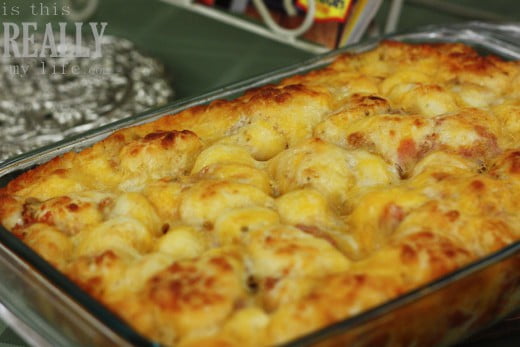 ..
Or maybe it was cheesy Italian bread. Whatever it was, it was good. And I may have had seconds. And thirds.
All I know is I have a whole new appreciation for Rhodes Bake-N-Serve. I may have to step out of my buttered rosemary comfort zone a bit more often!
For an entire virtual cookbook full of Rhodes recipes, visit their website at RhodesBread.com.
..