Sure, Twitter is awesome for social networking, late-night chatting and discovering the answers to life's greatest mysteries, but it's also a great place for hanging with new friends you don't get to see very often in real life. And when you do finally get to see one of those friends and she shares with you a super decadent rice krispie treat recipe, life is even sweeter (and the hips a little fatter).
…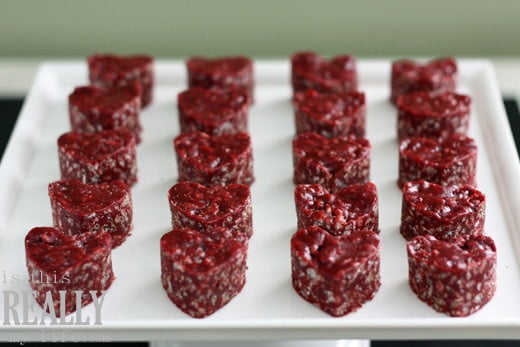 Thanks to Tiffany (aka @foodfinery), we've been indulging in red velvet rice krispie treats since late Wednesday night. I can't believe they've even lasted that long. Of course it took three tries to get the recipe right. I blame it on two things: one, not remembering the part about two sticks of butter the first time Tiffany told me her recipe; and two, not being patient enough to wait for verification of the recipe the second time around. (It needed an extra 2 cups of marshmallows. Duh.)
Good thing I'd purchased two boxes of Cocoa Krispies, three boxes of red velvet cake mix (once I could find them) and my pantry is always stocked with marshmallows. I'm totally set for any emergency, trust me.
I know this is a very Valentines-y recipe (I'm a couple days late and many dollars short), but you could easily make this year round just like you would any red velvet cake or cupcake. They'd be totally perfect for the Fourth of July—you could use a star cookie cutter and place them on a white platter. Festive 4th of July dessert? Check!
…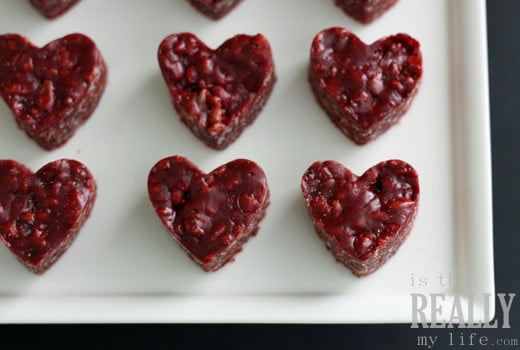 As delicious as these red velvet rice krispie treats are, I think my kids loved them even more because they turned their tongues red while eating them. A colored tongue is always icing on the cake for my kids!
Printable recipe for red velvet rice krispie treats below.
…

Red Velvet Rice Krispie Treats
This is a festive (and decadent) version of the classic rice krispie treat. Use a heart-shaped cookie cutter for Valentine's Day or a star-shaped one for the 4th of July!
Author:
Emily ~ isthisREALLYmylife.com
Ingredients
1 cup (2 sticks) butter
6 cups mini marshmallows
1 box red velvet cake mix
6 cups Cocoa Kripies cereal
Instructions
Melt butter over medium-low heat.
Add marshmallows and stir until completely melted.
Add cake mix and stir well until thoroughly combined.
Add cereal and stir until cocoa krispies are evenly coated. (It does get a bit thick, so call in reserves if you need to!)
Spread into a greased 9x13-inch pan. Chill 15 minutes. Serve immediately.
Notes
Rice krispie treats are always best if served the same day but you can store leftovers in a tightly covered container. If you prefer thinner treats, spread mix into a greased cookie sheet with edges. Original recipe by Tiffany (@foodfinery).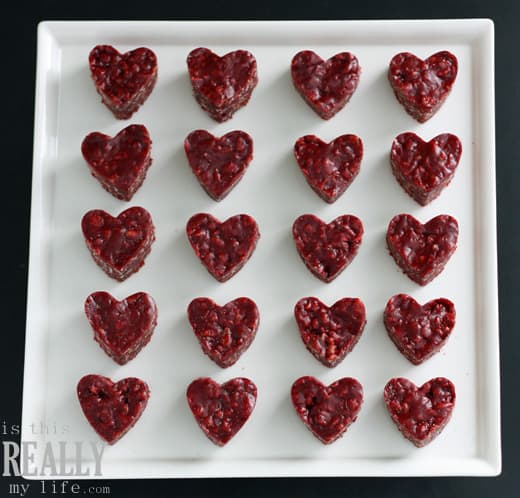 …



…
Feel free to "like" is this REALLY my life? on Facebook. It won't always earn you an extra entry in a giveaway but it will give you warm fuzzies.
Don't forget to sign up for free is this REALLY my life? updates via RSS or email so you don't miss a single awesome post.
…