These red velvet cookies are extra soft and chewy thanks to a box of chocolate pudding mix! Perfect for Valentine's Day, Christmas or any holiday occasion!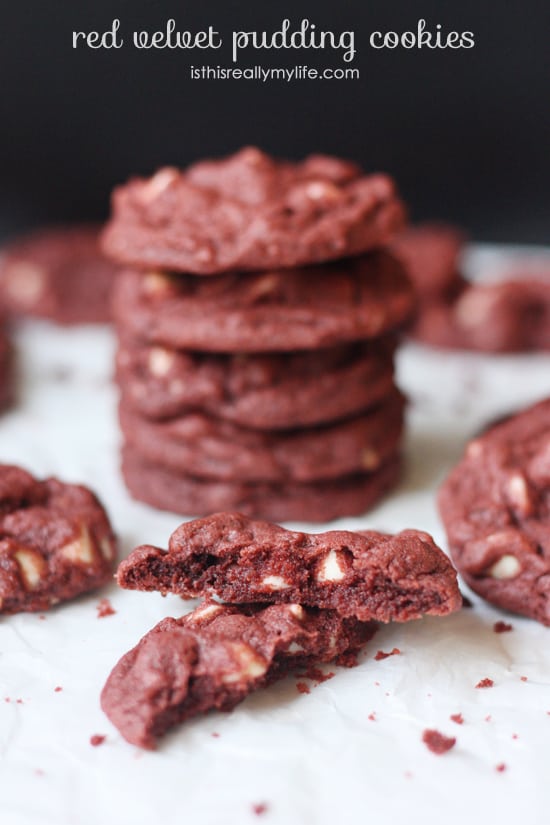 One of my favorite cookie recipes of all time uses pudding mix as an ingredient. I swear pudding cookies extra chewy and yummy and that more irresistible, especially hot from the oven. I've mixed and matched different pudding flavors and chips, from the classic vanilla pudding and semisweet chocolate chip combo to chocolate pudding and peanut butter chips like in these chocolate peanut butter pudding cookies. But I'd never tried a red velvet version, so I took it upon myself to experiment. The result? Red velvet pudding cookies just as soft, chewy and yummy as their vanilla and chocolate counterparts and a cookie perfect for Valentine's Day.
I used white chocolate chips in these red velvet pudding cookies because it felt more traditional, but I'm not a huge fan of white chocolate. Still, the flavors seemed to complement each other well. That being said, next time I'm totally going to try semisweet chocolate chips.
It's all about the "real" chocolate, my friends.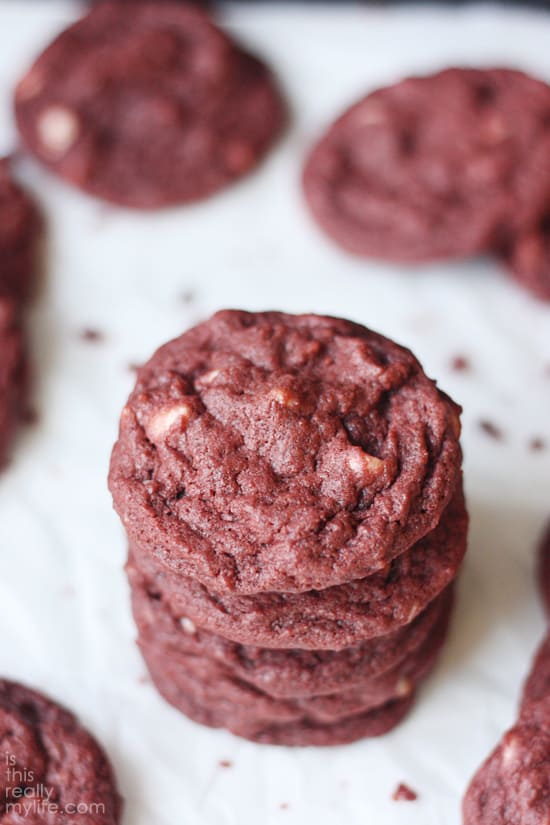 I was really hoping I'd find red velvet pudding mix, but no such luck. Wanting a richer chocolaty flavor, I decided to go with a chocolate fudge pudding mix. But if that is a bit too much chocolate—or not pretty enough of a red velvet cookie—for you, try a vanilla pudding mix instead. Because I haven't yet tried it, I can't vouch for the outcome but how could it not be tasty?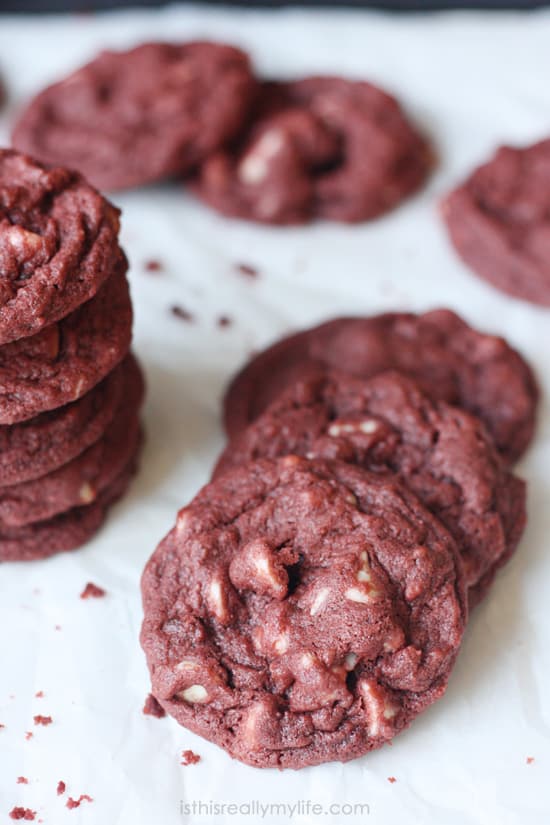 Printable recipe for red velvet pudding cookies below. Enjoy!
Red Velvet Pudding Cookies
These red velvet cookies having pudding in the mix to make 'em extra soft and chewy. Makes approximately 3 dozen.
Ingredients
1 ½ cups flour
¼ cup cocoa
1 tsp baking soda
1 cup salted butter, softened
¾ cup brown sugar
¼ cup sugar
1 (3.4-oz) package instant chocolate pudding mix
2 eggs
1 tsp vanilla
½ T red food coloring
2 cups white chocolate chips
Instructions
Preheat oven to 350 degrees.
Combine flour, cocoa and baking soda in a medium bowl; set aside.
Cream together butter and sugars in a large bowl. Beat in instant pudding mix until blended. Add vanilla and eggs and mix well.
Add flour mixture and mix until thoroughly combined. Beat in food coloring. Fold in white chocolate chips.
Drop cookies by rounded tablespoonfuls onto ungreased cookie sheet.
Bake for 10 to 12 minutes or until edges are set. Let cool 2 minutes before removing to a wire rack to cool completely.
Nutrition Information:
Yield:

36
Serving Size:

1
Amount Per Serving:
Calories:

145
Total Fat:

9g
Saturated Fat:

5g
Trans Fat:

0g
Unsaturated Fat:

3g
Cholesterol:

26mg
Sodium:

100mg
Carbohydrates:

16g
Fiber:

0g
Sugar:

11g
Protein:

2g
Here are those chocolate peanut butter pudding cookies I mentioned earlier. You'll want to make these too. Perhaps the same day as the red velvet pudding cookies. Just sayin'.